GIGABYTE GA-B250M-GAMING M3 6th/7th Gen MOTHERBOARD
Supports 7th/ 6th Generation Intel® Core™ Processors
Dual Channel Non-ECC Unbuffered DDR4, 4 DIMMs
2- Way CrossFire™ Multi-Graphics Support
Intel® GbE LAN with cFosSpeed Internet Accelerator Software
Ultra-Fast M.2 with PCIe Gen3 x4 & SATA interface
Intel® Optane™ Memory Ready
Ambient LED Light Show design
Smart Fan 5 features Multiple Temperature Sensors and Hybrid Fan Headers
High Quality Audio Capacitors and Audio Noise Guard with LED Trace Path Lighting
Triple display interfaces including High Definition Multimedia Interface
GIGABYTE UEFI DualBIOS™
APP Center Including Cloud Station™ Utility
Product Description
1 YEAR WARRANTY
Smart Fan 5
With Smart Fan 5 users can ensure that their gaming PC can maintain its performance while staying cool. Smart Fan 5 allows users to interchange their fan headers to reflect different thermal sensors at different locations on the motherboard. Not only that, with Smart Fan 5 more hybrid fan headers that support both PWM and Voltage mode fans have been introduced to make the motherboard more liquid cooling friendly.
---
All Hybrid Fan Pin Headers
• All Hybrid Fan Headers can automatically detect the type of cooling device whether it be fan or pump with different PWM or Voltage mode.
• Supports up to 2 amps with built-in overcurrent protection—a must for high-end high current fans.
---
New Smart Fan 5 Software
Interoperable Sensors and Fans
Each fan can be customized to operate at different speeds according to any defined temperature source input (except the CPU fan).
Fan Curve
Customize fan curves based on specific temperatures with the intuitive graphical UI.
Choose from different modes, Quiet to Full Speed, to match your system usage scenario. For each fan or pump, you can use the intuitive fan curve to define trigger thresholds and corresponding fan speeds.
Enhanced BIOS Interface
The enhanced BIOS interface also has the advanced features seen in the Smart Fan 5 UI, such as: the ability to set triggers based on different temperature sensors on the board, fan curve definition and the temperature interval setting, which can prevent fan rotation noise caused by sudden temperature change—all without having to load Windows.
---
Ambient LED
Ambient lights are now programmable, You can have them pulse at a soothing pace to create an atmosphere that enhances the environment of your game, movie or music.
---
Immersive VR
Gaming Experience
> VR requires more performance than Full HD graphics for a steady 90FPS or greater.
> Only Gaming PCs can provide the best VR experience.
Any copyrighted images or trademarks displayed are the property of their respective owners and are shown for reference purposes only. Reference herein does not constitute or imply affiliation or endorsement of Gigabyte products by the respective trademark owners. VR Gaming photo for reference only.
---
2-Way CrossFire™ Multi Graphics
Multi-graphics configuration offers better graphics performance for gaming enthusiasts who demand the highest frame rates without compromising on resolution.
---
Intel® GbE LAN with cFosSpeed Internet Accelerator Networking
Intel® GbE LAN features cFosSpeed, a network traffic management application which helps to improve network latency and maintain low ping times to deliver better responsiveness in crowded LAN environments.
---
Fast Onboard Storage with NVMe
PCIe Gen3 x4 110mm M.2 (Up to 32 Gb/s)
GIGABYTE's M.2 solution offers considerably faster storage performance and support for both PCIe and SATA interfaces for M.2 SSD devices.
---
---
GIGABYTE Patented Double Locking Bracket
---
High Quality Onboard Audio Design
Delivers high quality sound resolution and sound expansion to create the most realistic sound effects for professional gamers.
The below photos are for reference only.
Audio Noise Guard with
LED Trace Path Lighting
High-End Audio Components
---
High Definition Digital Outputs
Enjoy true HD display capability using the most commonly integrated digital output technologies on today's HD displays and TVs.
---
Anti-Sulfur Resistor Design
Sulfur compounds in the air can penetrate tiny onboard resistors creating chemical change and causing these resistors to open or short. If either of these occurs the motherboard will fail to function. By equipping resistors with an Anti-Sulfur Design GIGABYTE gives Ultra Durable Motherboards a whole new meaning.
---
Refreshed BIOS Easy, Smart, and Friendly
The BIOS is essential for users during initial setup to allow for the most optimal settings. With a new GUI and easier to use functionalities, GIGABYTE has been able to reinvent the BIOS to give users a better experience while setting up their new system.
* Photos are for reference only. Product features may vary by model.
GIGABYTE APP Center
The GIGABYTE APP Center gives you easy access to a wealth of GIGABYTE apps that help you get the most from your GIGABYTE motherboard. Using a simple, unified user interface, GIGABYTE APP Center allows you to easily launch all GIGABYTE apps installed on your system, check related updates online, and download the latest apps, drivers, and BIOS.
System Information Viewer
GIGABYTE System Information Viewer is a central location that gives you access to your current system status. Monitor components such as the clocks and processor, set your preferred fan speed profile, create alerts when temperatures get too high or record your system's behavior; these are the possibilities of the System Information Viewer.
@BIOS
The GIGABYTE @BIOS app allows you to update your system's BIOS from within Windows using a simple and slick graphical user interface. @BIOS can automatically download the latest version from the GIGABYTE servers or you can update your BIOS from a file on your computer. @BIOS also allows you to save your current BIOS to a file, recover your previous BIOS from an image and backup your BIOS to an image.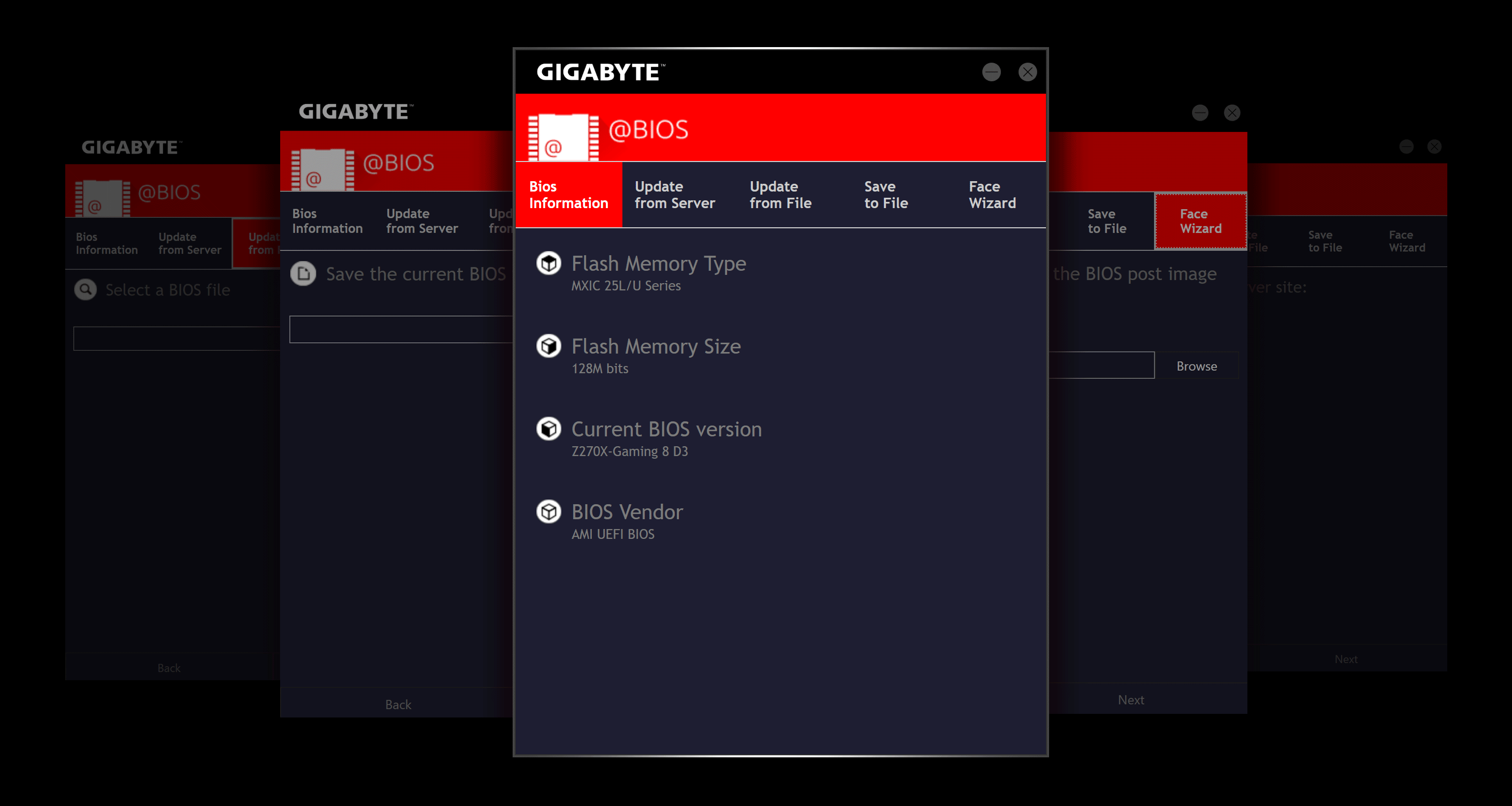 3D OSD
3D OSD automatically detects and displays your system information during games, allowing you to easily get a hold of your system information without switching between screens.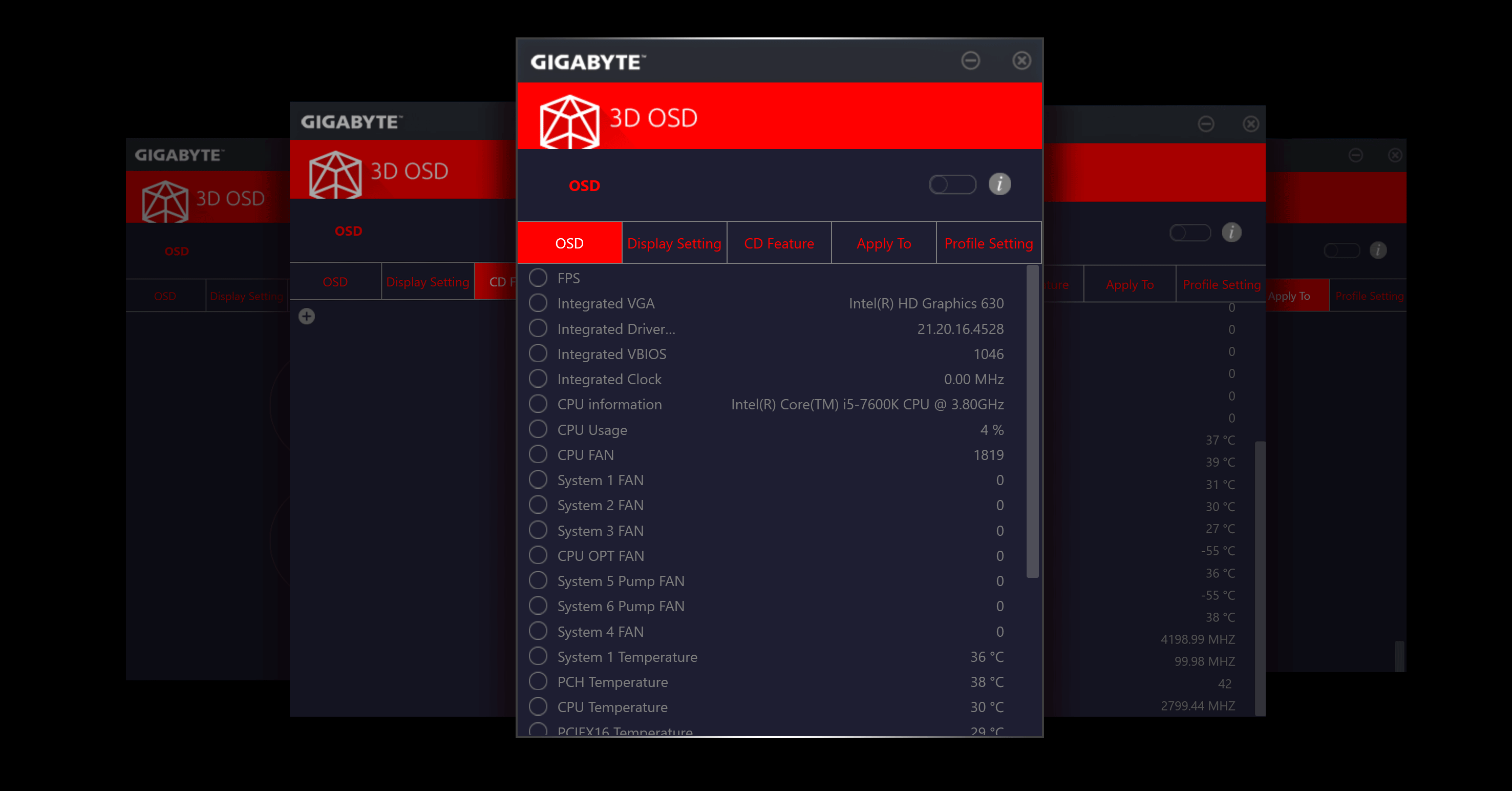 ---
GIGABYTE Ultra Durable™ motherboards feature GIGABYTE DualBIOS™, an exclusive technology from GIGABYTE that protects arguably one of your PC's most crucial components, the BIOS. GIGABYTE DualBIOS™ means that your motherboard has both a 'Main BIOS' and a 'Backup BIOS', protecting users from BIOS failure due to virus, hardware malfunction, improper OC settings or power failure during the update process.
---
4K Ultra HD Support
4K resolution is the next technological milestone in high-definition content delivery, utilizing approximately 4,000 pixels on the horizontal axis, more than four times today's standard HD pixel density. GIGABYTE motherboards provide native 4K support with integrated Intel® HD Graphics via HDMI.
---
HDMI™ – The Next Generation Multimedia Interface
HDMI™ is a High-Definition Multimedia Interface which provides up to 5Gb/s video transmitting bandwidth and 8-channel high quality audio all through a single cable. Able to transmit superior, uncompressed digital video and audio, HDMI™ ensures the crispest rendering of digital content up to 1080p without the quality losses associated with analog interfaces and their digital-to-analog conversion. In addition, HDMI™ is compatible with HDCP (High-bandwidth Digital Content Protection), allowing the playback of Blu-ray/HD DVD and other protected media content.