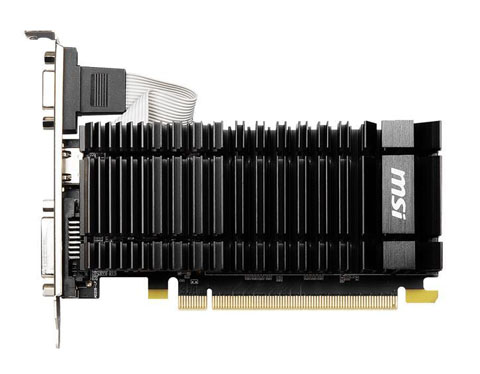 MSI GeForce GT 730
A great upgrade for your integrated graphics, the GeForce GT 730 accelerates your PC's overall performance. Based on the industry-leading 28nm Kepler architecture, the GeForce GT 730 packs powerful NVIDIA SMX shaders and abundant memory to deliver a performance punch in all games and applications. An array of NVIDIA innovations, such as NVIDIA Surround, NVIDIA Adaptive Vertical Sync and the new TXAA Anti-aliasing Mode, offers more than one way to elevate your gaming experience.
The card's low profile design allows easy fit into SFF and ultra compact PCs. Three outputs, VGA, DVI and HDMI, offer seamless compatibility with both new and legacy display devices. It's also passive-cooled with massive heatsink to keep noise at zilch.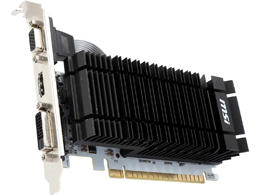 Passive Cooling Solution
The card's high-quality heatsink with dense fin arrays efficiently and effectively dissipates heat while producing zero noise, which contributes to quiet, peaceful computing environments.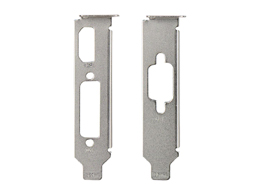 Low Profile Design
With a low-profile card form factor and both half- and full-height brackets included, this card can easily fit into HTPC, mini PC and other space-constraint environments.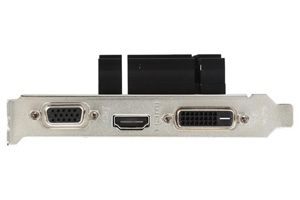 Three Outputs
Three outputs connectors including an HDMI, a DVI-D and a D-sub allow compatibility with most of the display devices on the market.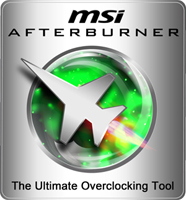 Afterburner Overclocking Utility
Support in-game video recording.
Support wireless control by android/iOS handheld devices.
Support built-in DX12 effect test.

GeForce Experience
The easiest way to optimize your games and keep your drivers up to date, the GeForce Experience application automatically notifies you of new driver releases from NVIDIA. With a single click, you'll be able to update the driver directly, without leaving your desktop.

NVIDIA PhysX Technology
Full support for NVIDIA PhysX technology enables a totally new class of physical gaming interaction for a more dynamic and realistic experience.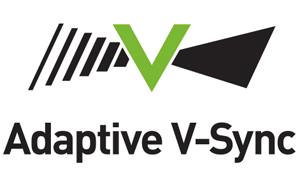 NVIDIA Adaptive Vertical Sync
Nothing is more distracting than framerate stuttering and screen tearing. The first tends to occur when framerates are low, the second when framerates are high. Adaptive V-Sync is a smarter way to render frames. At high framerates, VSync is enabled to eliminate tearing. At low frame rates, it's disabled to minimize stuttering.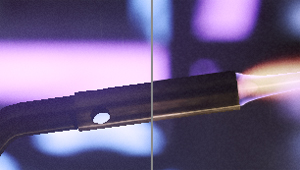 Anti-Aliasing Mode: NVIDIA FXAA
Anti-aliasing smooths out "jaggies" (jagged edges) but can be demanding on frame rates. Fast Approximate Anti-Aliasing (FXAA) is a new antialiasing technology that produces beautiful, smooth lines with minimal performance impact. And with Kepler-based GPUs, you can enable FXAA in hundreds of game titles through the NVIDIA Control Panel.