MAG Z690 TOMAHAWK WIFI DDR4
EXCLUSIVE FEATURE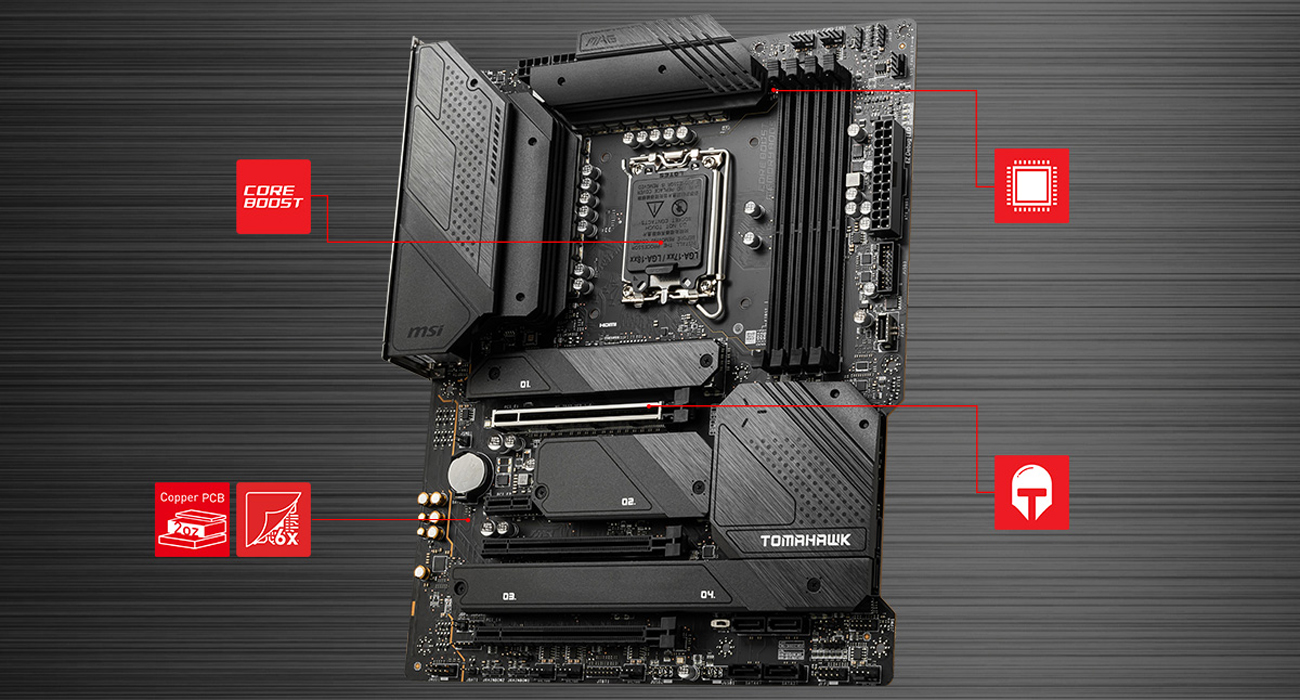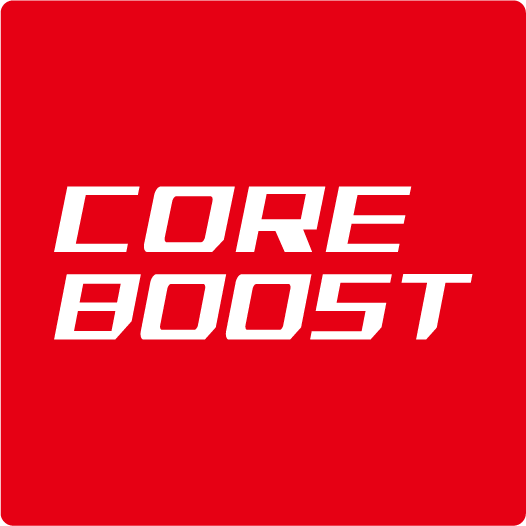 Core Boost Technology
With premium layout design, that is ready for unleashing the maximum performance.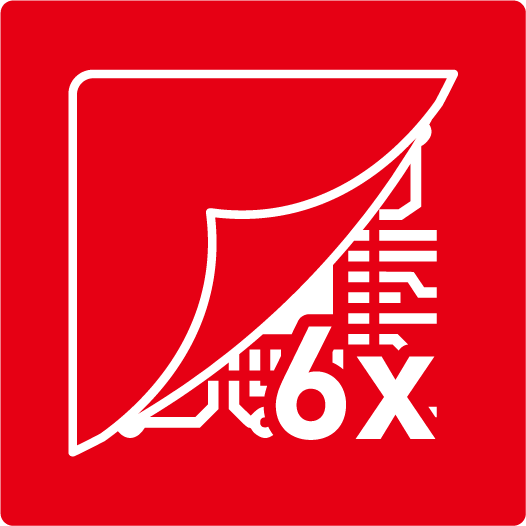 6 layer PCB with 2oz Thickened Copper
6 layer PCB with 2oz thickened copper provides higher performance and long-lasting system stability without any compromise.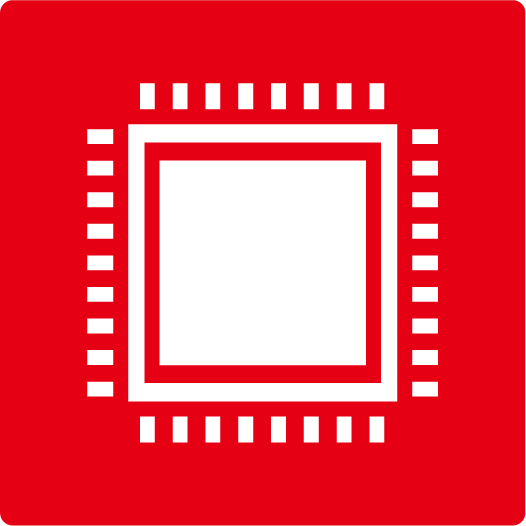 16 +1 +1 Duet Rail Power System
An aggressive digital VRM power design with digital PWM IC and 16 Duet Rail Power System with 70A Smart Power Stage, make sure your system run smoothly under the most extreme conditions.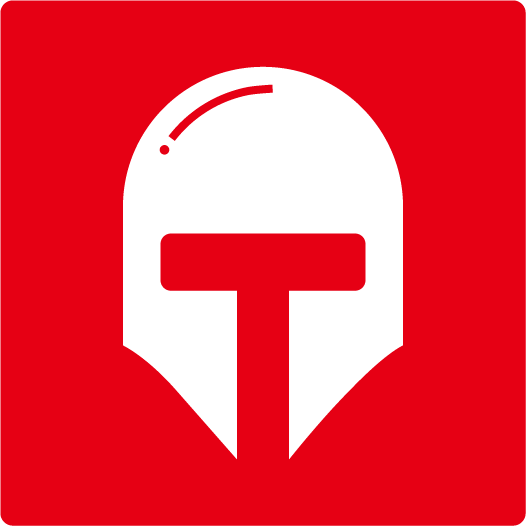 PCIe Steel Armor
Protecting VGA cards against bending and EMI for better performance, stability and strength.
MAG Z690 TOMAHAWK WIFI DDR4
PREMIUM THERMAL SOLUTION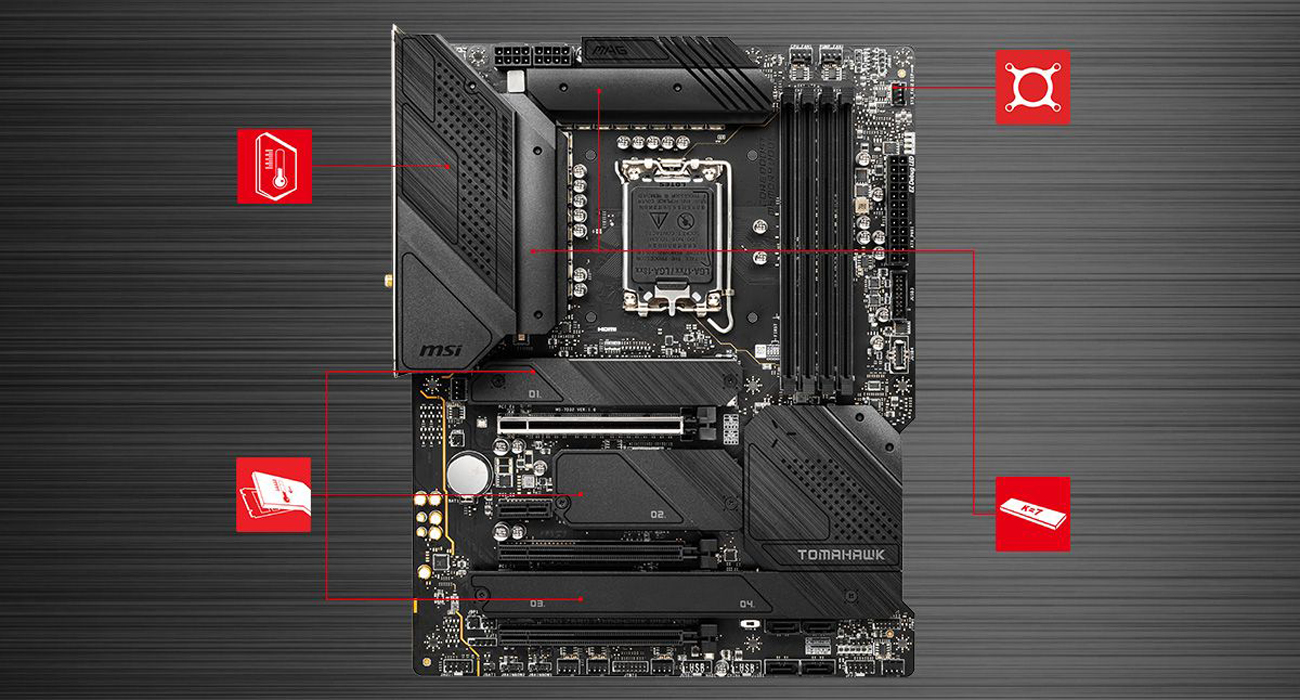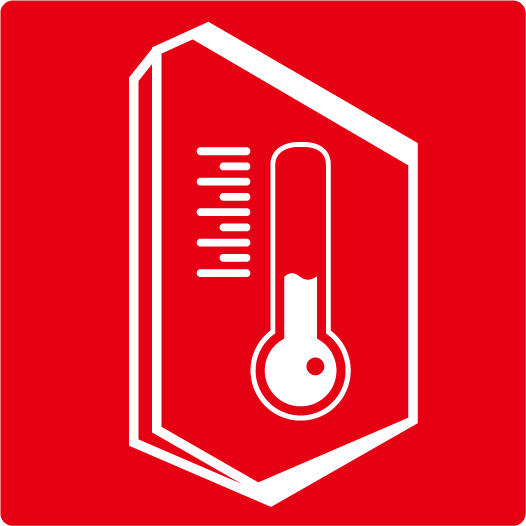 Extended Heatsink
MSI extended heatsink and enhanced circuit design ensures even high-end processors to run in full speed.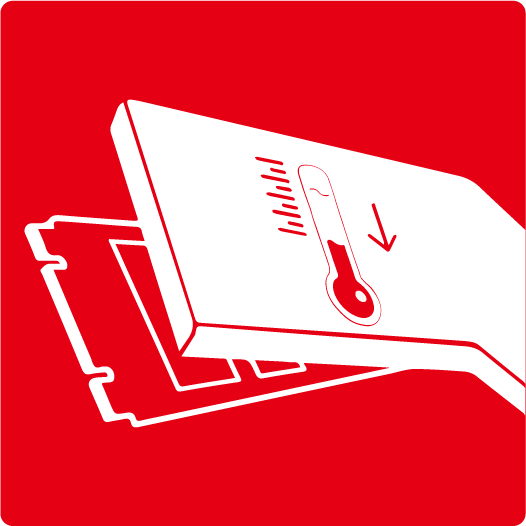 M.2 Shield Frozr
Strengthened built-in M.2 thermal solution. Keeps M.2 SSDs safe while preventing throttling, making them run faster.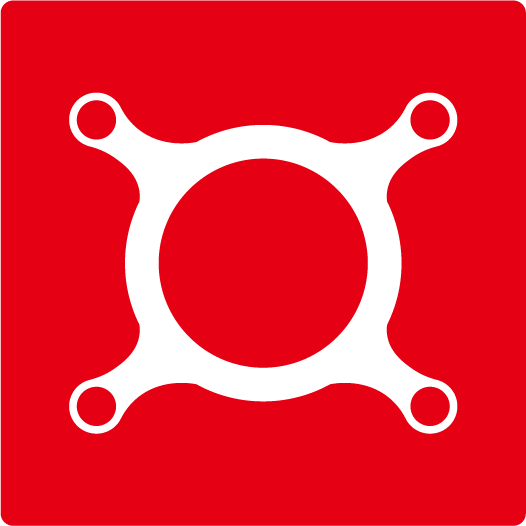 Pump Fan Support
Control watercooling pump speeds for best flow and noise control.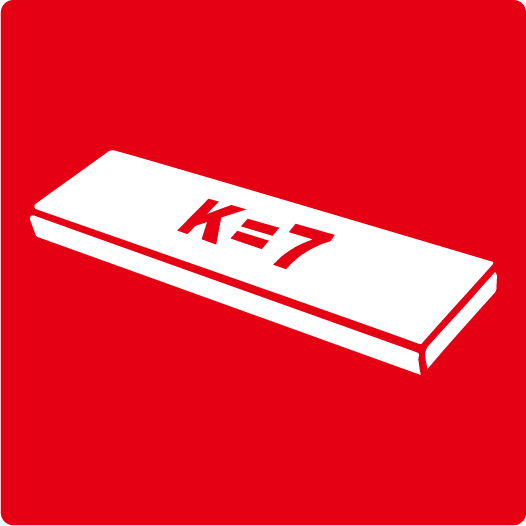 Heatsinks with 7W/mK Thermal Pad
7W/mK thermal pad provides better heat transfer to the heatsink.
MAG Z690 TOMAHAWK WIFI DDR4
HIGH-SPEED TRANSMISSION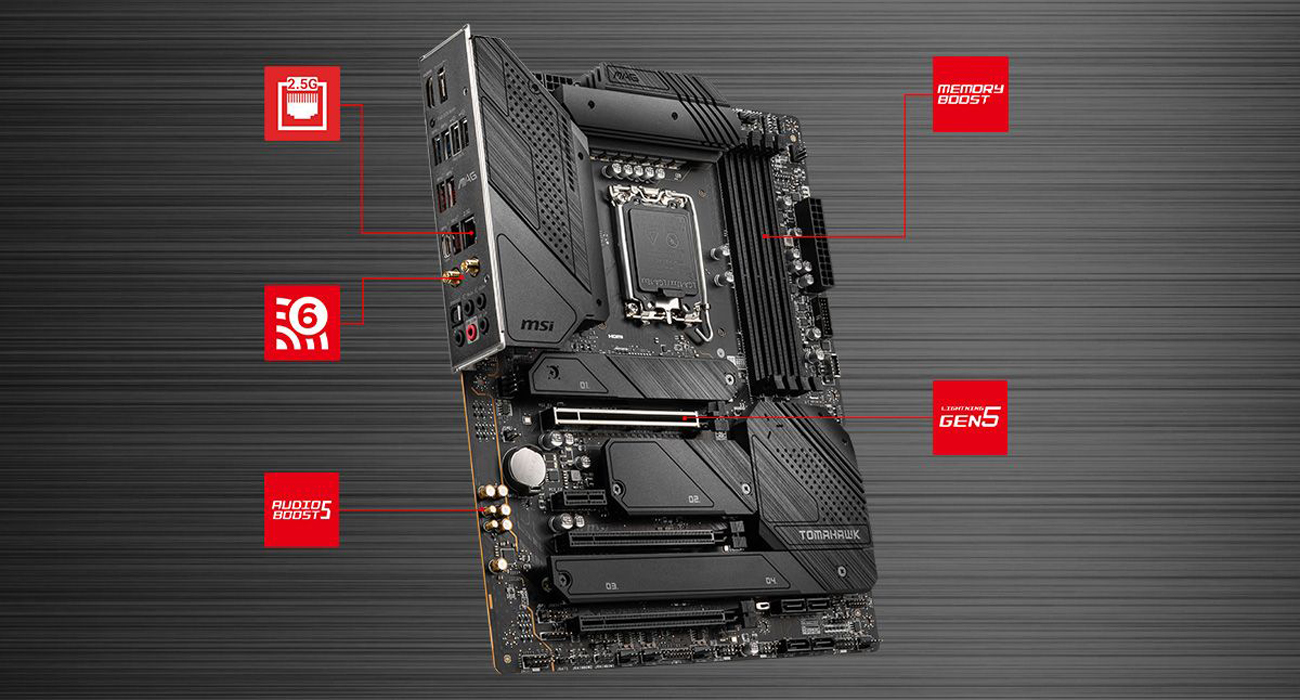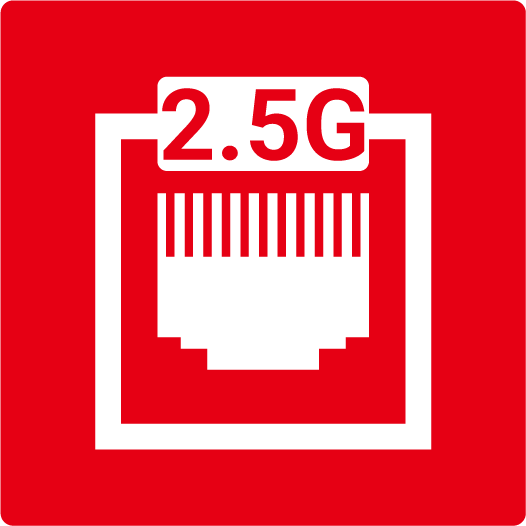 2.5G Network Solution
Featuring premium 2.5G LAN with LAN manager delivers better network experience.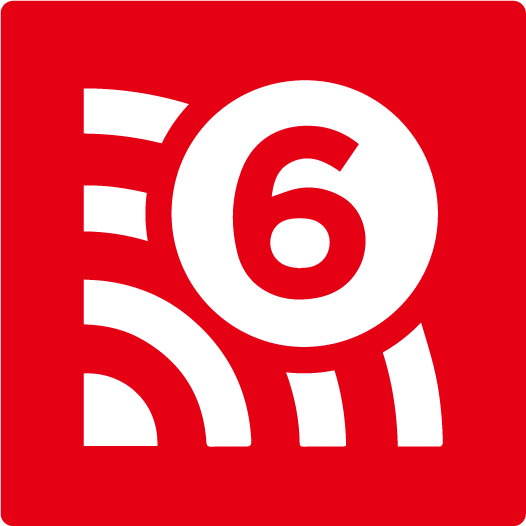 Intel Wi-Fi 6
The latest wireless solution supports MU-MIMO and BSS color technology, delivering speeds up to 2400Mbps.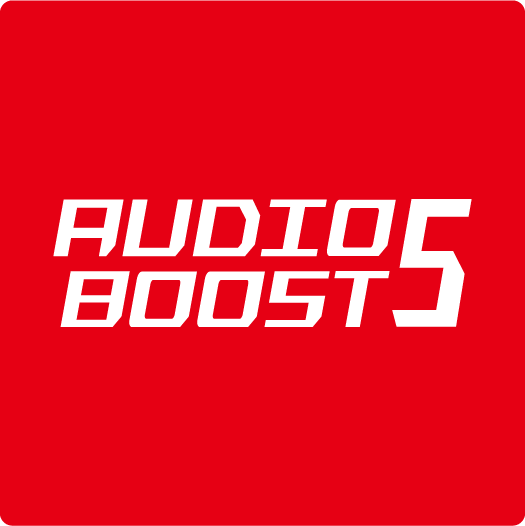 Audio Boost 5
ALC4080 Codec with top quality caps for the most immersive gaming experience.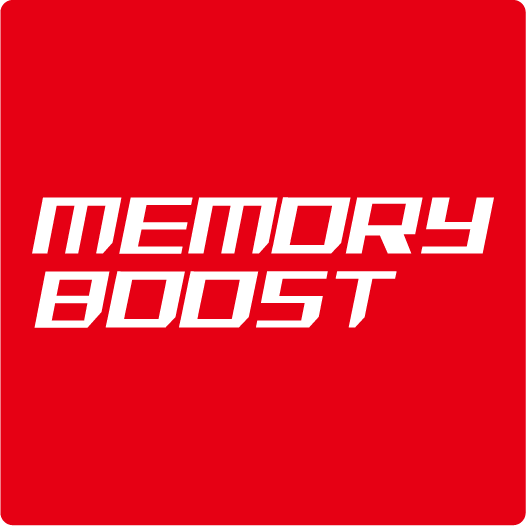 Memory Boost
The fully isolated DDR circuit to deliver pure data signals for the best gaming and overclocking performance.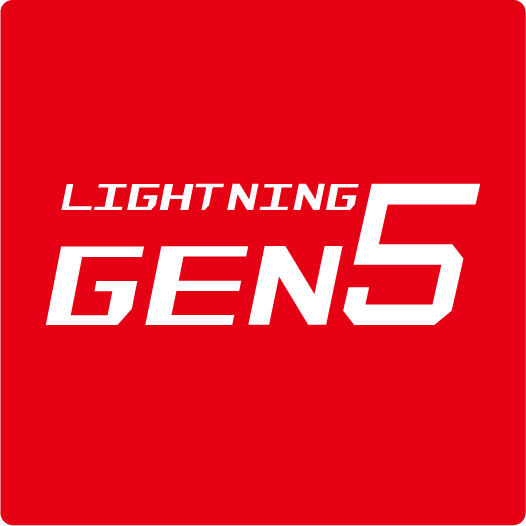 Lightning Gen 5 Solution
The latest Gen 5 PCI-E slots with up to 128GB/s bandwidth for maximum transfer speed.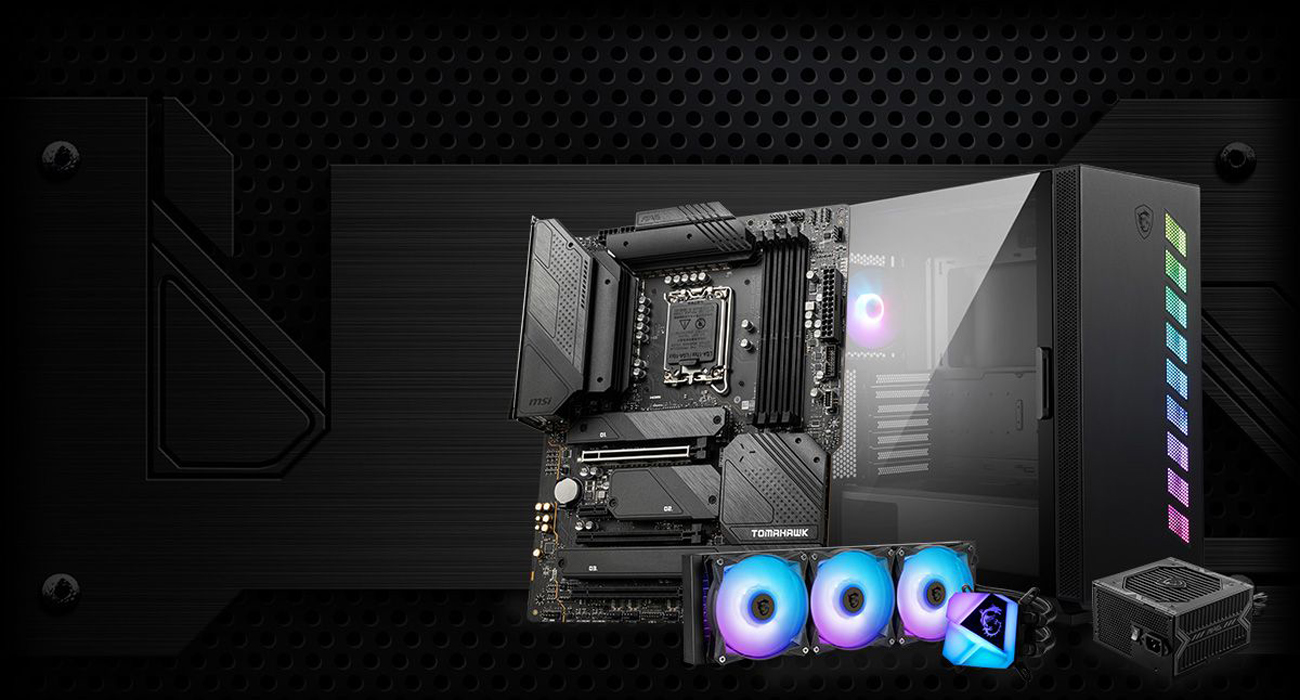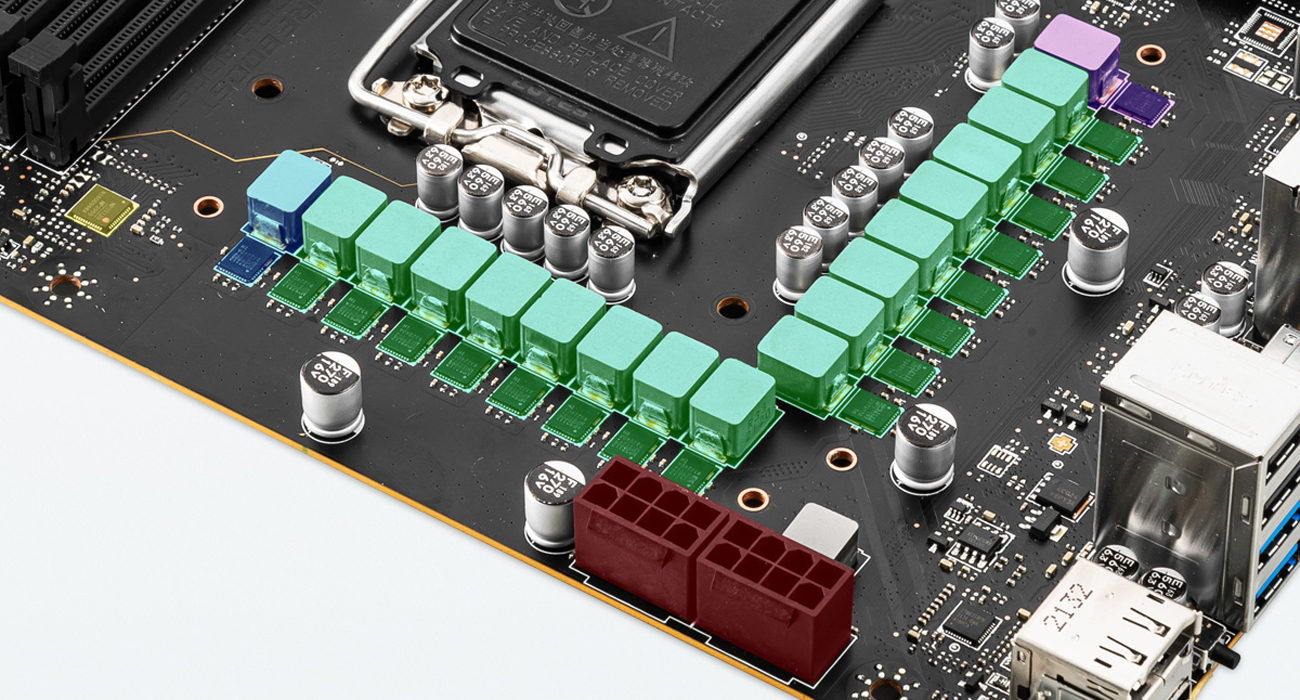 16 + 1 + 1 DUET RAIL SYSTEM
Unleash and sustain maximum performance with an aggressive VRM design built with a total of 16 Duet Rail Power System(DRPS). Combining 2x 8-pin power connectors and exclusive Core Boost technology, MAG series motherboard is ready to sustain heavy daily work.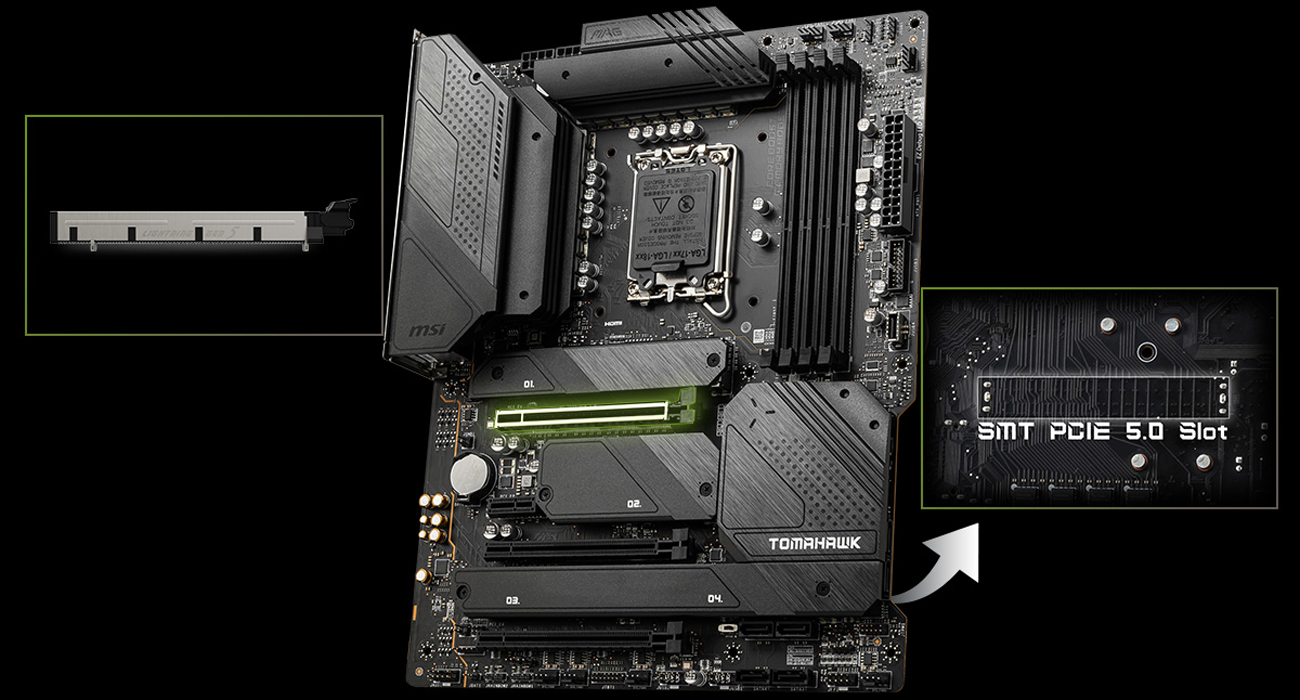 LIGHTNING GEN 5 PCI-E
MSI Lightning Gen 5 PCI-E represents the bandwidth of a x16 interface to 128GB/s, which is double of the speed of the previous generation. The advanced SMT(Surface Mount Technology) PCI-E slot diminishes the interference and electrical noise, fully supporting higher bandwidth and faster transfer speeds of PCI-E 5.0 signal.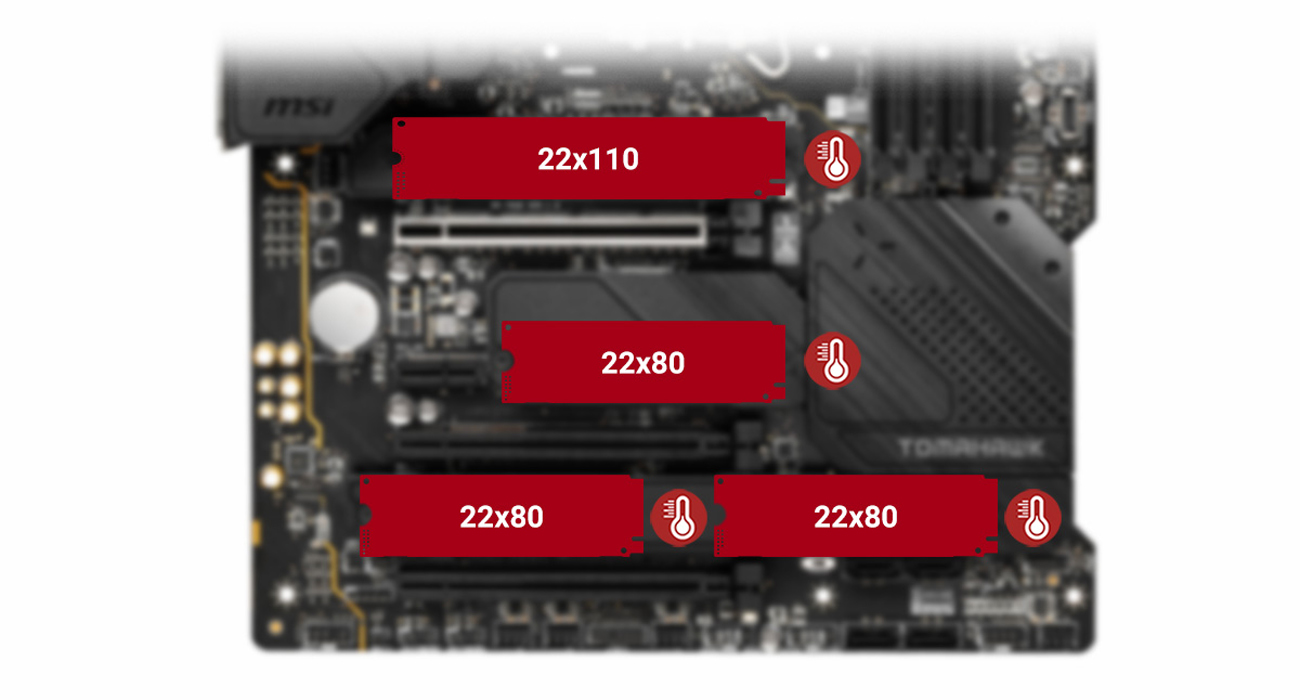 M.2 SHIELD FROZR
Strengthened built-in M.2 thermal solution. Keeps M.2 SSDs safe while preventing throttling, making them run faster.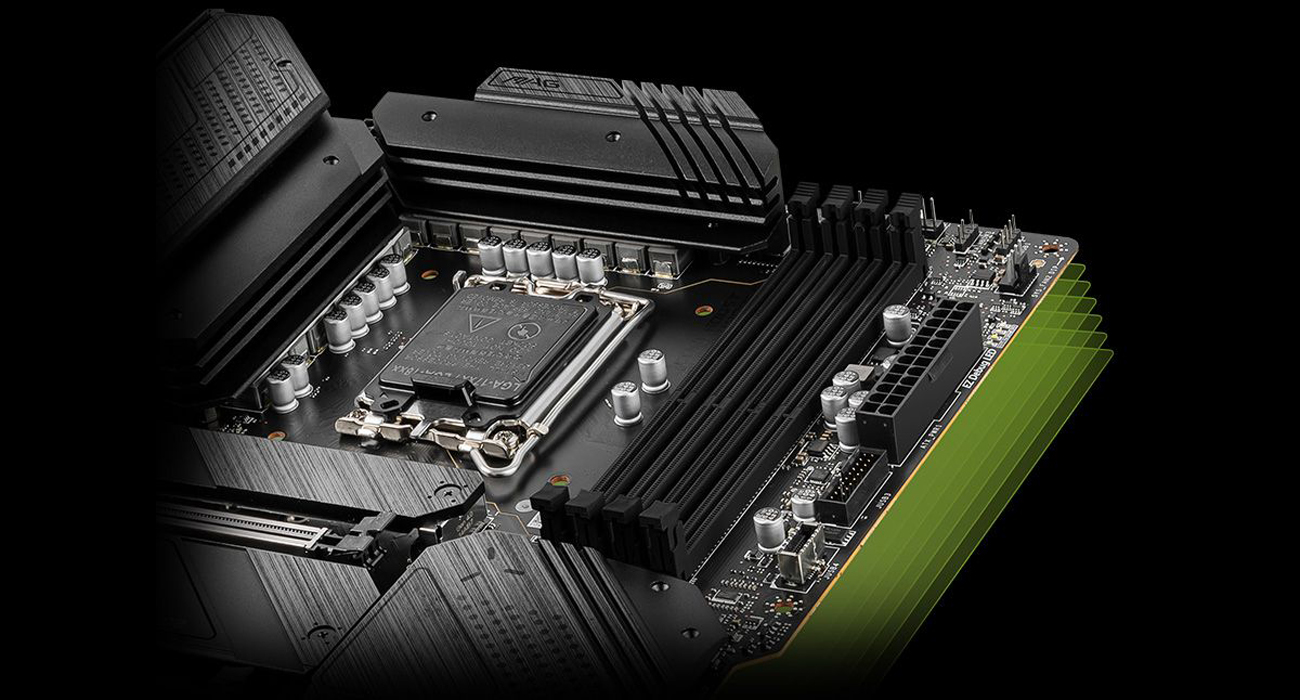 PCB DESIGN
The PCB design has been optimized for higher bandwidth and faster transfer speeds, which is also beneficial for reliable circuit transmission.
6 PCB layers
IT-170 Server-grade PCB material
2oz Thickened Copper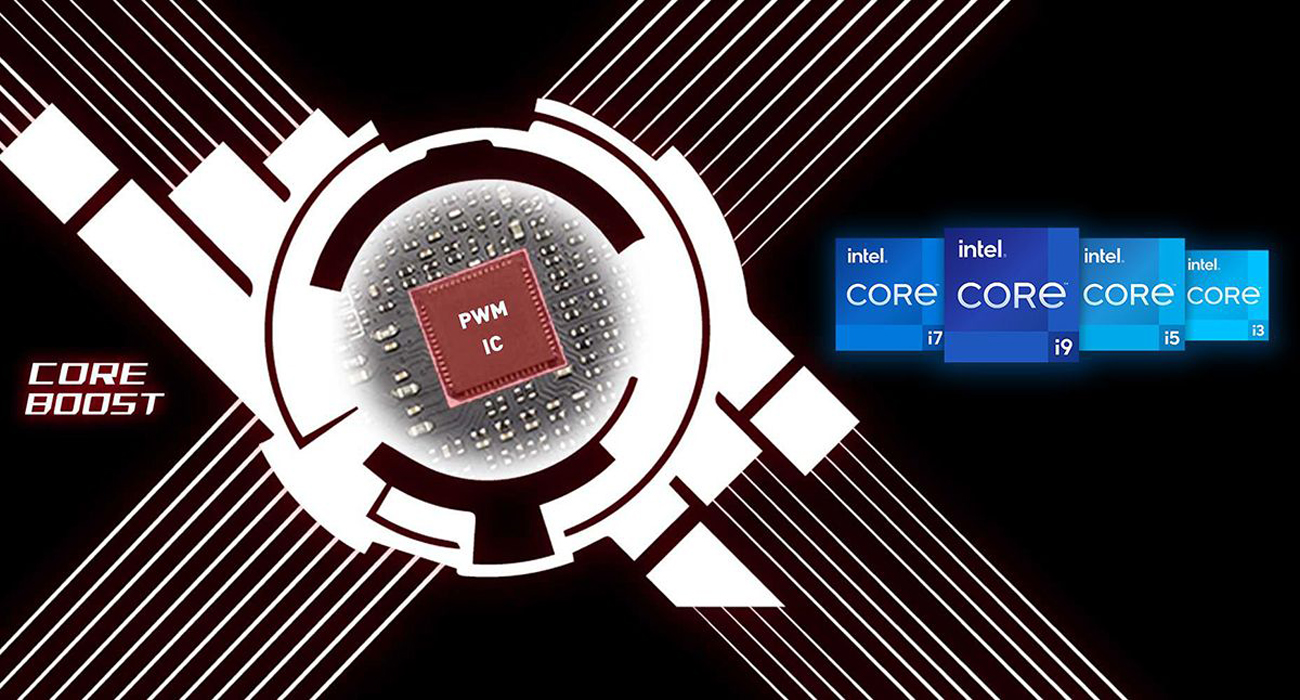 CORE BOOST
Core Boost technology combines MSI's premium layout and digital power design which allows for faster and undistorted current delivery to the CPU at pin-point precision. Not only supporting multi-core CPU, also creating the perfect conditions for your CPU.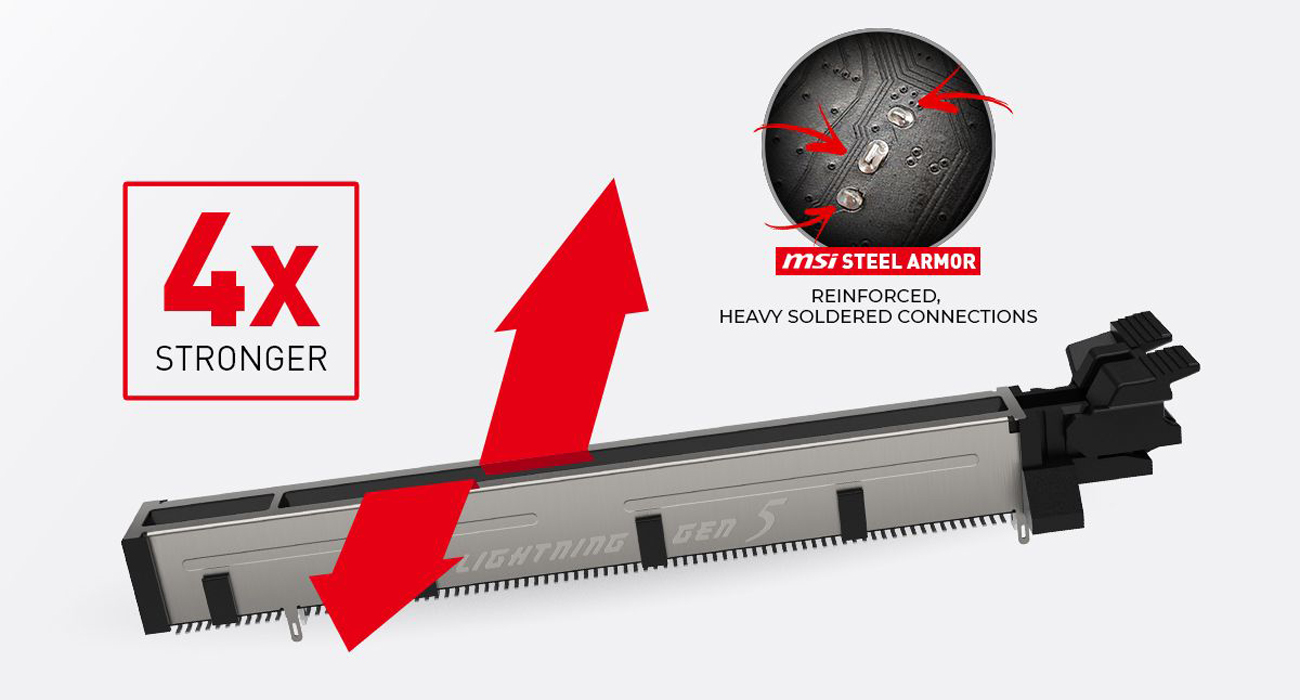 FORTIFY YOUR SYSTEM WITH PCI-E STEEL ARMOR
MSI PCI Express Steel Armor slots are secured to the motherboard with extra solder points and support the weight of heavy graphics cards. When every advantage in games counts, Steel Armor shields the point of contact from electromagnetic interference.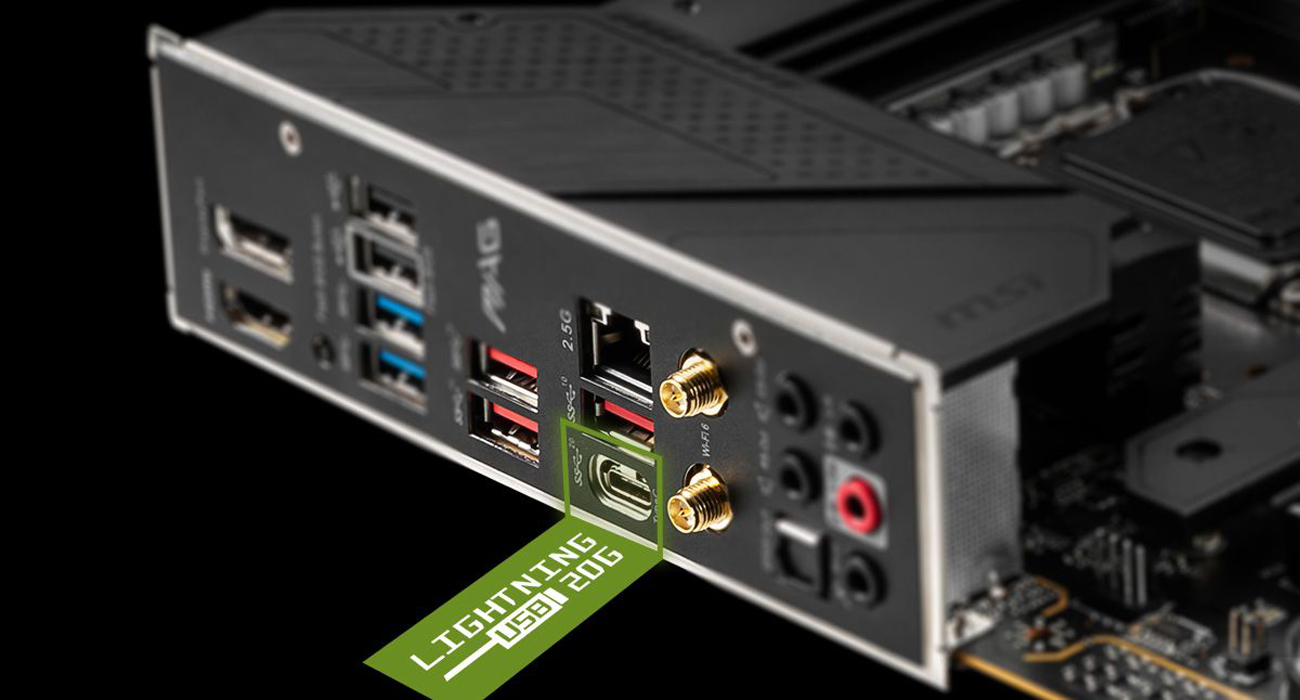 DOUBLE BANDWIDTH WITH LIGHTNING USB 3.2 GEN 2X2 20G
Using USB 3.2 devices has never been faster! Featuring the USB 3.2 Gen2x2 controller, MSI motherboards offer never before seen USB speeds up to 20Gb/s when connecting the Rear USB Type-C. The Lightning USB 20G connectors are covered with gold to ensure a better signal and performance.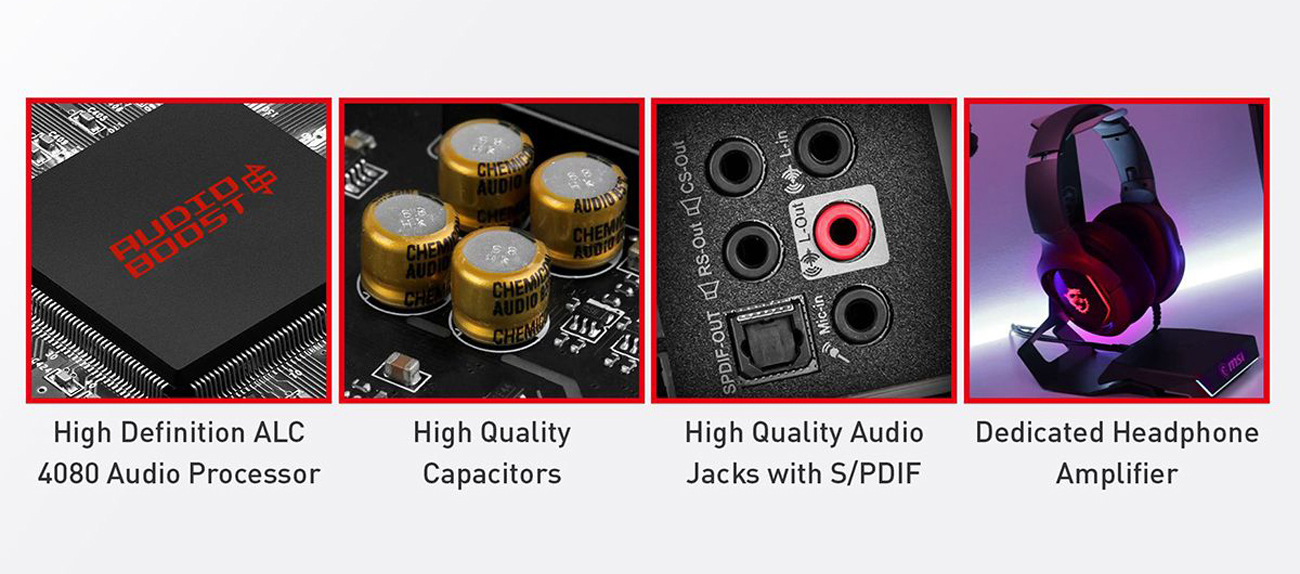 AMPLIFY YOUR EXPERIENCE WITH AUDIO BOOST 5
Like a dedicated sound card, Audio Boost 5 offers a HD audio processor, dedicated amplifier and high quality audio capacitors all physically isolated from the rest of the motherboard circuitry to ensure the purest audio signal to locate enemies with pin-point accuracy. Powered by ALC 4080 audio processor, this motherboards supports 120dB SNR, 32-bit/384kHz and DSD Super Audio CD playback & recording.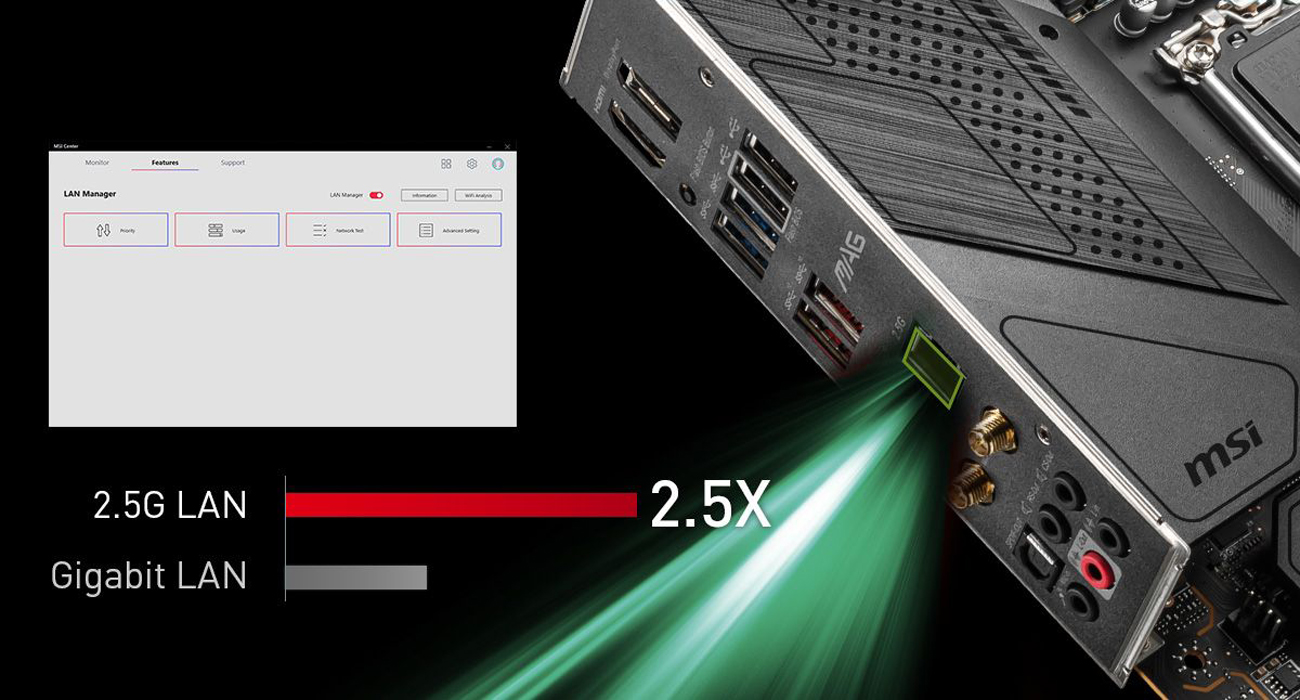 MAXIMIUM DATA TRANSFER WITH 2.5G LAN
MAG Z690 TOMAHAWK WIFI DDR4 features high-bandwidth and low-latency Ethernet networks for demanding gamers and power users. Onboard 2.5Gbps connectivity provides incredible data transfer speed faster than ever before. MSI LAN Manager automatically classifies and prioritizes the latency-sensitive for your applications, giving you the best online experience with low latency.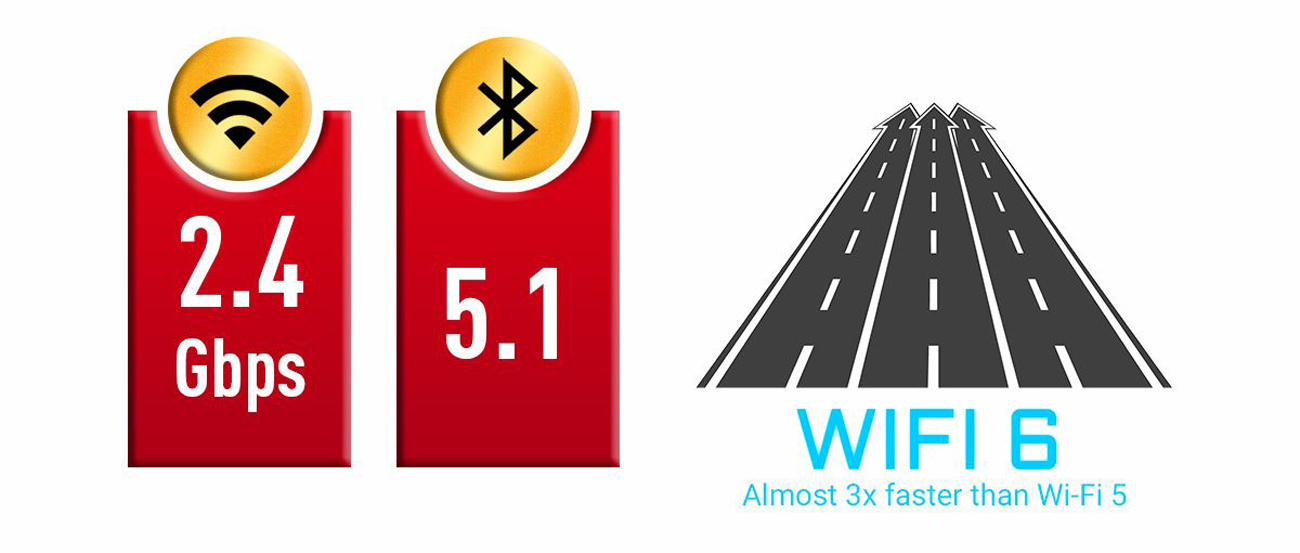 WI-FI 6 & BLUETOOTH
Use your LAN port for online gaming while using WiFi for other online applications. The Wi-Fi 6 adopts latest OFDMA and two-way MU-MIMO technologies, delivering wireless transmission speeds up to 2.4Gbps.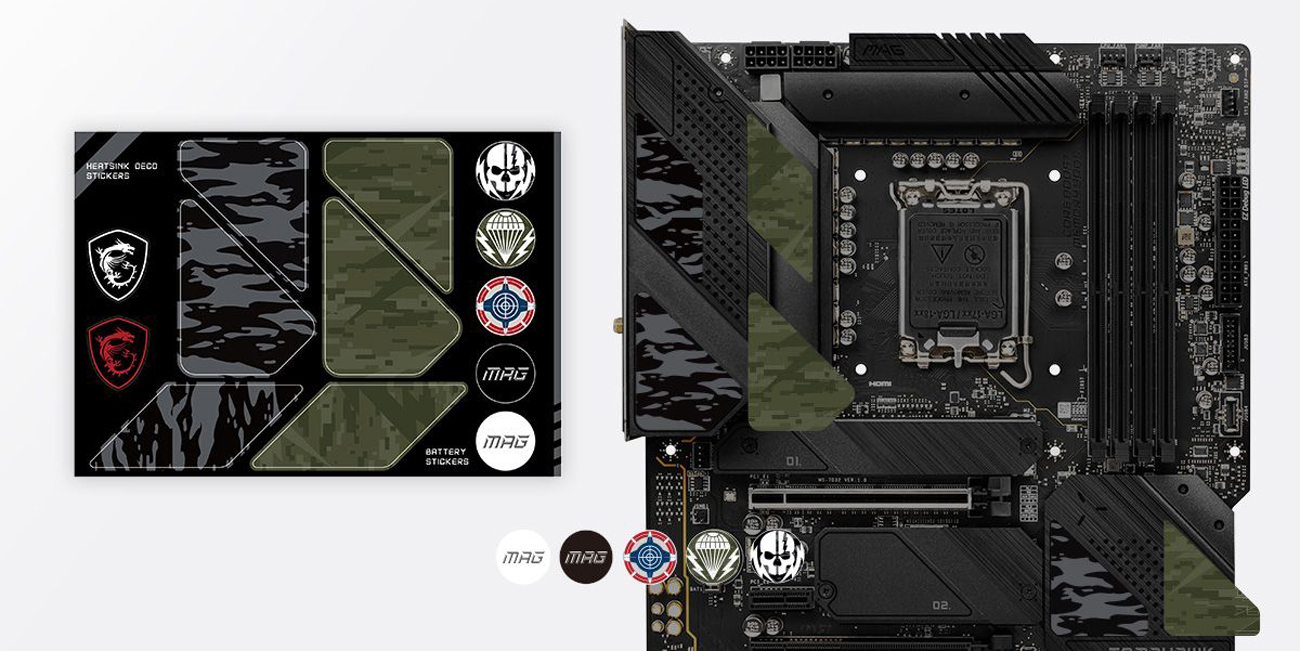 CUSTOMIZATION STICKERS
Thanks to the stickers within the package, you can easily personalize your motherboard and truly make it yours.