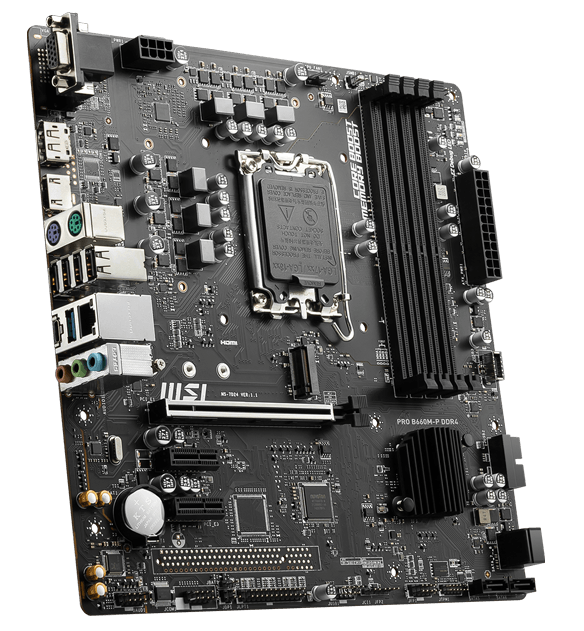 PRO B660M-P DDR4
Supports 12th Gen Intel Core, Pentium Gold and Celeron processors for LGA 1700 socket
Supports DDR4 Memory, up to 4600+(OC) MHz
Core Boost: With premium layout and digital power design to support more cores and provide better performance
Memory Boost: Advanced technology to deliver pure data signals for the best performance, stability and compatibility
Lightning Fast Experience: PCIe 4.0, Lightning Gen4 x4 M.2
Audio Boost: Reward your ears with studio grade sound quality
Steel Armor: Protecting VGA cards against bending and EMI for better performance, stability and strength.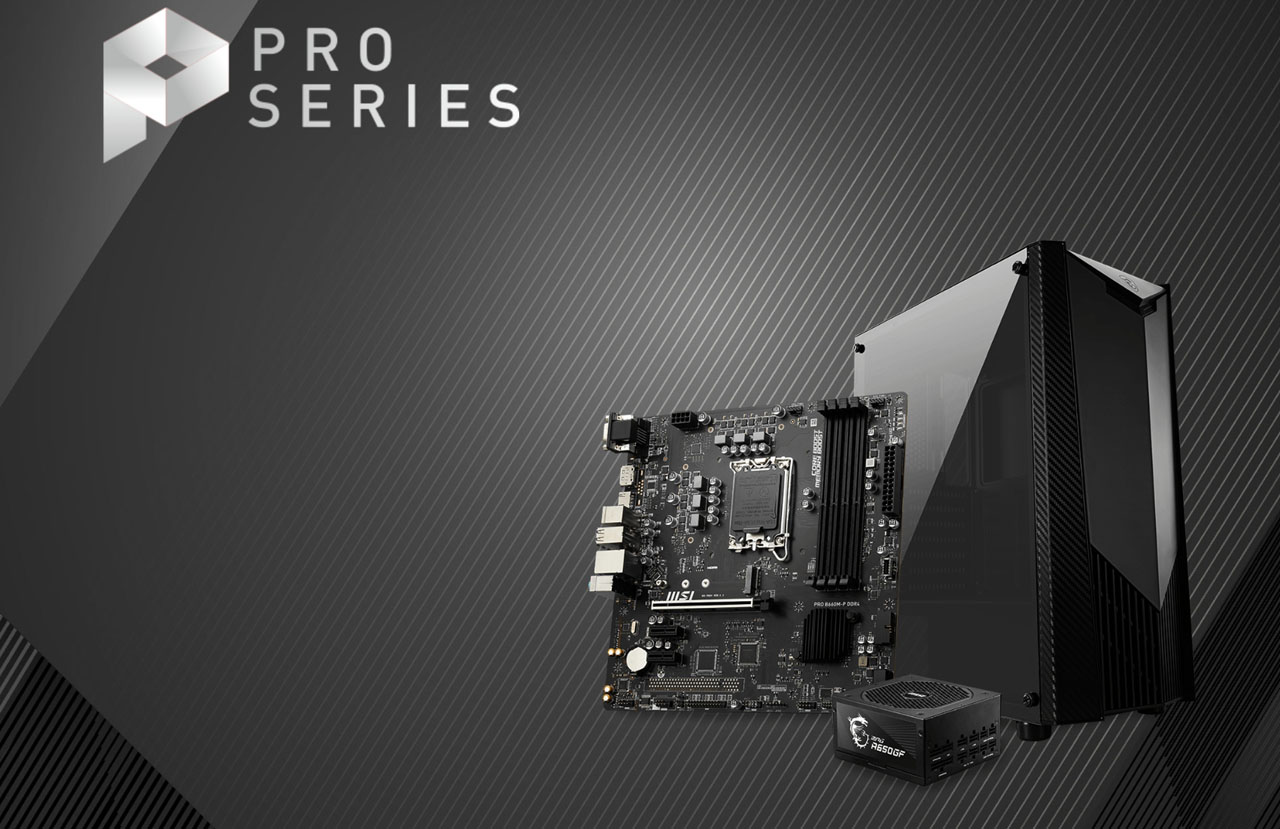 PRO series helps users work smarter by delivering an efficient and productive experience. Featuring stable functionality and high-quality assembly, PRO series motherboards provide not only optimized professional workflows but also less troubleshooting and longevity.

USER FRIENDLY DESIGN
MSI motherboards feature tons of convenient and smart design for DIY users, countless system tuning and troubleshooting tools that are at your disposal to push your system to new heights and satisfy even the most demanding tweaker. Makes it so easy to install your own motherboard without any issue.
FROZR AI COOLING
Detecting CPU & GPU temperatures and automatically adjusting fan duty of system fans to a proper value by adopting MSI AI ENGINE.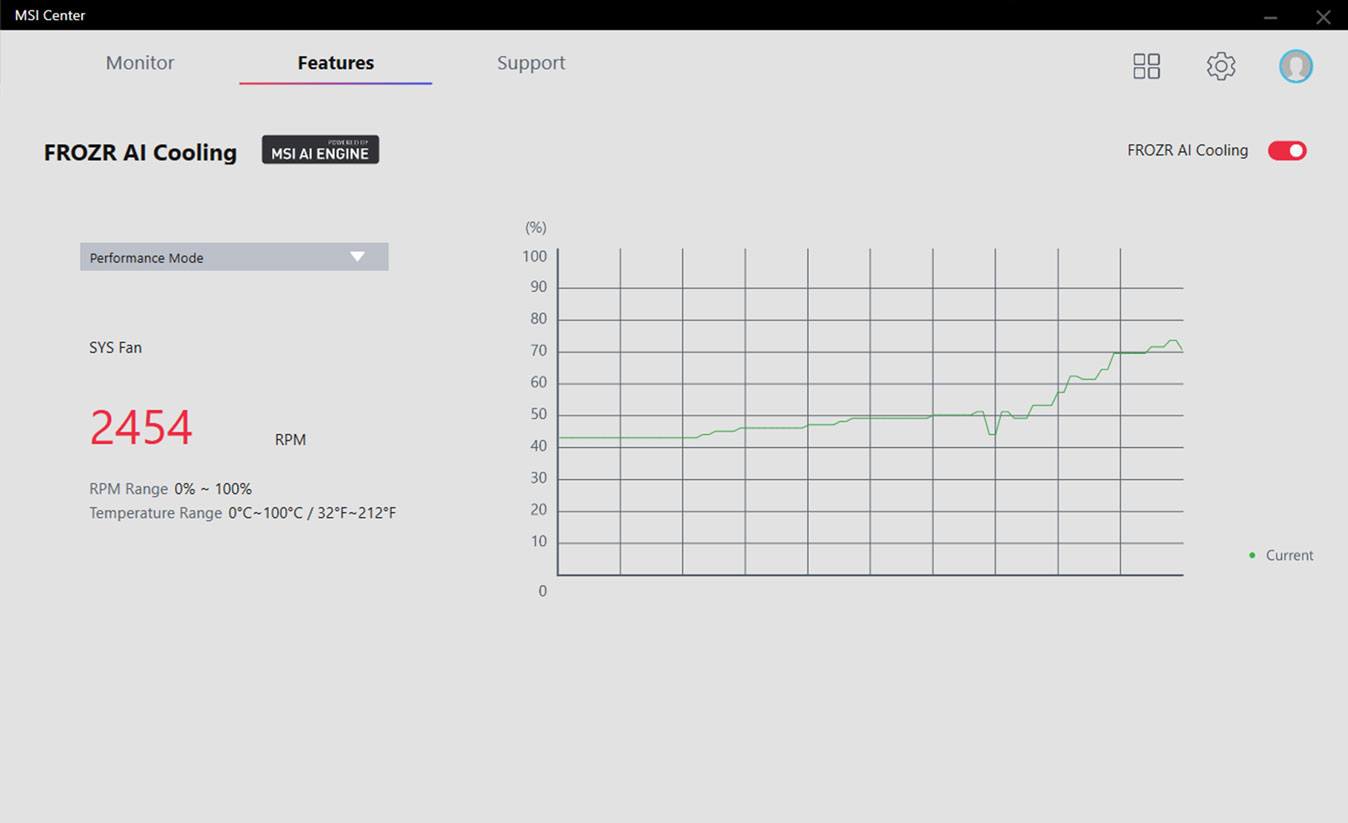 Performance mode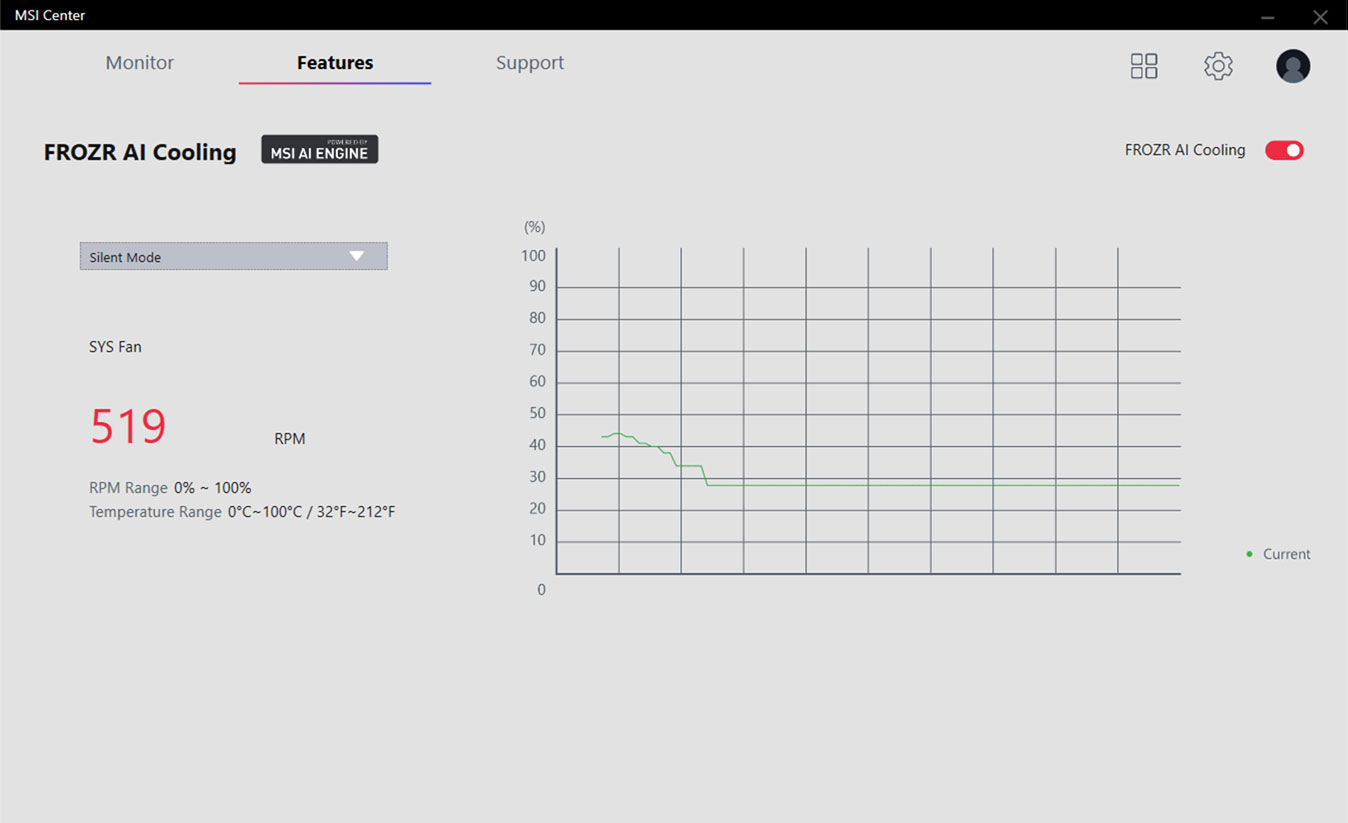 Silent mode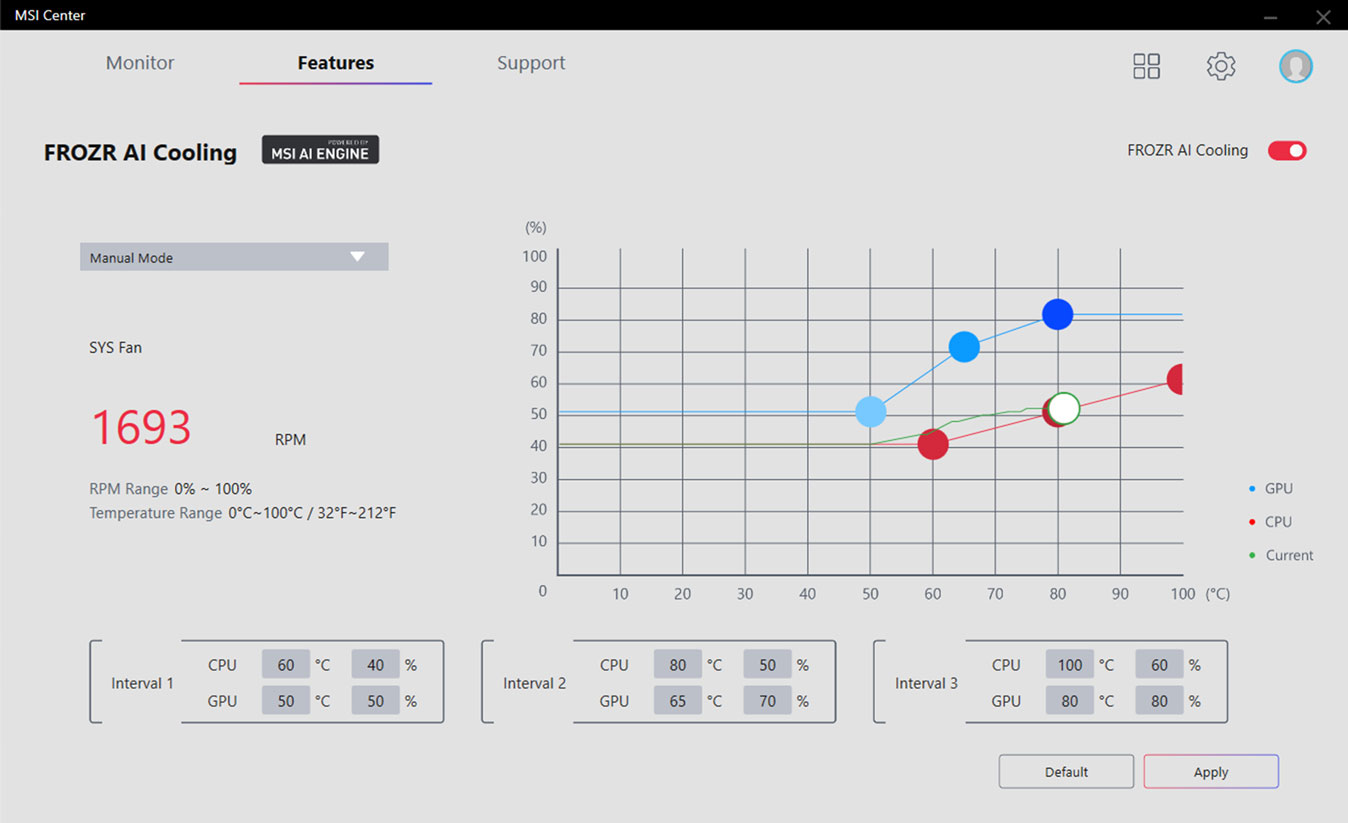 Manual mode
FULLY CONTROLLABLE IN BIOS AND SOFTWARE
MSI motherboards let you manage speeds and temperatures for all your system and CPU fans. Total Fan Control allows you to check your primary system characteristics in a simplified graphical interface. You can also set up to 4 temperature targets for CPU and motherboard, which will adjust the fan speeds automatically.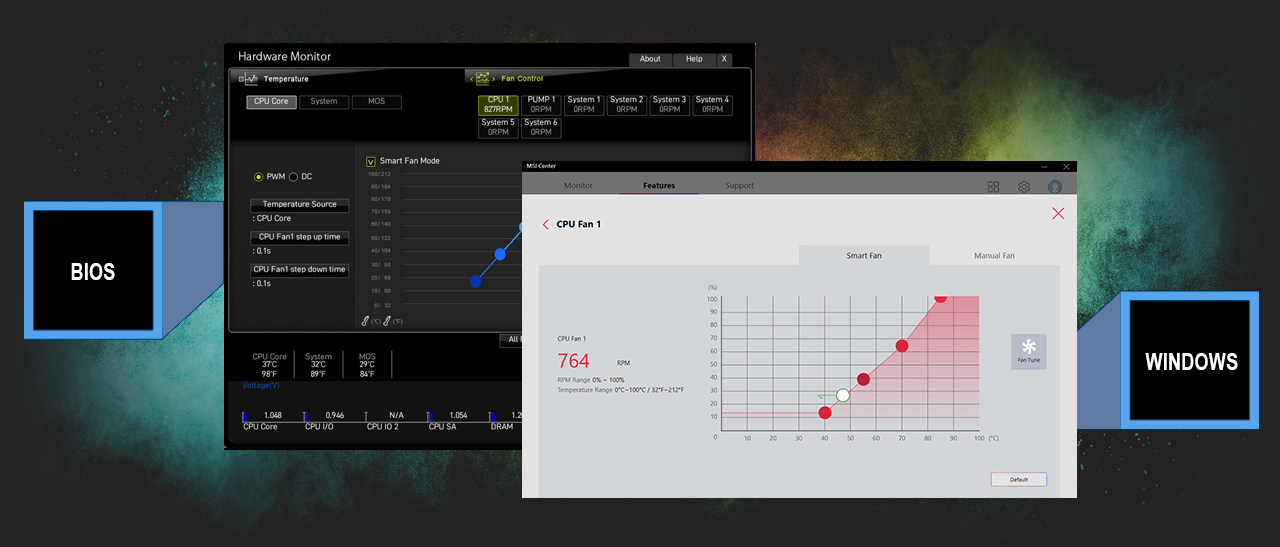 EZ DEBUG LED
Ran into trouble? Onboard LEDs for key components will indicate the source of the problem so you know exactly where to look to get it up and running again.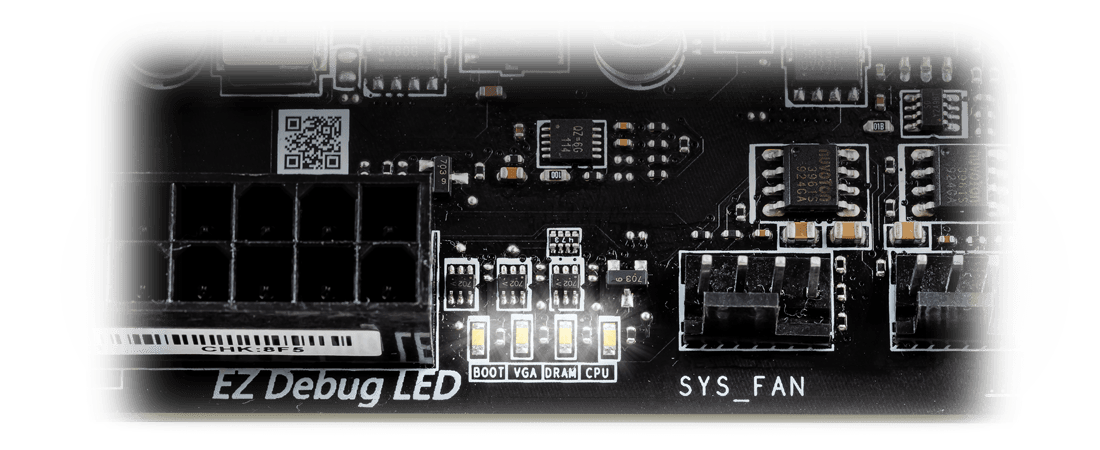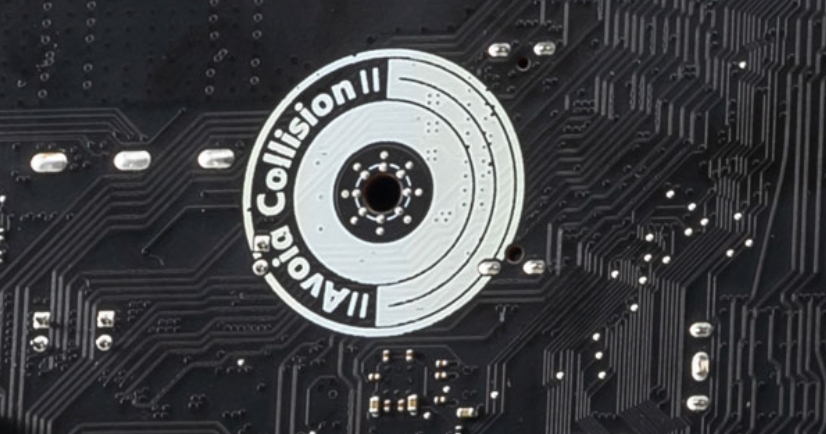 AVOID COLLISION NOTIFICATION
Protective paint is printed around each screw hole to prevent parts from being scratched.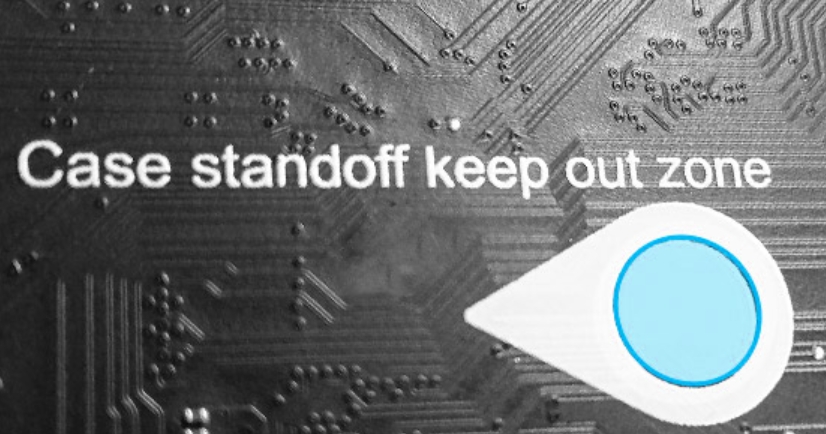 KEEP OUT ZONE
MSI motherboards circuitry ensures the case standoff keep out zones are pure and clean, preventing any component contact or damage to the motherboard.
* Please make sure to remove the unnecessary mounting stand-off when installing the motherboard into the case.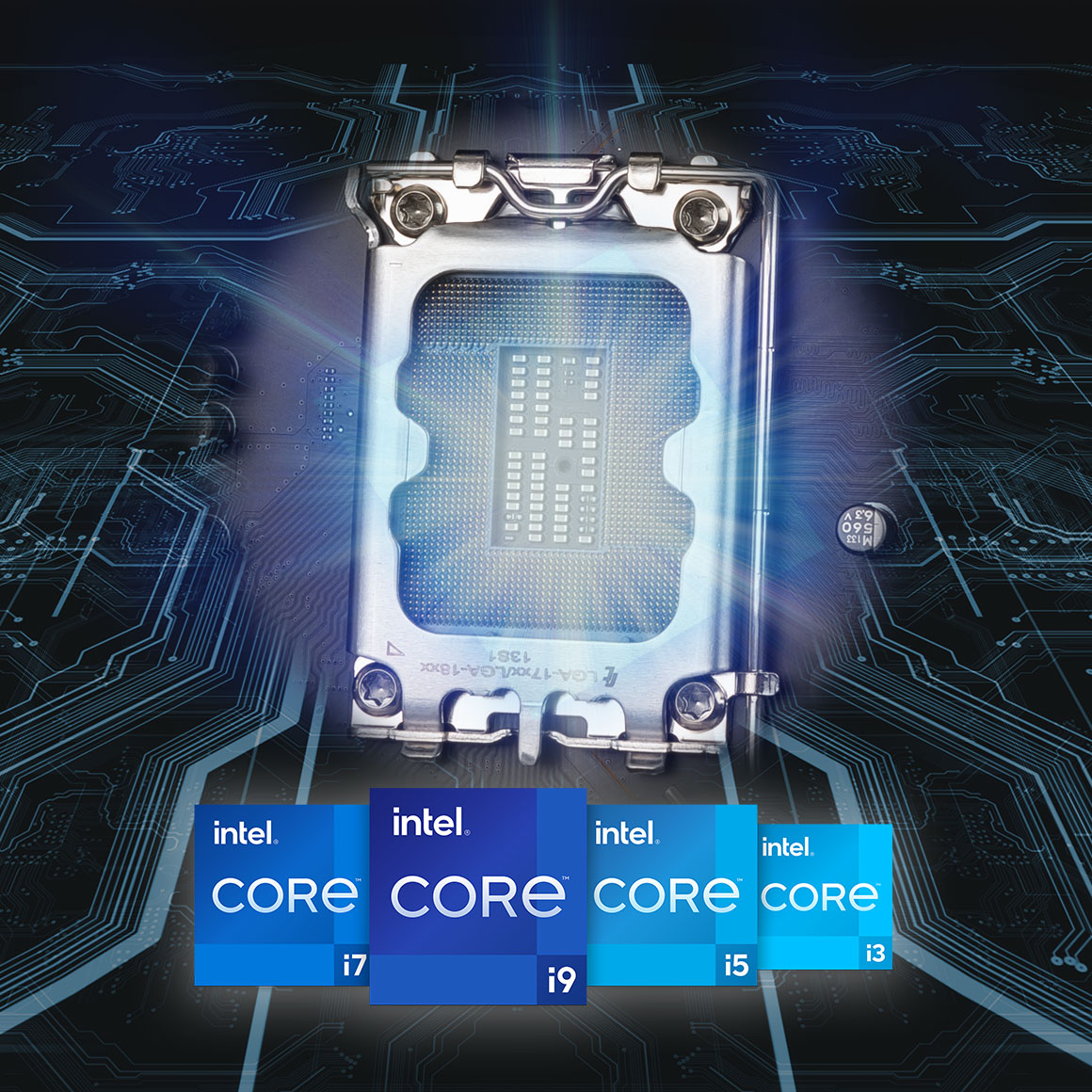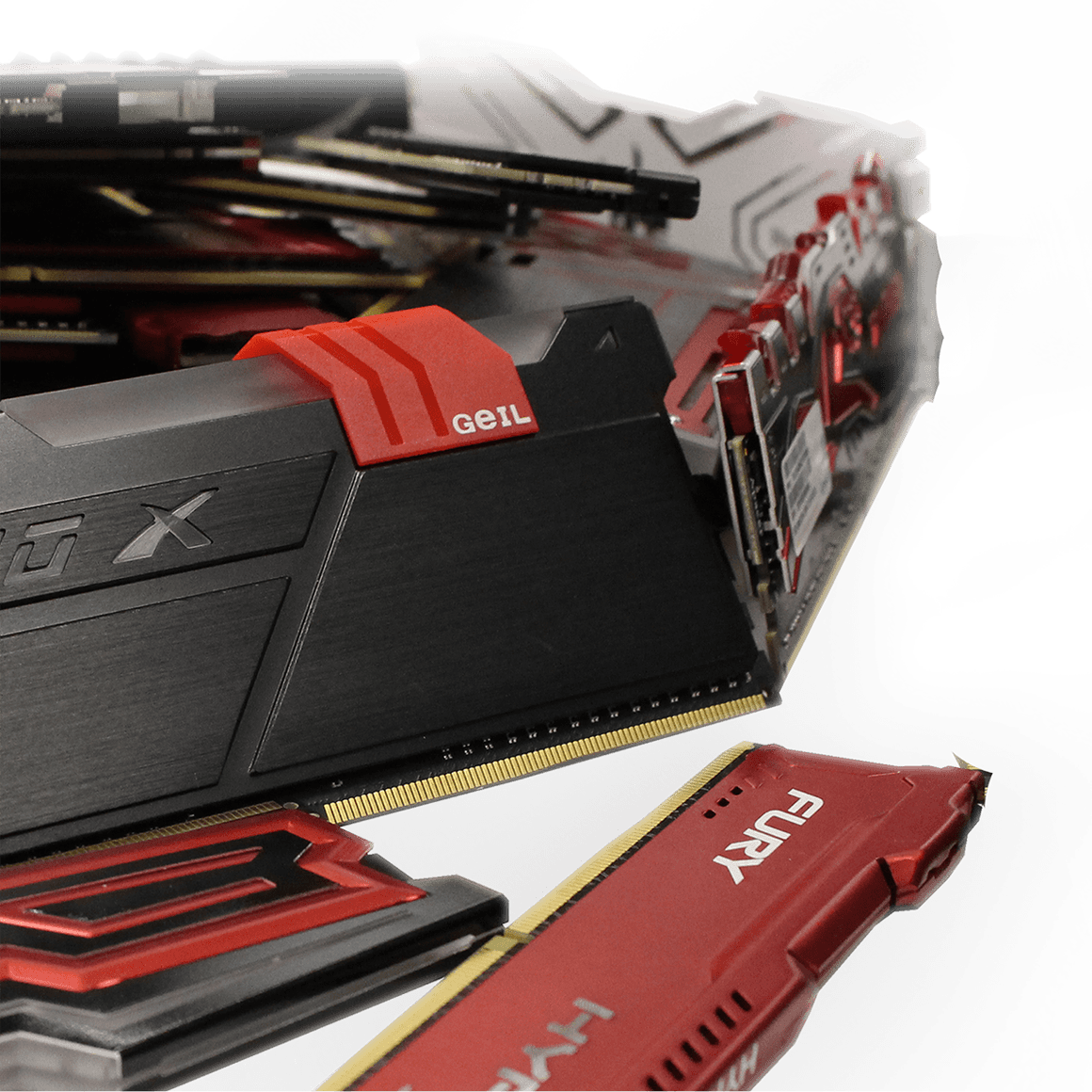 EXTREME STABILITY & COMPATIBILITY TESTING FOR MEMORY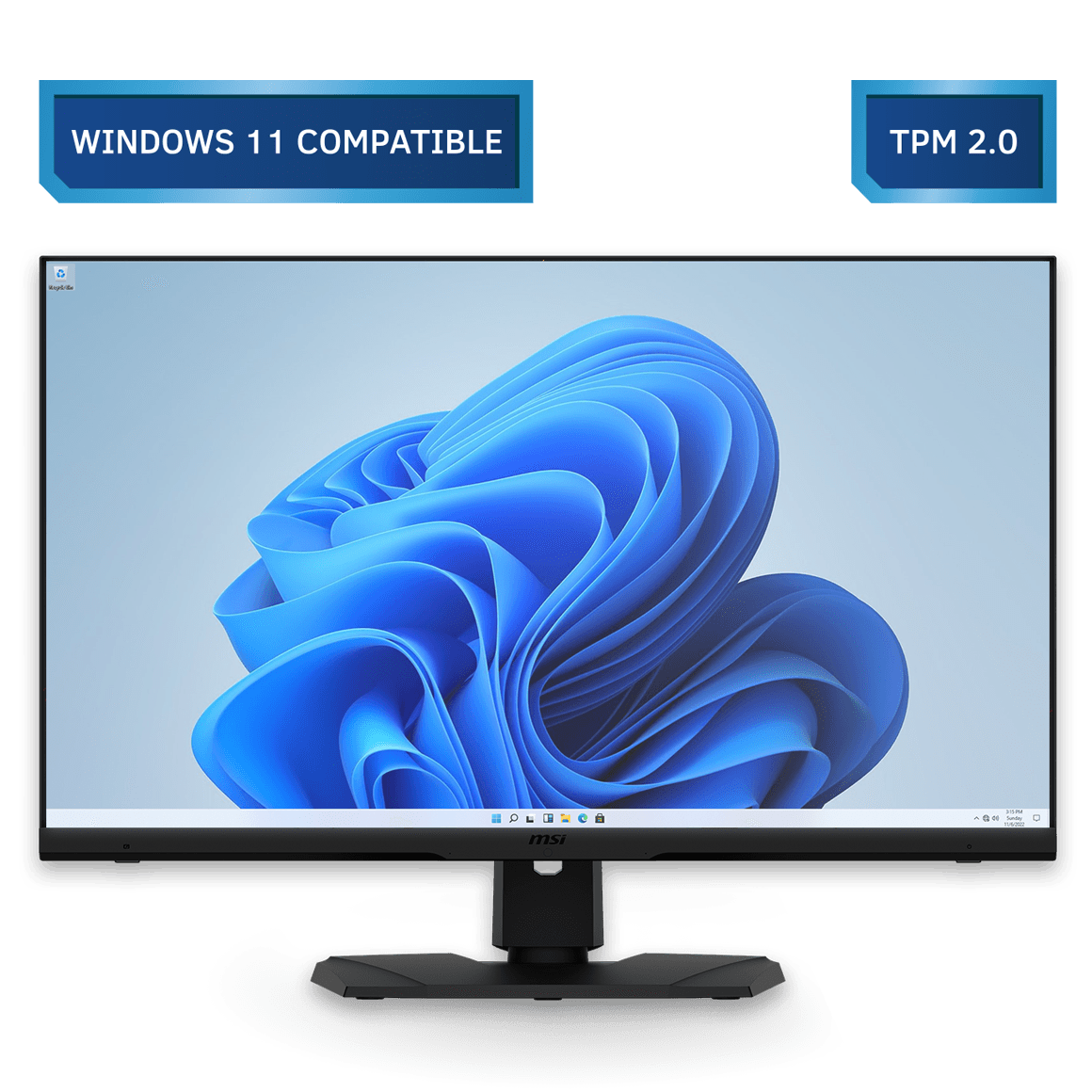 ULTIMATE MOTHERBOARD PROTECTION
Double ESD protection doubles up the grounding layer around the mounting holes, preventing static discharge surges from damaging the motherboard.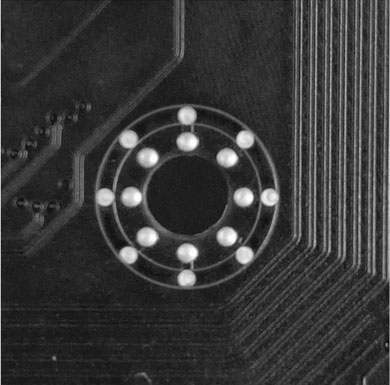 MSI
DOUBLE ESD PROTECTION
BEST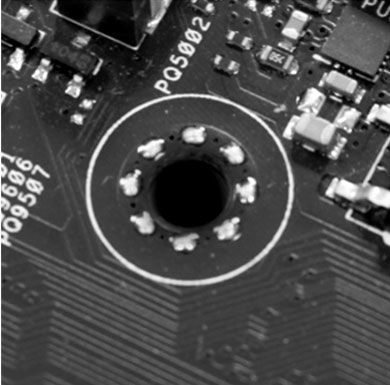 BRAND A
SINGLE ESD PROTECTION
AVERAGE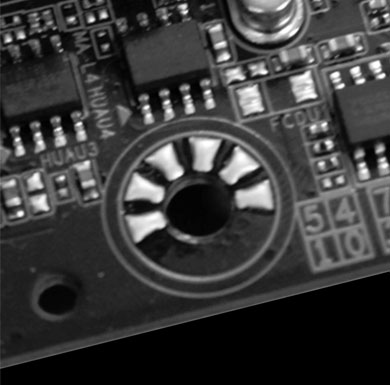 BRAND G
SEMI ESD PROTECTION
POOR
FORTIFY YOUR SYSTEM WITH PCI-E STEEL ARMOR
MSI PCI Express Steel Armor slots are secured to the motherboard with extra solder points and support the weight of heavy graphics cards. When every advantage in games counts, Steel Armor shields the point of contact from electromagnetic interference.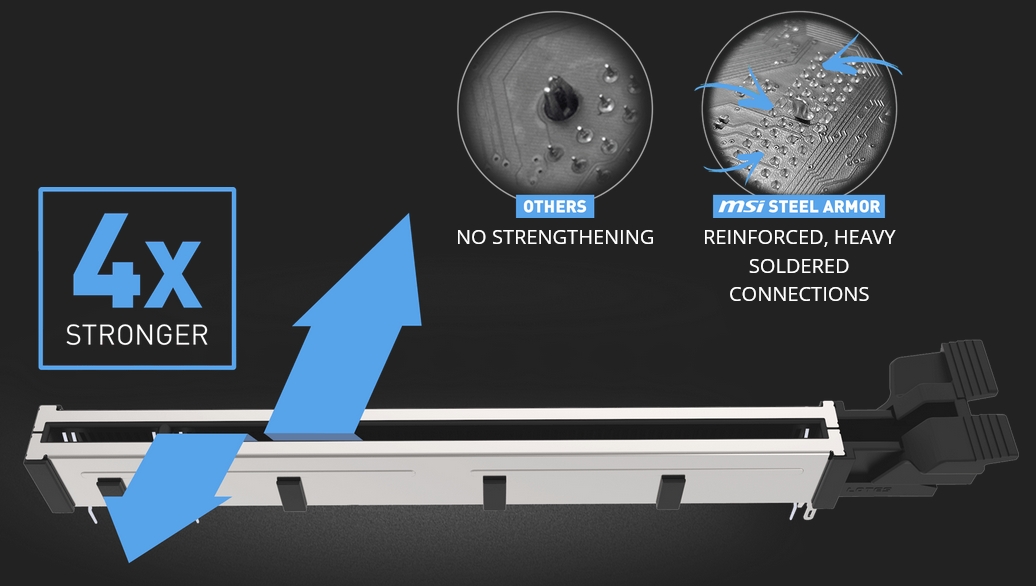 CONNECTIVITY
The most important thing of DIY is expandability. MSI PRO series motherboards feature plenty possibilities for prosumers' need. Stable LAN, faster storage and USB transfer speed and other expandable connectors are ready to enlarge your flexibility.
OPTIMIZE NETWORK FOR LOWER LATENCY!
MSI LAN Manager automatically classifies and prioritizes the latency-sensitive applications, giving you the best online experience with low latency.
MSI LAN MANAGER
– Allows you to change applications' traffic priority –
– Allows you to customize bandwidth for each application –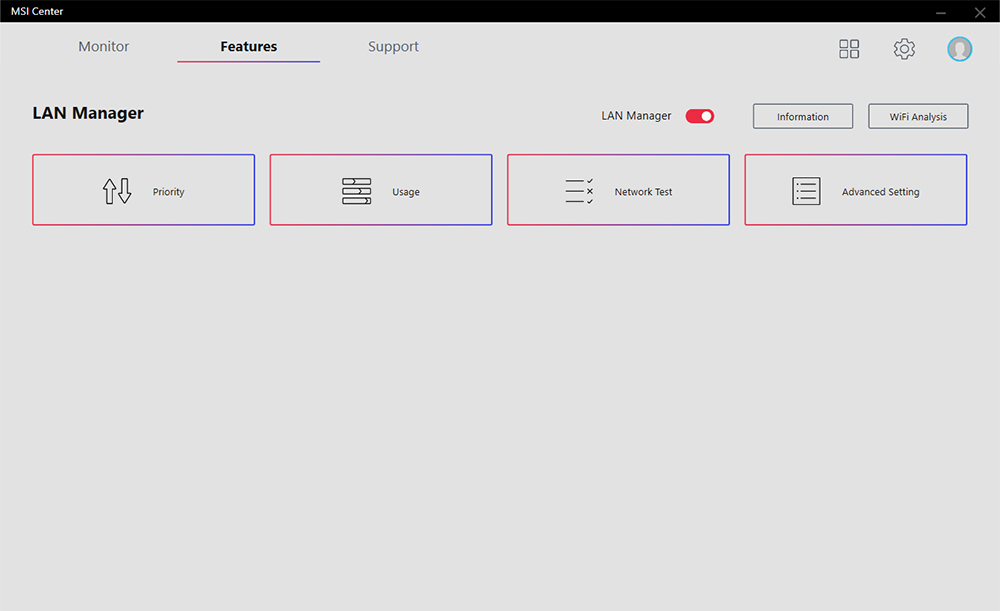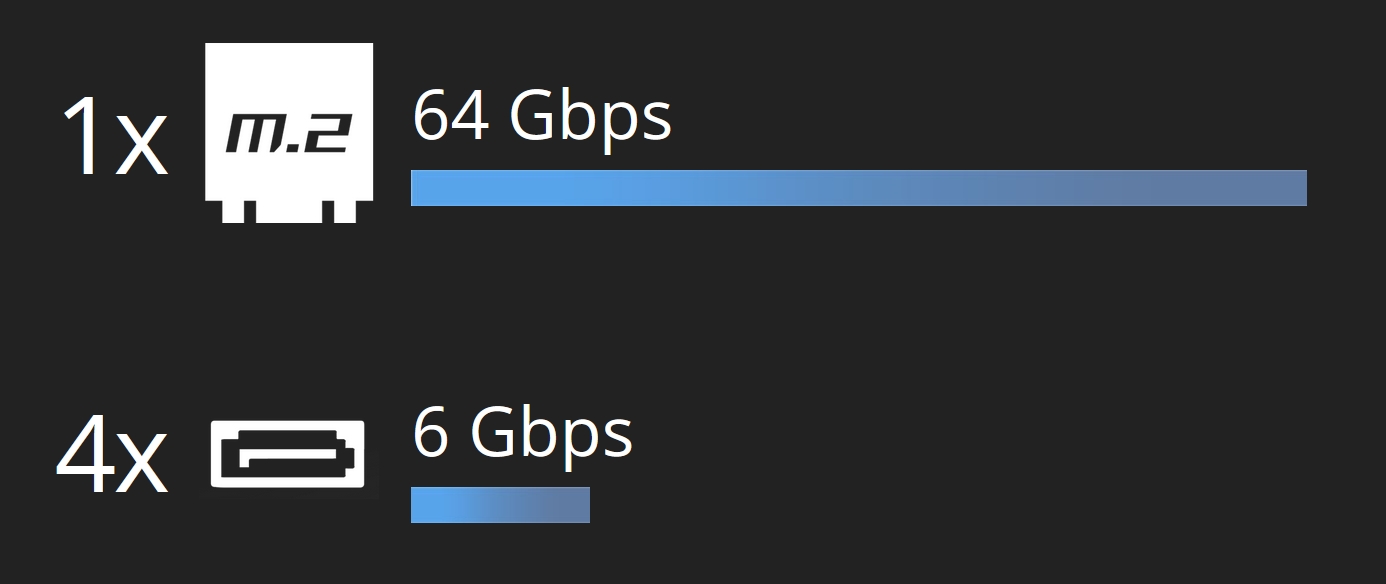 FAST AND FUTURE-READY STORAGE
MSI PRO series motherboards support all the latest storage standards, which allows users to connect any ultra-fast storage device. Higher efficiency makes your work easier.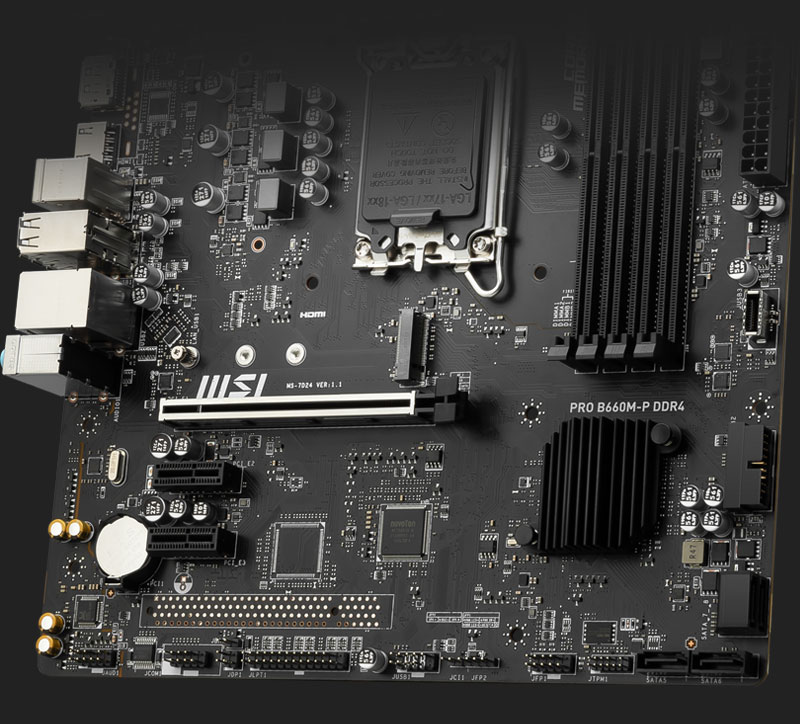 LIGHTNING GEN 4 PCI-E
MSI lightning Gen 4 PCI-E is the latest and the fastest PCI-E data transfer solution with 64GB/s of transfer bandwidth that has doubled compared to its previous generation. PCIe 4.0 maintains both backward and forward compatibility with older and newer specifications.
LIGHTNING GEN 4 M.2
Utilizing 12th Gen Intel Core processors, MSI PRO B660M-P DDR4 motherboard features latest Lightning Gen 4 M.2 which is the fastest onboard storage solution on the market with up to 64 Gb/s transfer speed.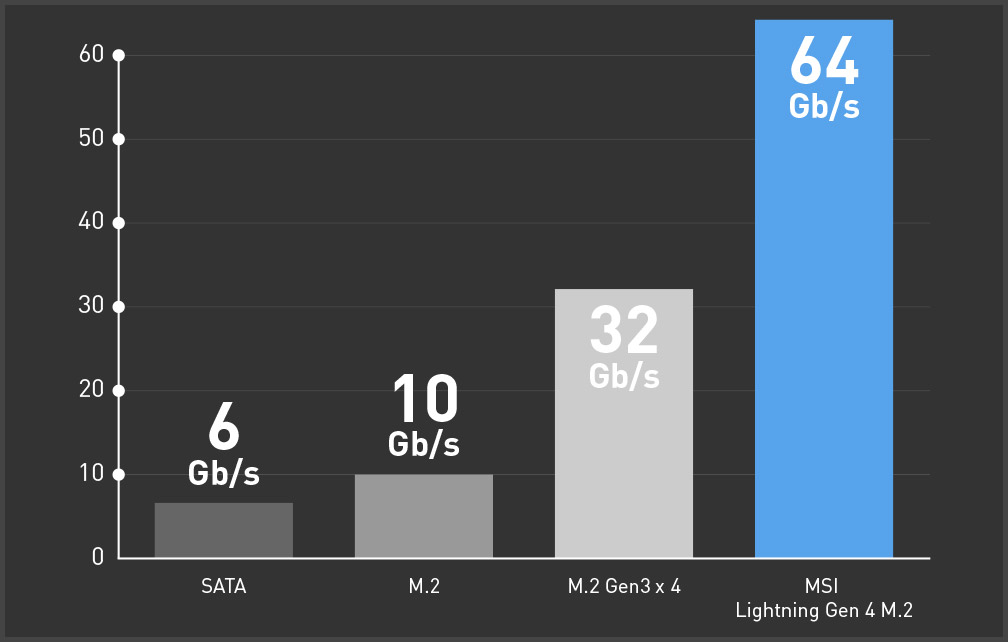 USB 3.2 GEN 1
Transfer lots of data, music and movies over USB easier. USB 3.2 Gen 1 ports are ready in both front and rear I/O, providing wide variety of options to connect your USB 3.2 Gen 1 devices.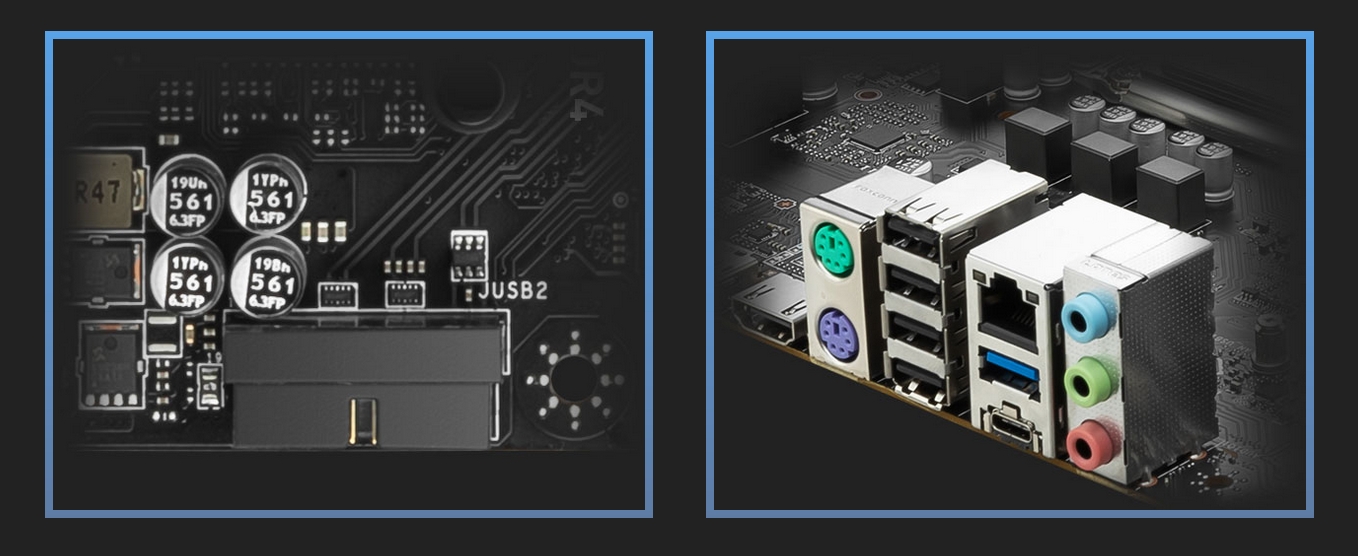 EXPERIENCE MORE
MSI PRO series motherboards are designed to satisfy any professional workflow. Elevate your listening pleasure and enjoy extreme sound quality. Moreover, with years of experience in creating performance enhancing tools that are easy to use, only the highest quality applications are at your disposal. The extensive features let you fine-tune your system to deliver reliable maximum performance.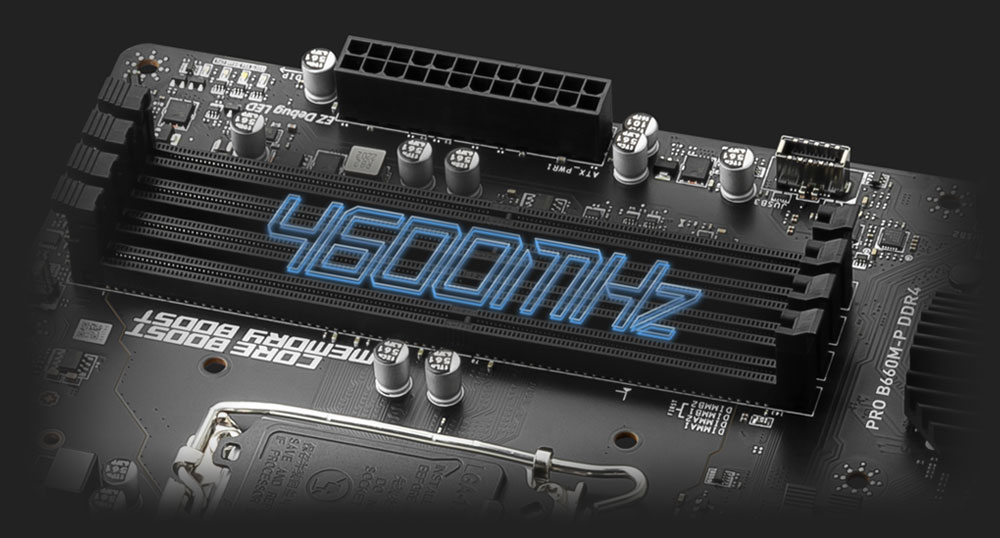 A HUGE STEP OF DDR PERFORMANCE
MSI OC LAB does not merely work hard on extreme overclocking. The XMP memory profile has great improvement on performance and efficiency for B660. Easy to enable XMP profile with auto power settings to get the best memory speed and stability.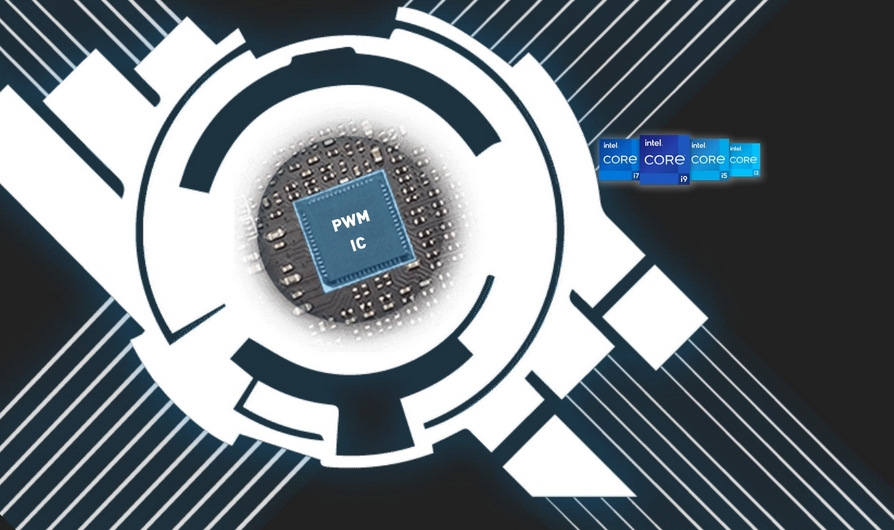 CORE BOOST
Core Boost technology combines MSI's premium layout and optimized power design which allows for faster and undistorted current delivery to the CPU at pin-point precision. Not only supporting multi-core CPU, also creating the perfect conditions for your CPU overclocking.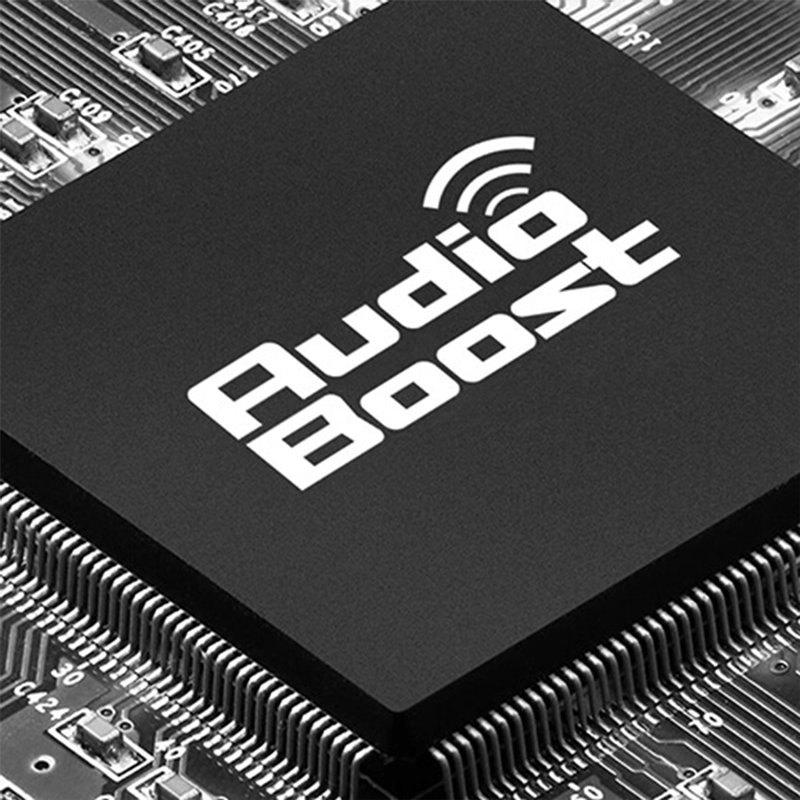 DEDICATED HIGH DEFINITION AUDIO PROCESSOR
Make sure you enjoy the purest sound quality in both stereo and surround sound.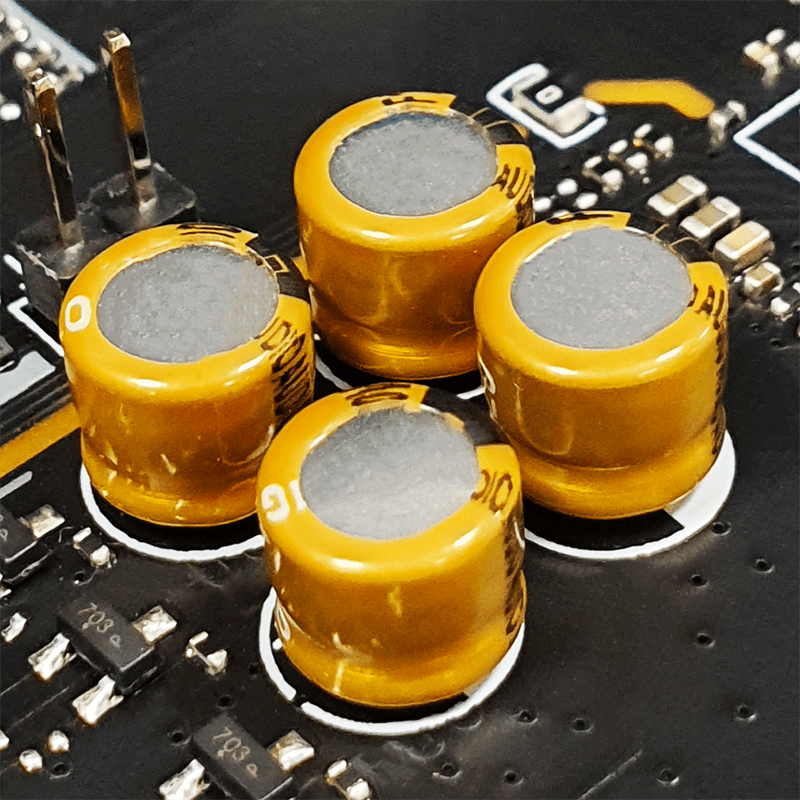 HIGH QUALITY AUDIO CAPACITORS
A high fidelity sound experience with exceptional acoustics and realism for studio level headphones is ensured.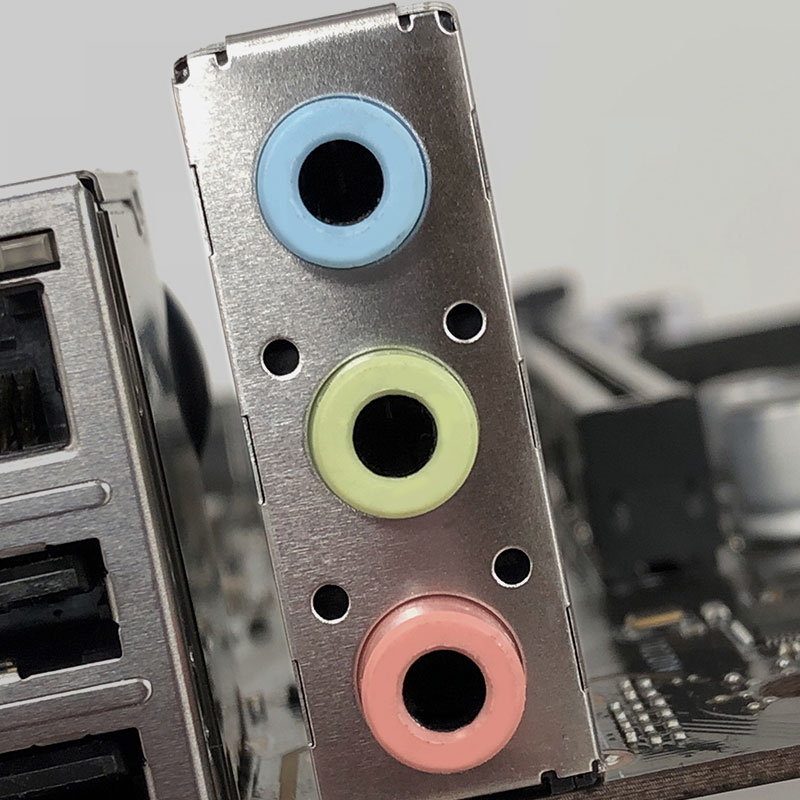 HD AUDIO CONNECTORS
Keep you sound perfect by transmitting your audio with pure digital signal.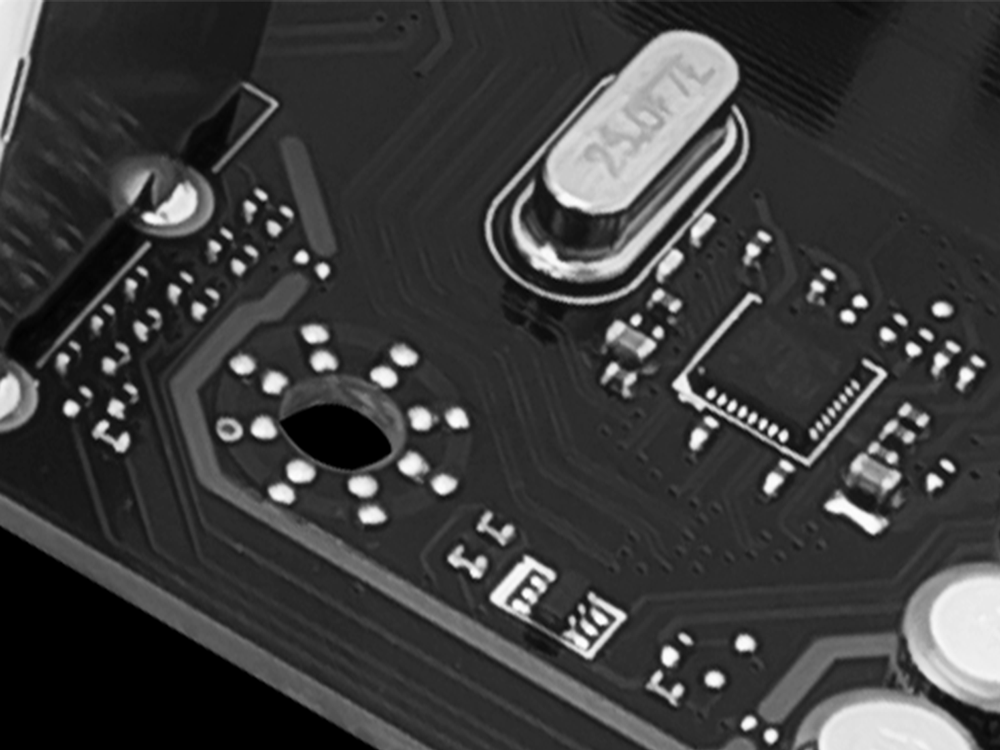 ISOLATED AUDIO DESIGN
Like a dedicated sound card, audio components and circuits have been laid on a reserved motherboard section and electrically isolated.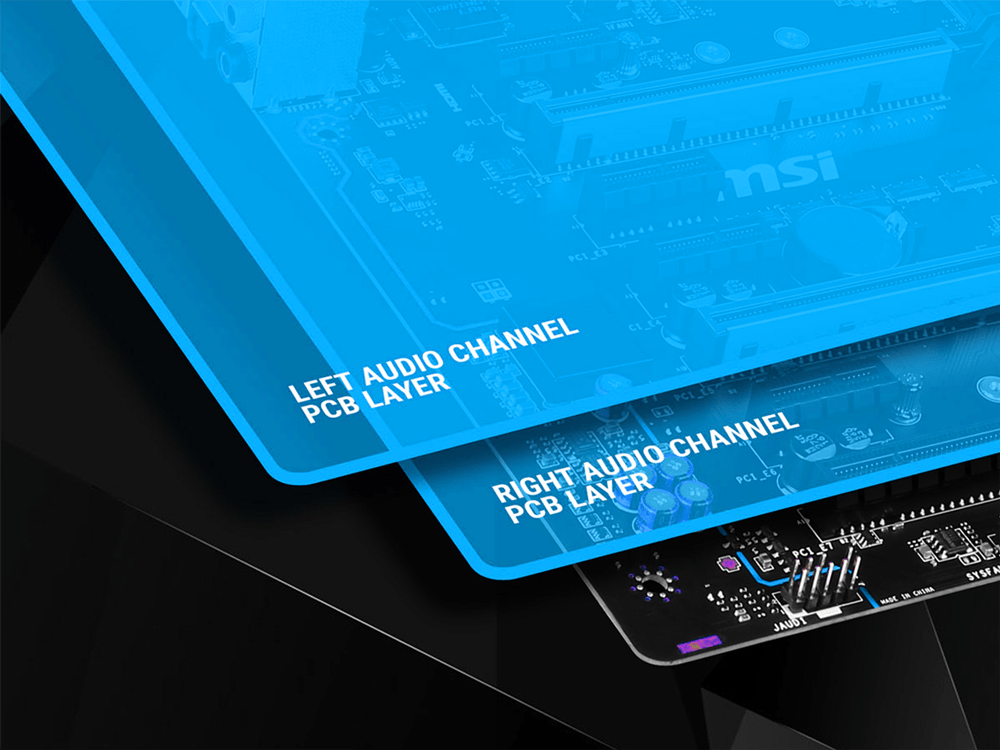 SEPARATED AUDIO LAYERS FOR CLEAN LEFT & RIGHT CHANNELS
Using separated layers in the PCB ensures equally pristine sound quality for both left and right audio channels.
DE-POP PROTECTION
Audio Boost protects your ears by eliminating those annoying loud popping sounds when you plug/unplug devices or turn your PC on/off.

MSI CENTER
MSI brand new MSI Center unifies a suite of MSI software utilities into a single centralized application. Take control of advanced motherboards features and unleash endless possibilities.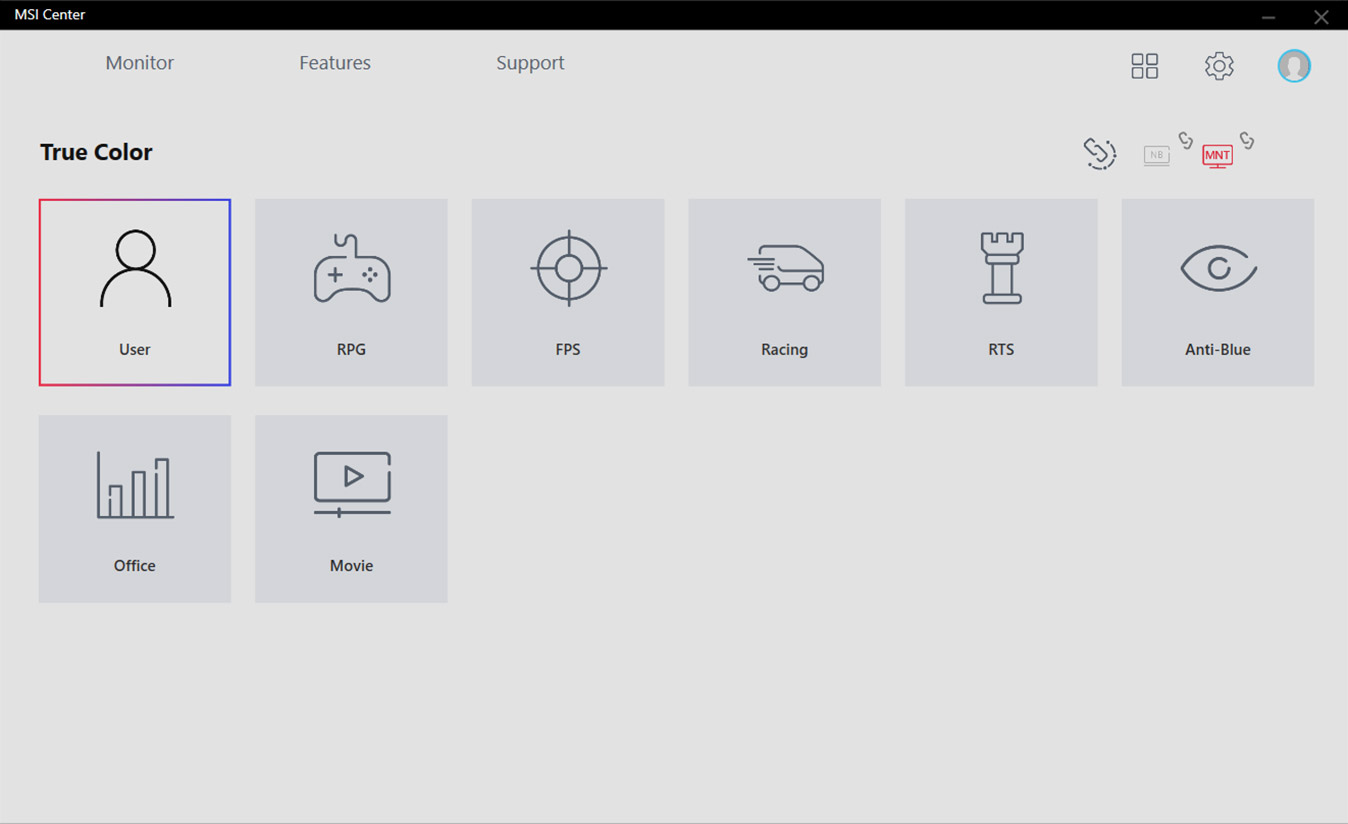 True Color
Optimized monitor's brightness and color in several modes for different situations. You can also customize by yourself.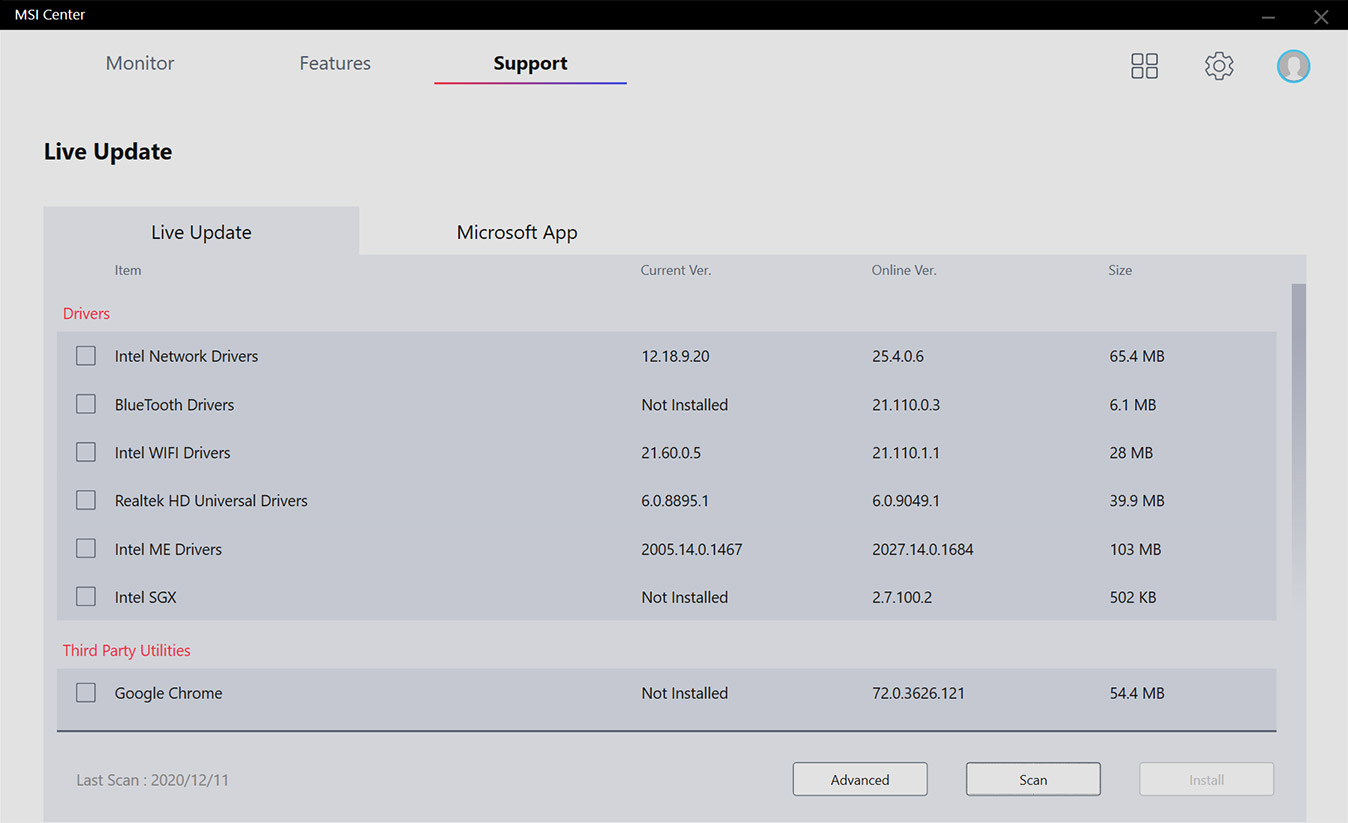 Live Update
Never miss out on important updates. MSI Live Update automatically downloads and installs the latest drivers, BIOS and software so you can focus on your work.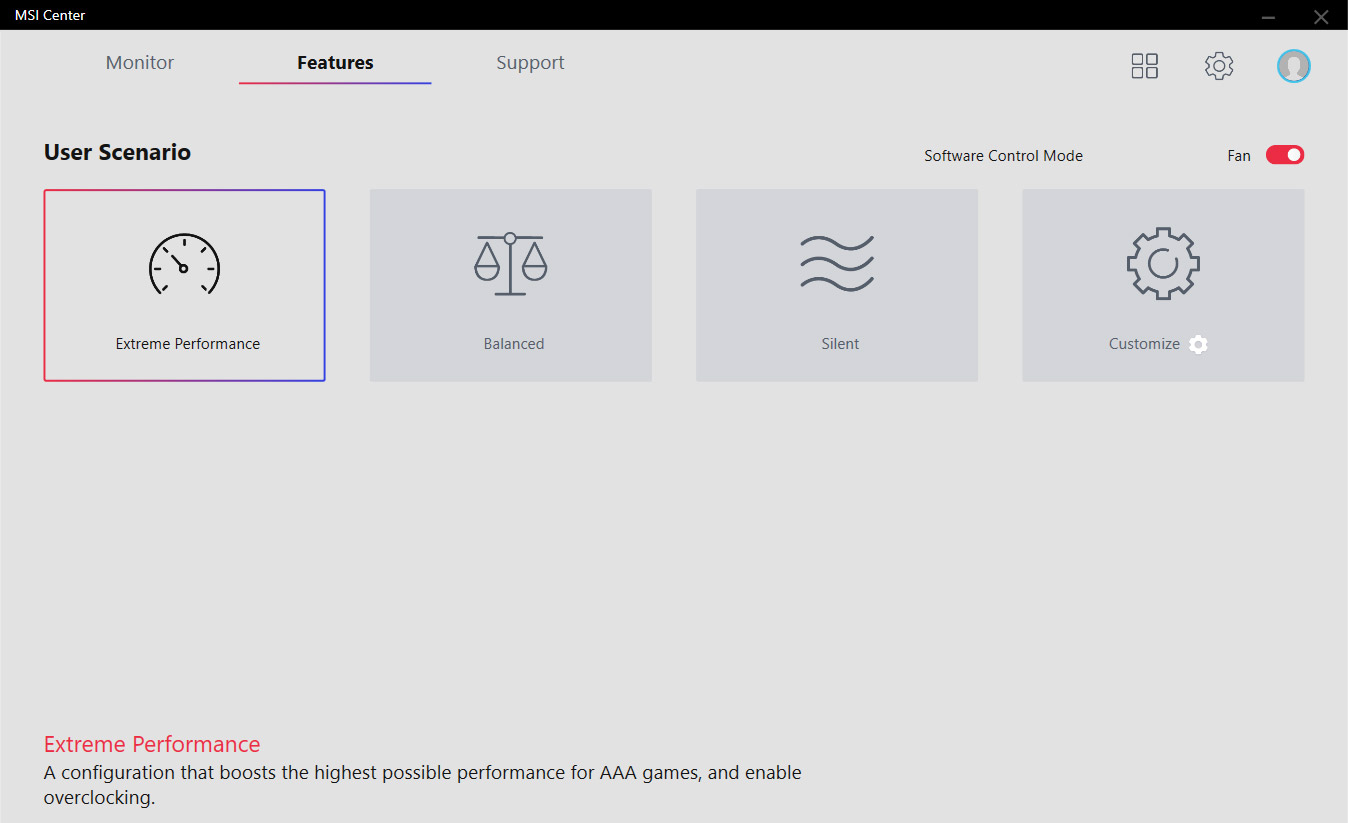 User Scenario
One click for setting your computer. Even customize your own profile as you prefer.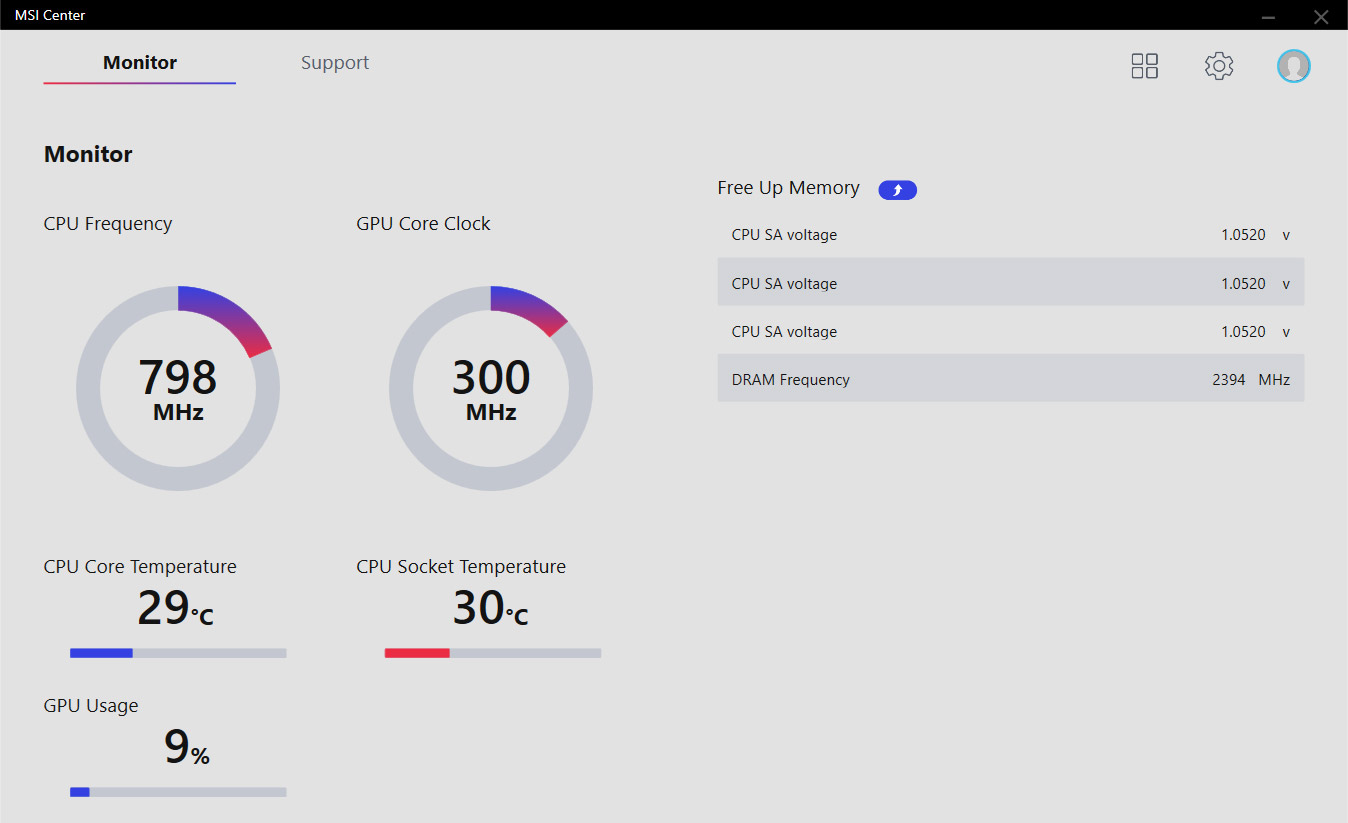 Hardware Monitoring
Get immediate access to your critical hardware information in real-time.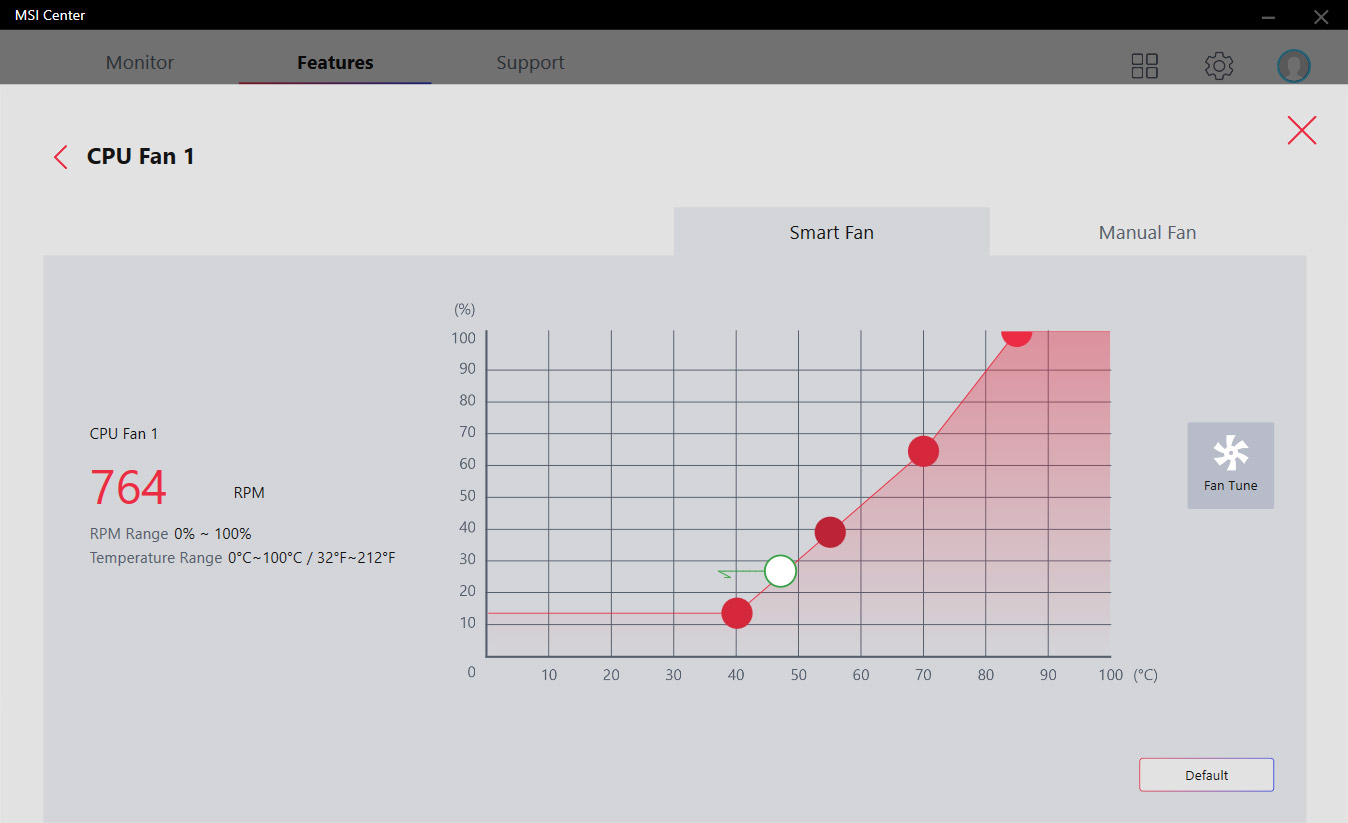 Fan Center
Assume complete control of your fans with Fan Center. Set up to four CPU temperature targets and the motherboard will adjust fan speeds automatically.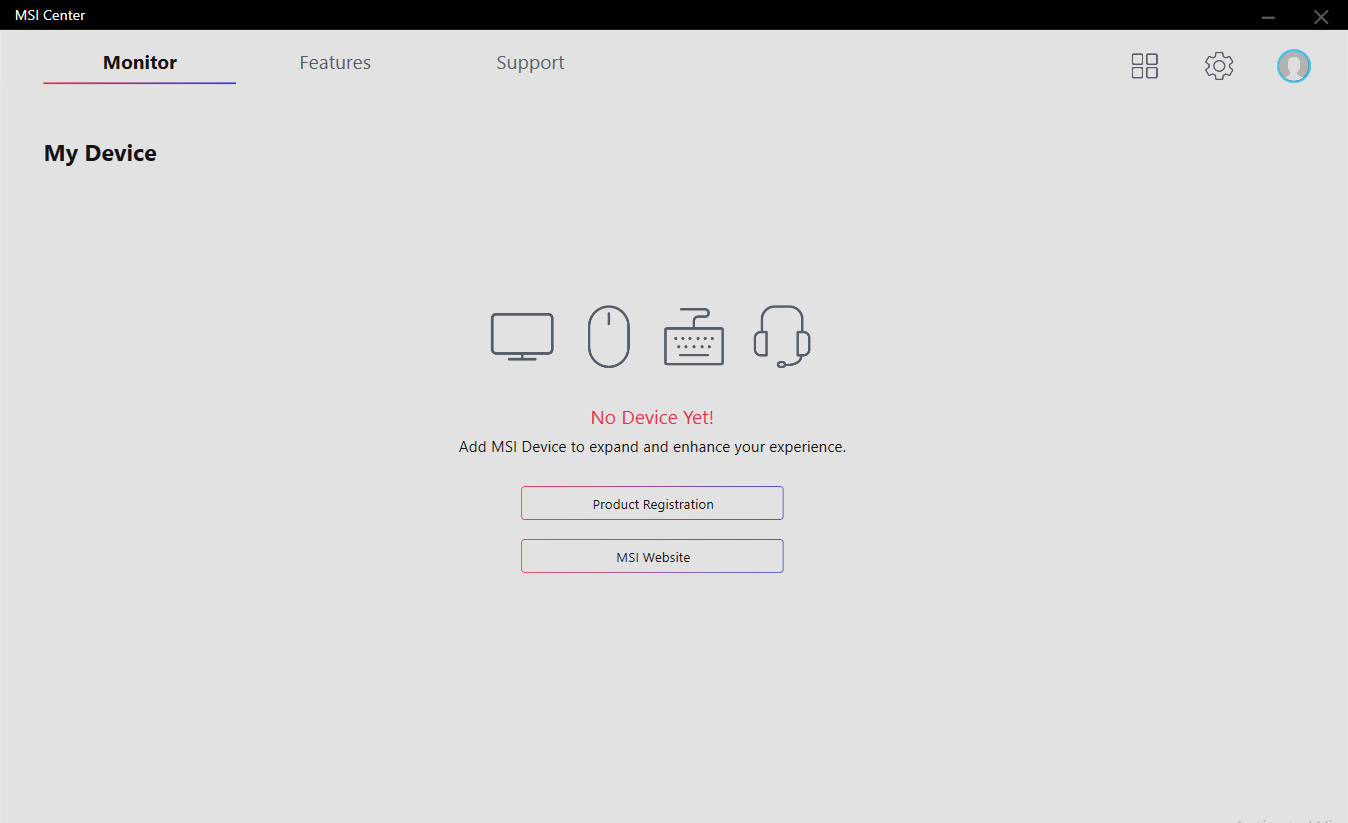 Product Registration
Register your MSI product to enjoy a host of benefits!
CLICK BIOS 5
Get more from a loaded BIOS designed for ease of use. Fine-tune the motherboard for gaming performance, efficiency, or overclocking to world records!
CREATOR GENIE
Quickly overclock your CPU with a single button for more performance.
XMP
Choose from a preset XMP profile and automatically overclock compatible DDR memory.
M-FLASH
Conveniently flash or upgrade the BIOS in a few minutes from the CMOS Setup Utility.
HARDWARE MONITOR
Get immediate access to your critical hardware information in real-time including temperature, memory capacity, clock speed, and voltage.
MEMORY TRY IT
Get extreme speed out of your system memory and get more performance.
SEARCH & FAVORITES
A permanent search & favorite option in the top right corner moves you through the BIOS menus quickly.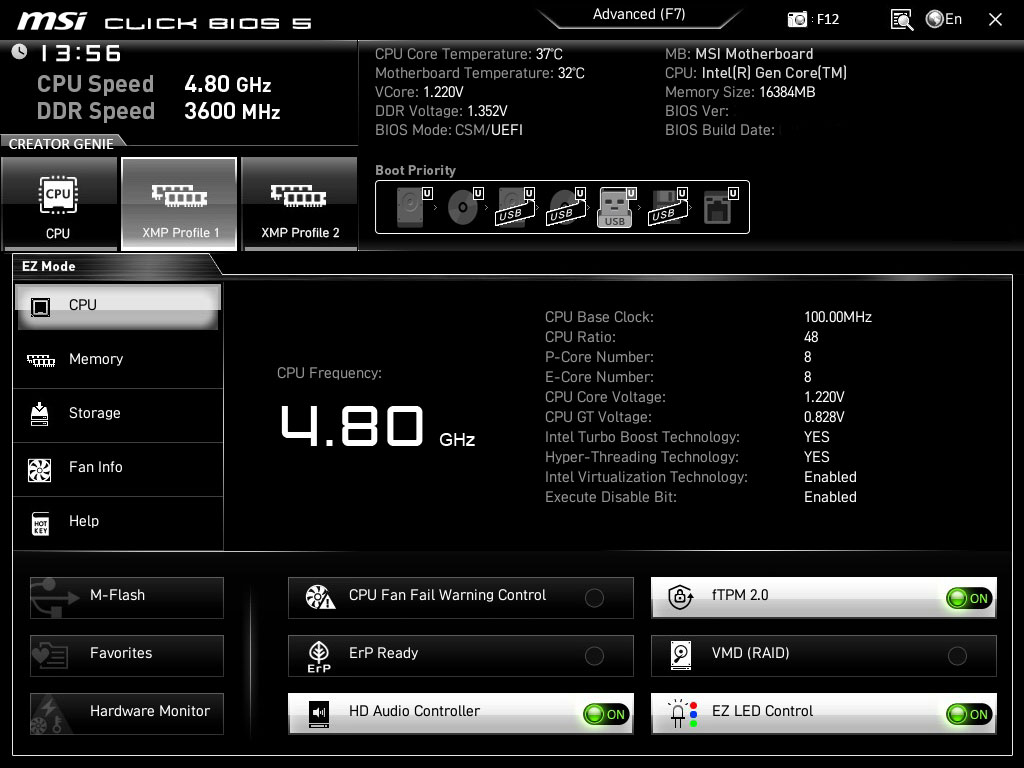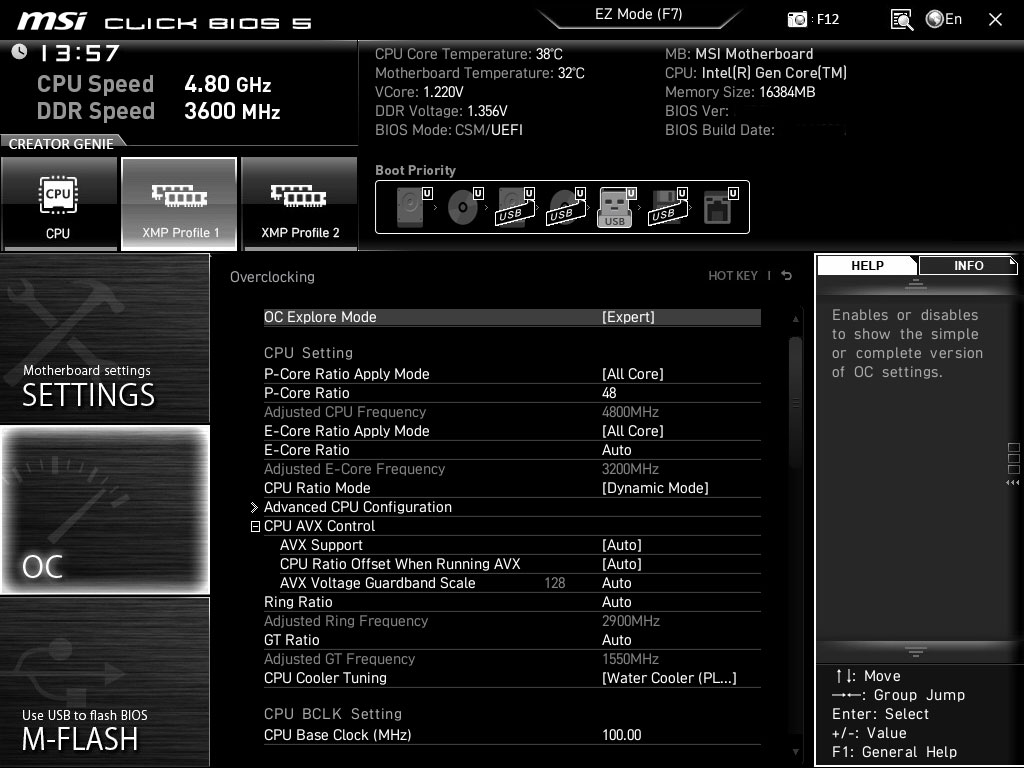 RESIZABLE BAR (RE-SIZE BAR)
Resizable BAR (Re-Size BAR) is an advanced PCI Express feature that enables the CPU to access the entire GPU frame buffer at once and improve performance.
* Function may differ due to version change. Please update the latest VBIOS/BIOS/Driver through MSI official website or consult service center.

SYSTEM SAFETY
All MSI PRO series motherboards have SECURITY function in BIOS to protect every private files for business or daily use.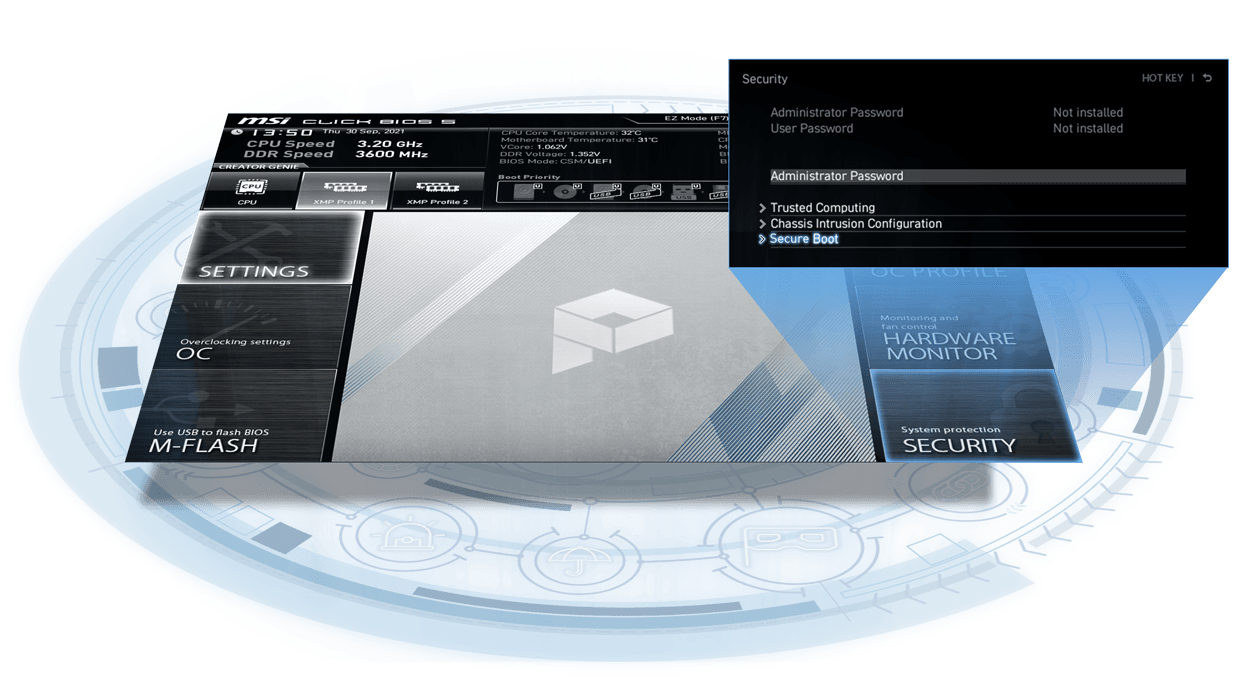 Secure Boot
Secure boot is a security standard to make sure that a device boots using only software that is trusted. When the PC starts, the firmware checks the signature of each piece of boot software, including UEFI firmware drivers, EFI applications, and the operating system. The PC boots while the signatures are valid.