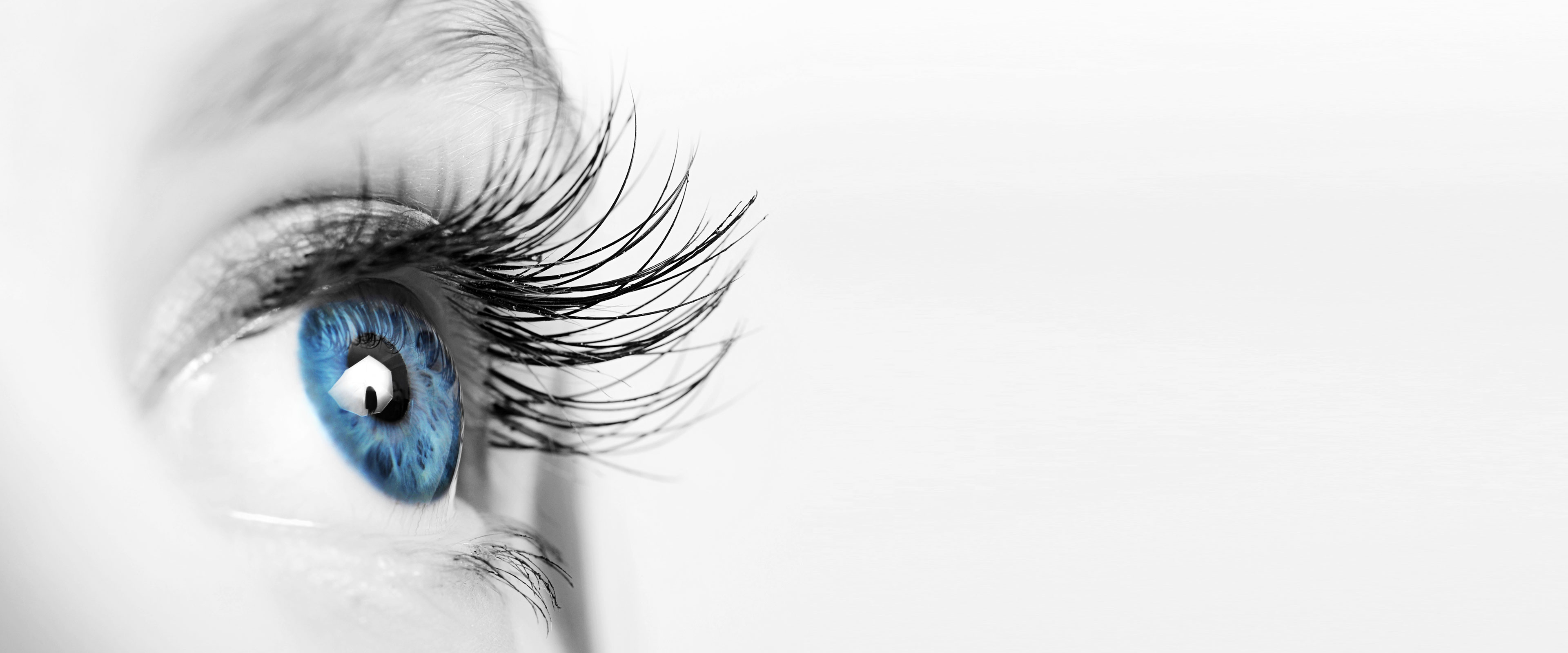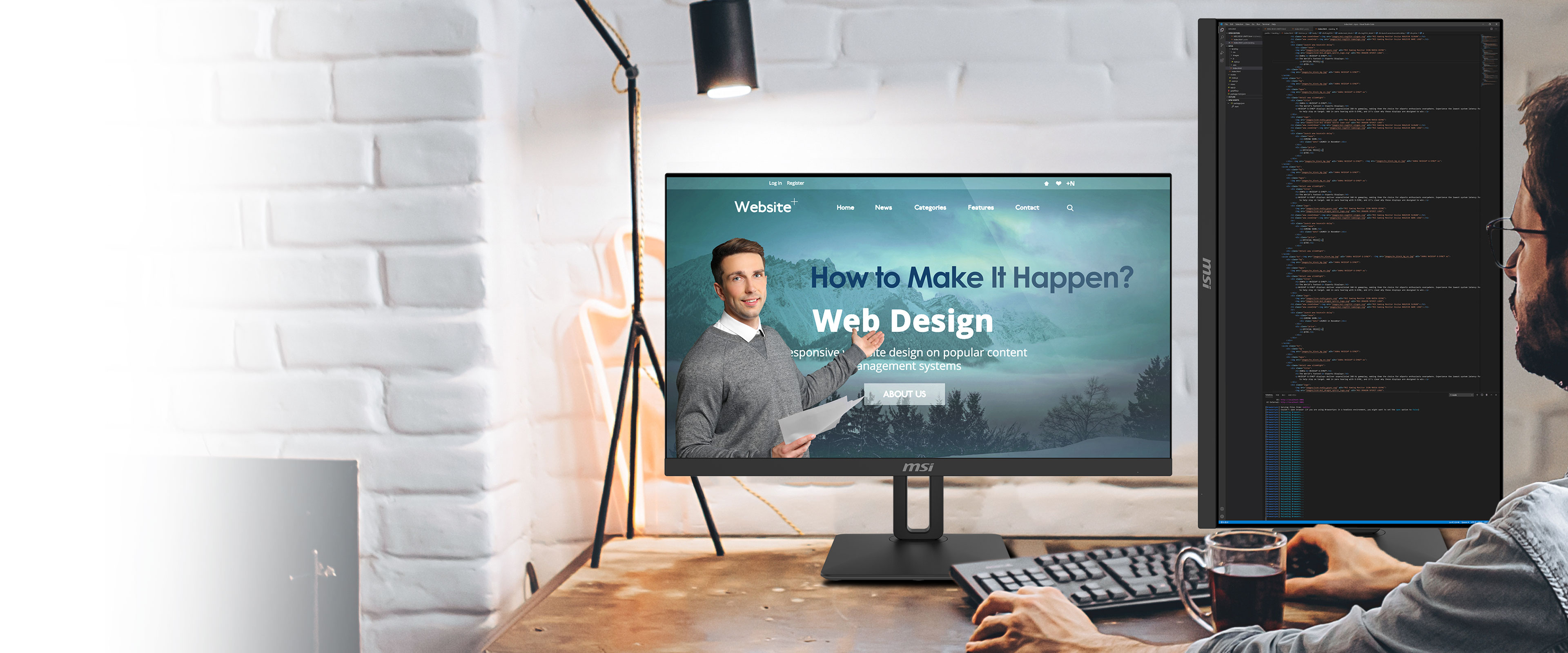 Learn What You Love From Home
A perfect 27″ screen size to learn what you love from home, no matter it is programming, coding & website design; or viewing those applications, spreadsheets and more.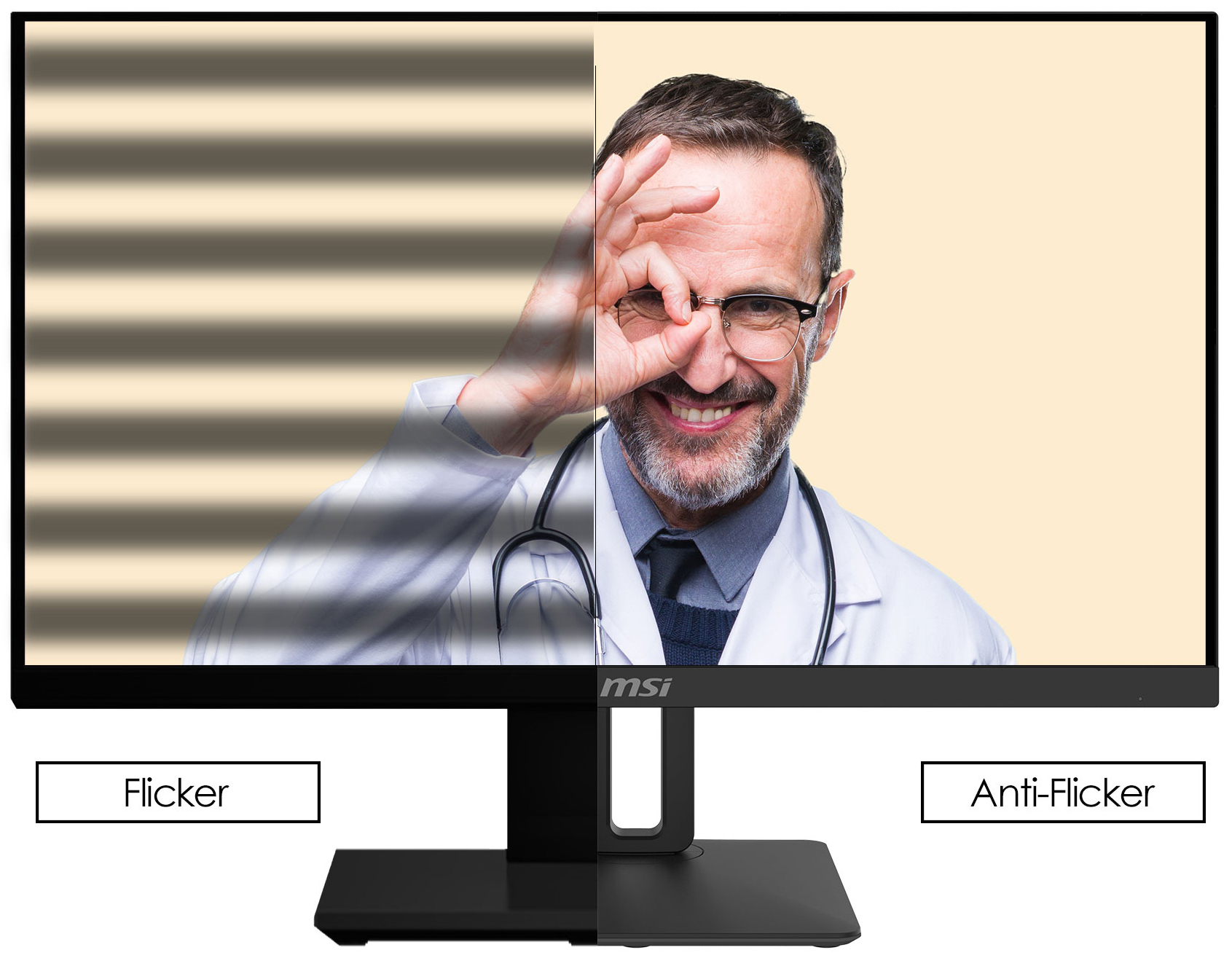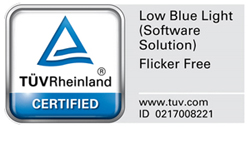 MSI Anti-Flicker Technology Protects Your Eyes While Learning From Home
AGAINST FLICKERING / DRY EYE / EYESTRAIN / READING GLASSES
Thanks to MSI Anti-Flicker technology, a stable output current for the monitor is provided. It will protect your eyes and also help against dry eyes and eyestrain.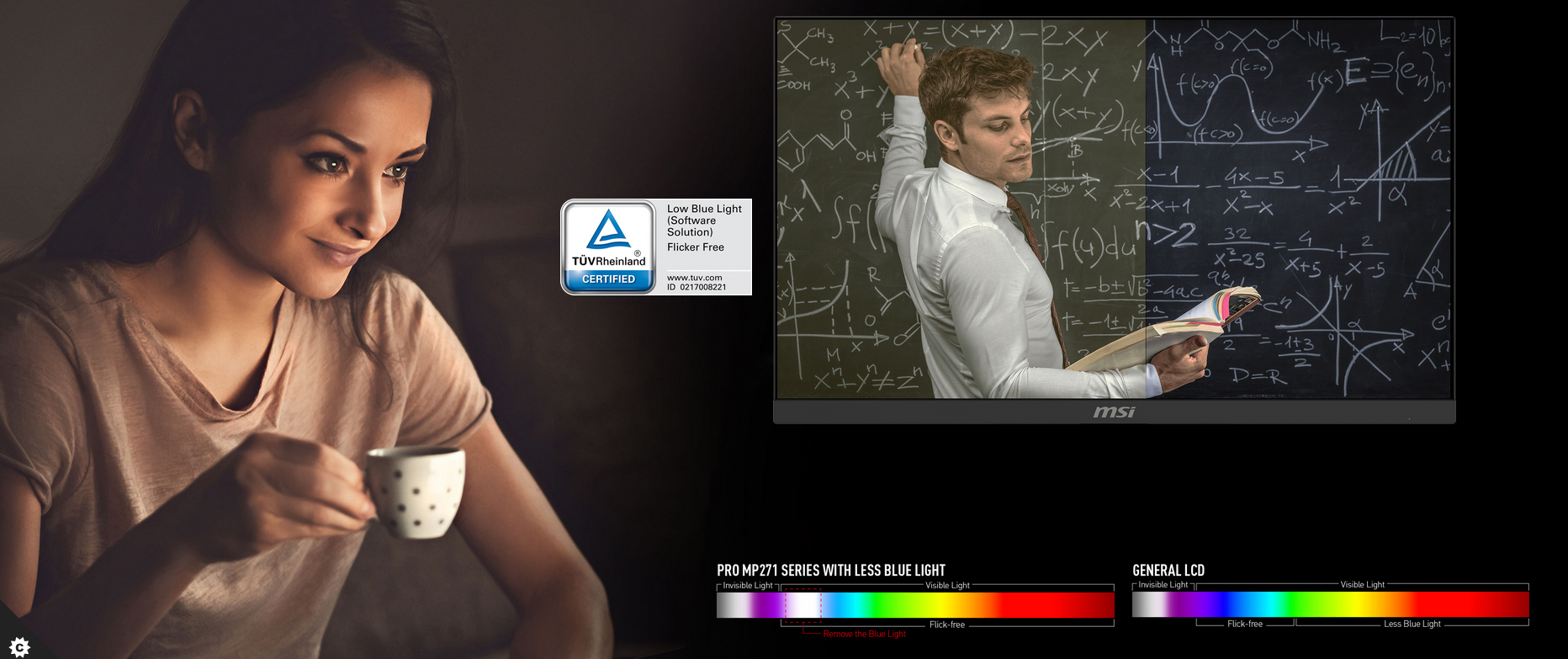 Less Blue Light
The energy of blue light may cause damage to our eyes, not to mention children's eyes. Less blue light technology will block and absorb the blue light generated from the screen and shield your eyes from a harmful effect of blue light.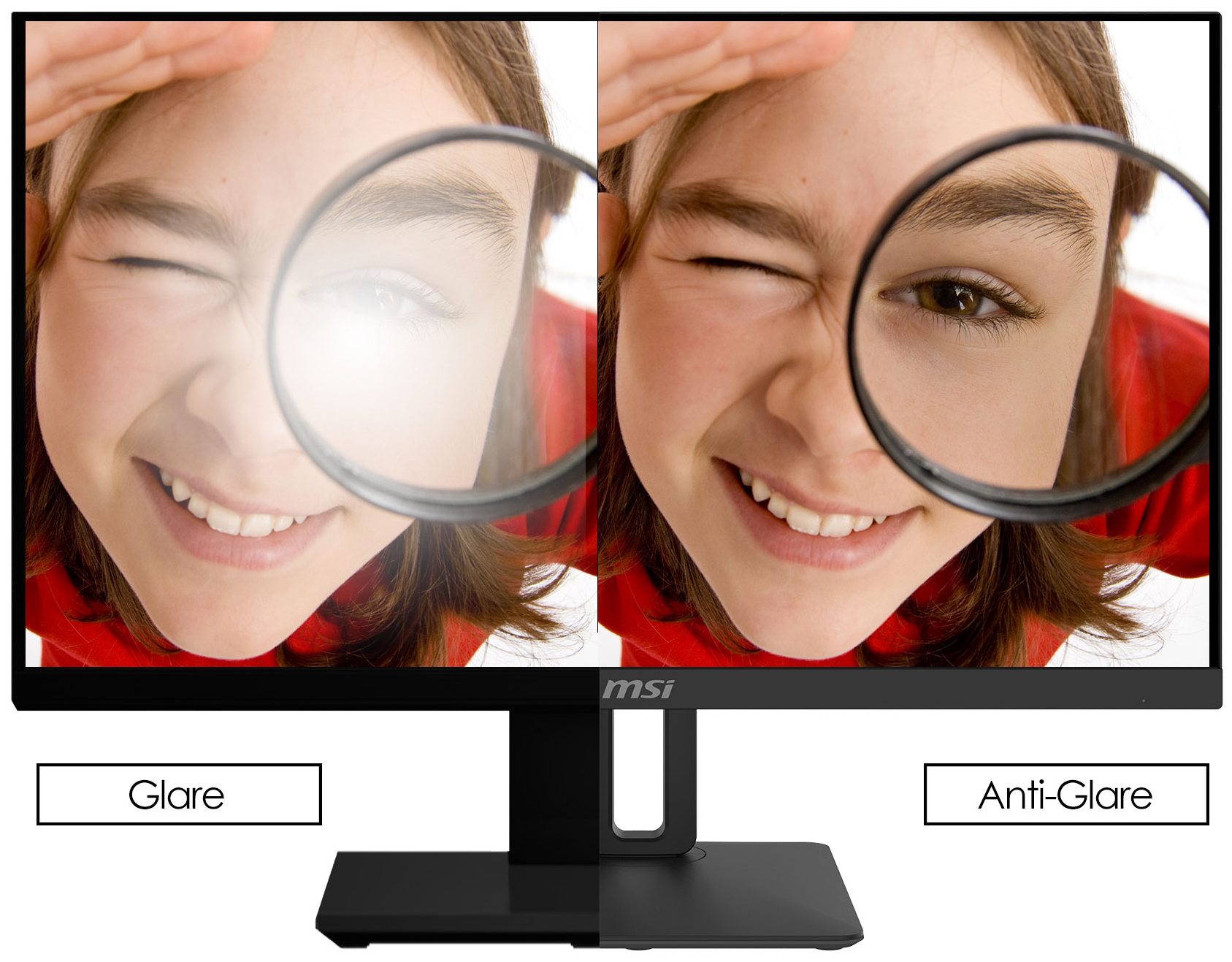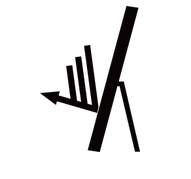 MSI Anti-Glare Display Bring a More Comfortable Learning Environment
The anti-glare display is designed to cut down the amount of light that reflects off the display. An anti-glare display makes viewing the display more pleasant for users, and reduces eyestrain.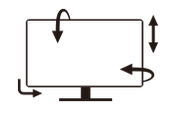 The Best Position For Your Learning
You are able to learn with a comfortable viewing position and can always adjust the tilt according to different situations.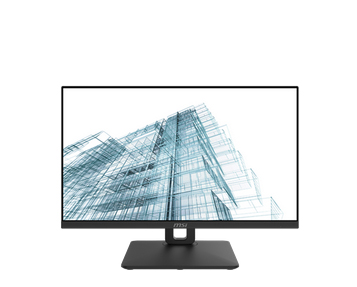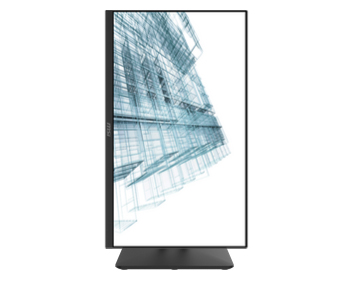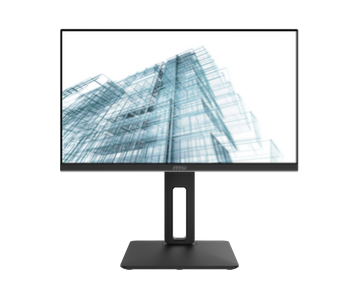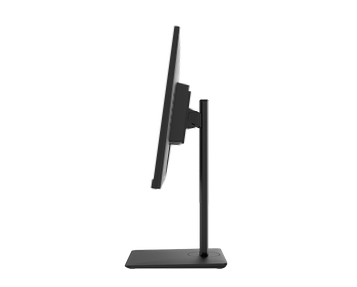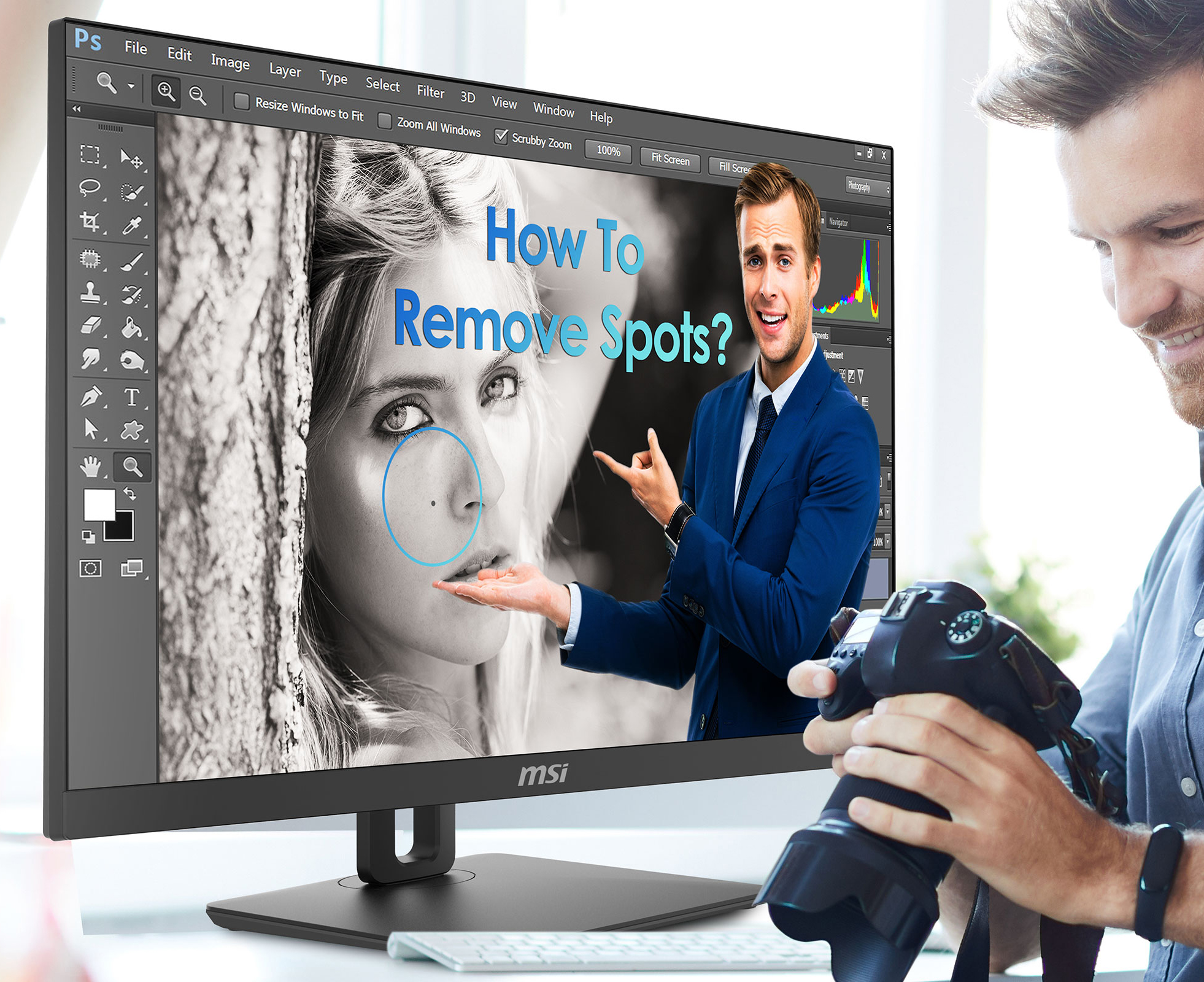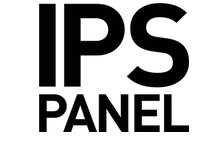 Learn With The Best Screen Colors & Brightness
Instantly optimize the screen colors and brightness to ensure that you enjoy every detail at its best while learning how to use the applications that you are interested.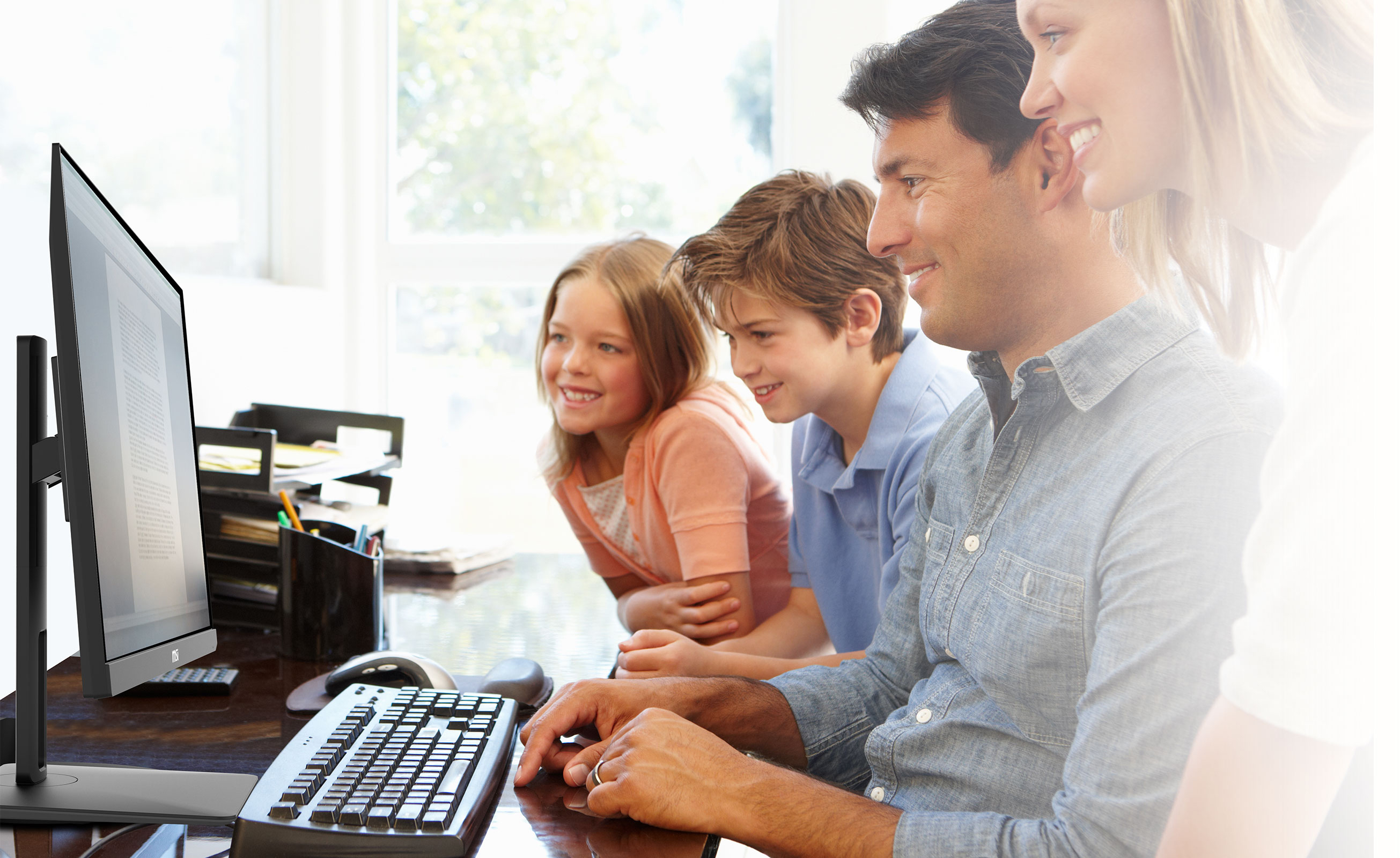 Wide Viewing Angle
IPS panel's 178° wide viewing angle can ensure that everyone can clearly view the screen from any side when discussing and sharing with your family and friends.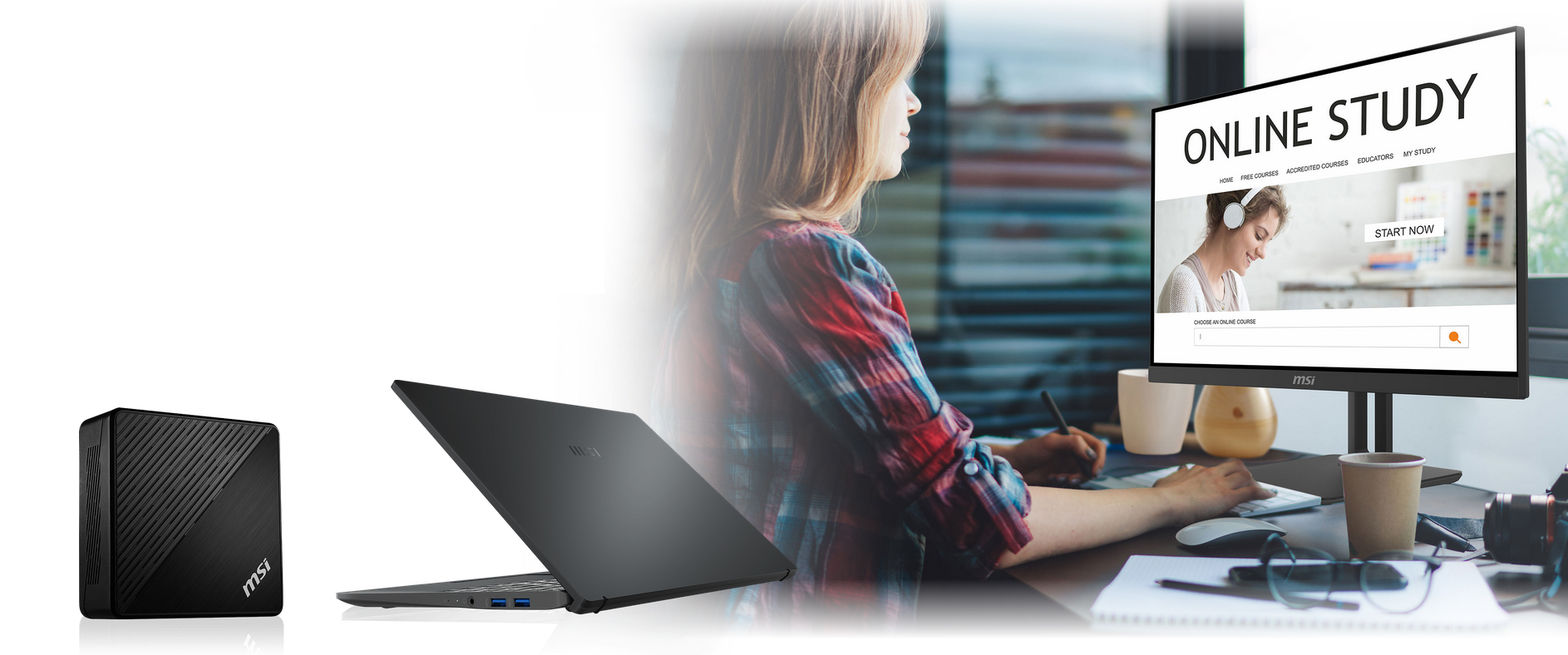 Dual Sources Supported for Your Different Learning Devices
Learn with Desktop & Laptop with PRO MP271, no problem at all. With a HDMI & a D-Sub (VGA) ports, it keeps the flexibility with dual sources for your different devices.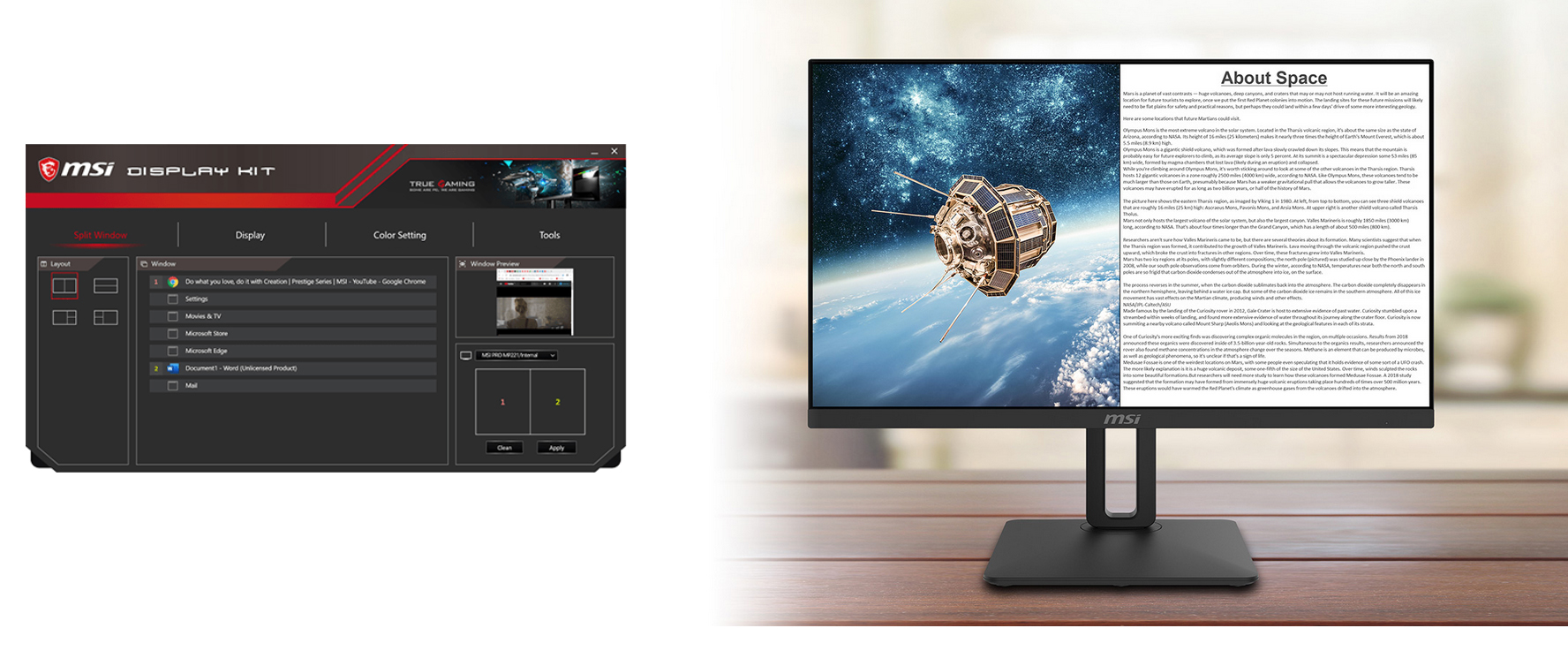 Exclusive Display Kit – Split Window
The MSI exclusive software Display Kit provides the most convenient tool, the proper display & color mode to you while working with it everyday.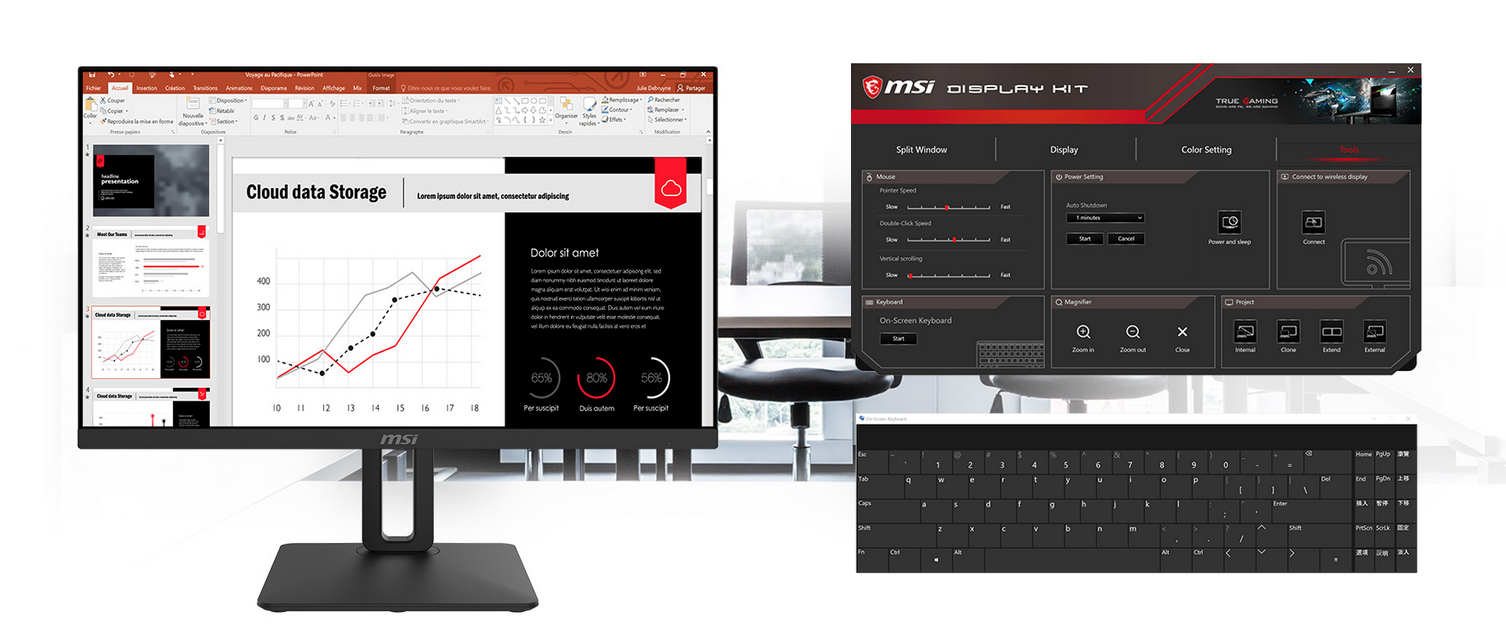 Exclusive Display Kit – Tools
Keyboard has problem in an important meeting or presentation? The MSI Display Kit prepare a virtual keyboard for you to use anytime & anywhere.

Exclusive Display Kit – Color Mode Setting
Make your personal color mode with your own preference, or the MSI Display Kit helps you to setup those proper color modes for you, including gaming, cinema or eye saver mode.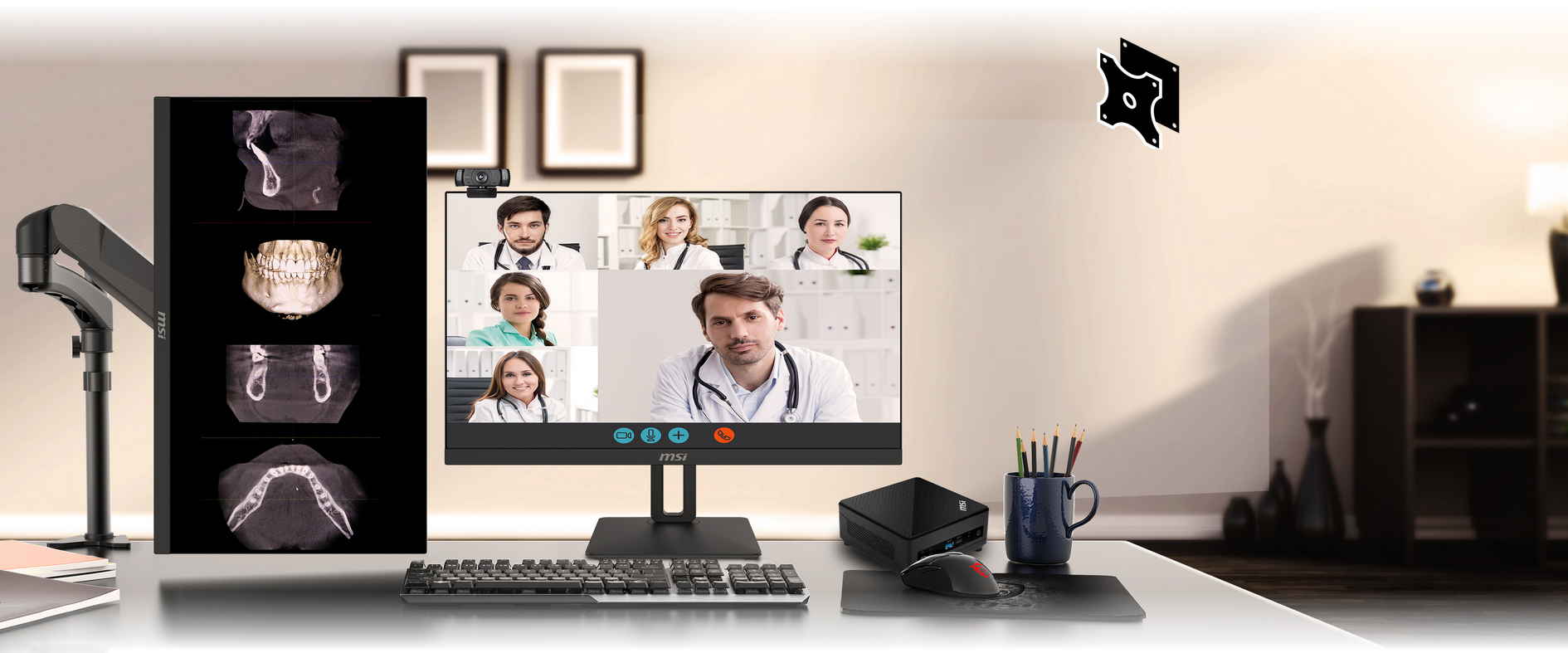 VESA Mountable
PRO MP271 Series supports the standard VESA-mount. You can mount it with MSI MT81 or mount it on the wall and make good use of the space of your table.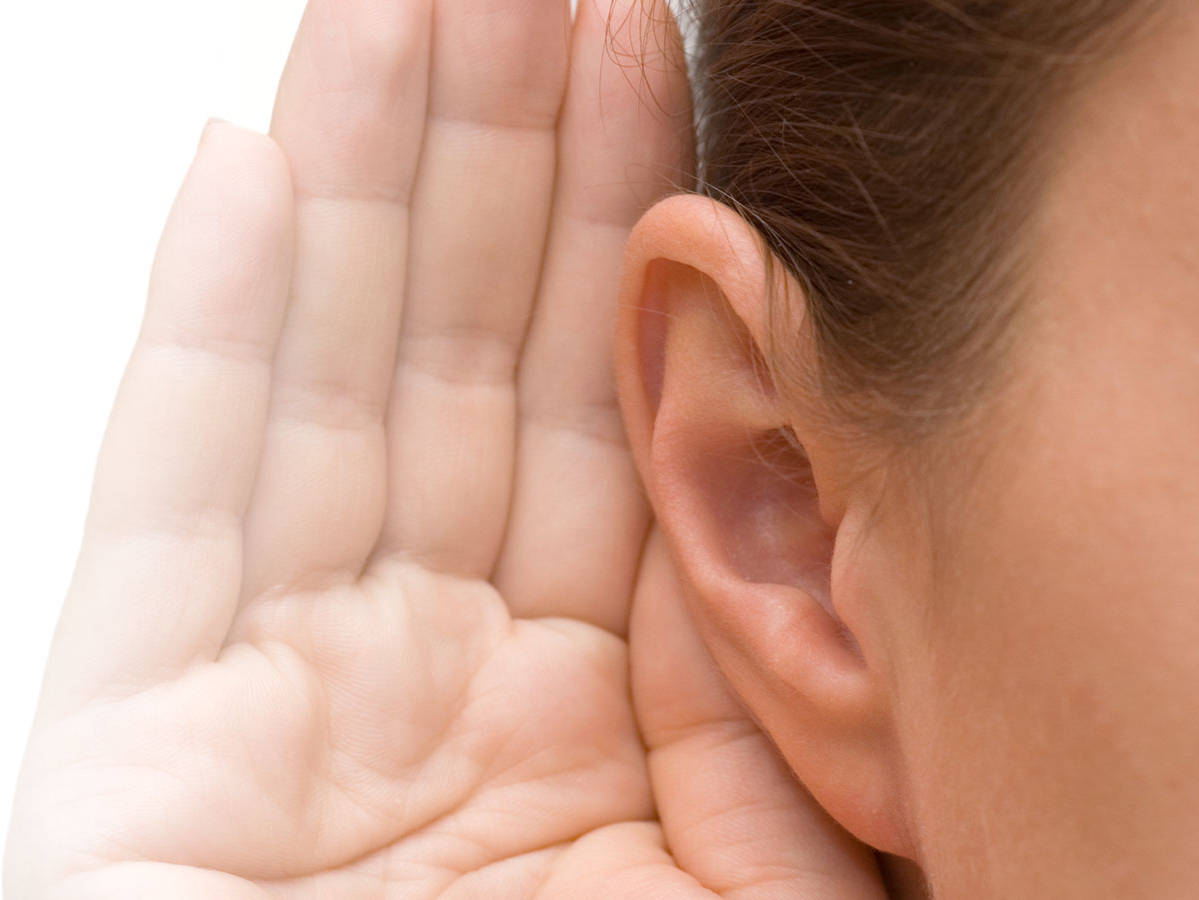 Built-In Speakers
PRO MP271 Series with two 2W built-in speakers allows users to listen to audio files, to attend online courses, or to edit videos at any time without carrying an external speaker or wearing a headphone.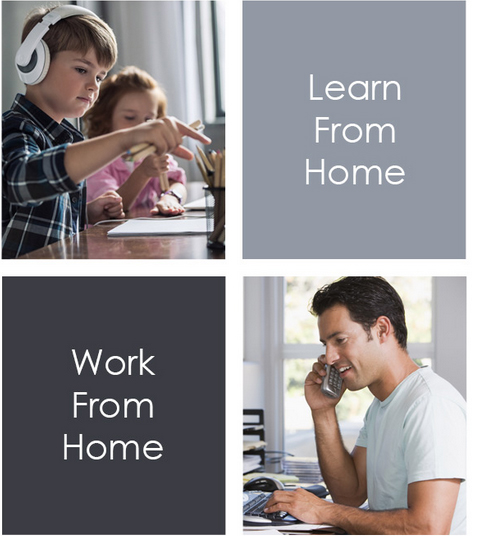 Be Your Window To The World
Unfold Your Aptitude With PRO MP271 Series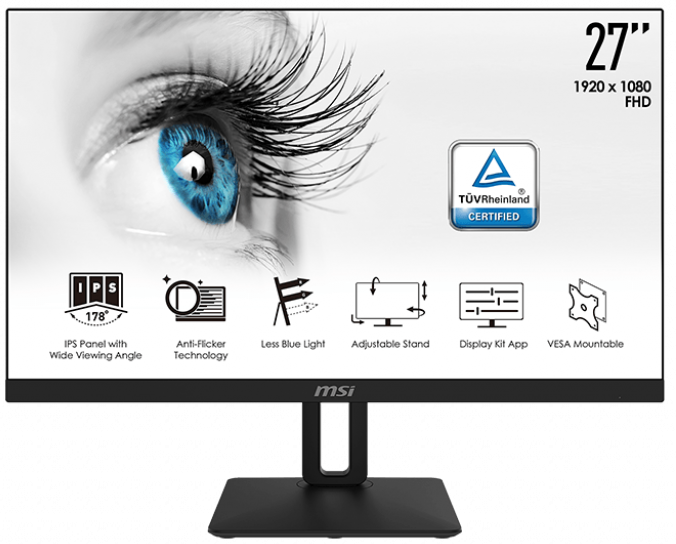 PRO MP271P
MSI PRO MP271P Eye Care Monitor — 27-inch, FHD, Less Blue Light, Anti-Flicker, Anti-Glare, Adjustable Stand, Display Kit, VESA Mount Support & Built-in Speakers, Designed for Learning Efficiently At Home.
TÜV certification display protect your eyesight and keep your eyes healthy
Less blue light and anti-flicker technology prevent your eyes from strain & fatigue
Anti-glare display not only helps you to clearly check every line & detail for your learning, but also protect your eyes
Perfect 27″ screen size for multi-tasking and long hour using
Learn with a comfortable viewing position while focusing on your courses and homework
The MSI exclusive software Display Kit provides the most convenient tool, the proper display & color mode for you while learning with it everyday
Keep the flexibility for your different devices with dual sources, HDMI & D-Sub (VGA) ports
The standard VESA-mount supported
Always allows you to play audio file with built-in speakers while learning