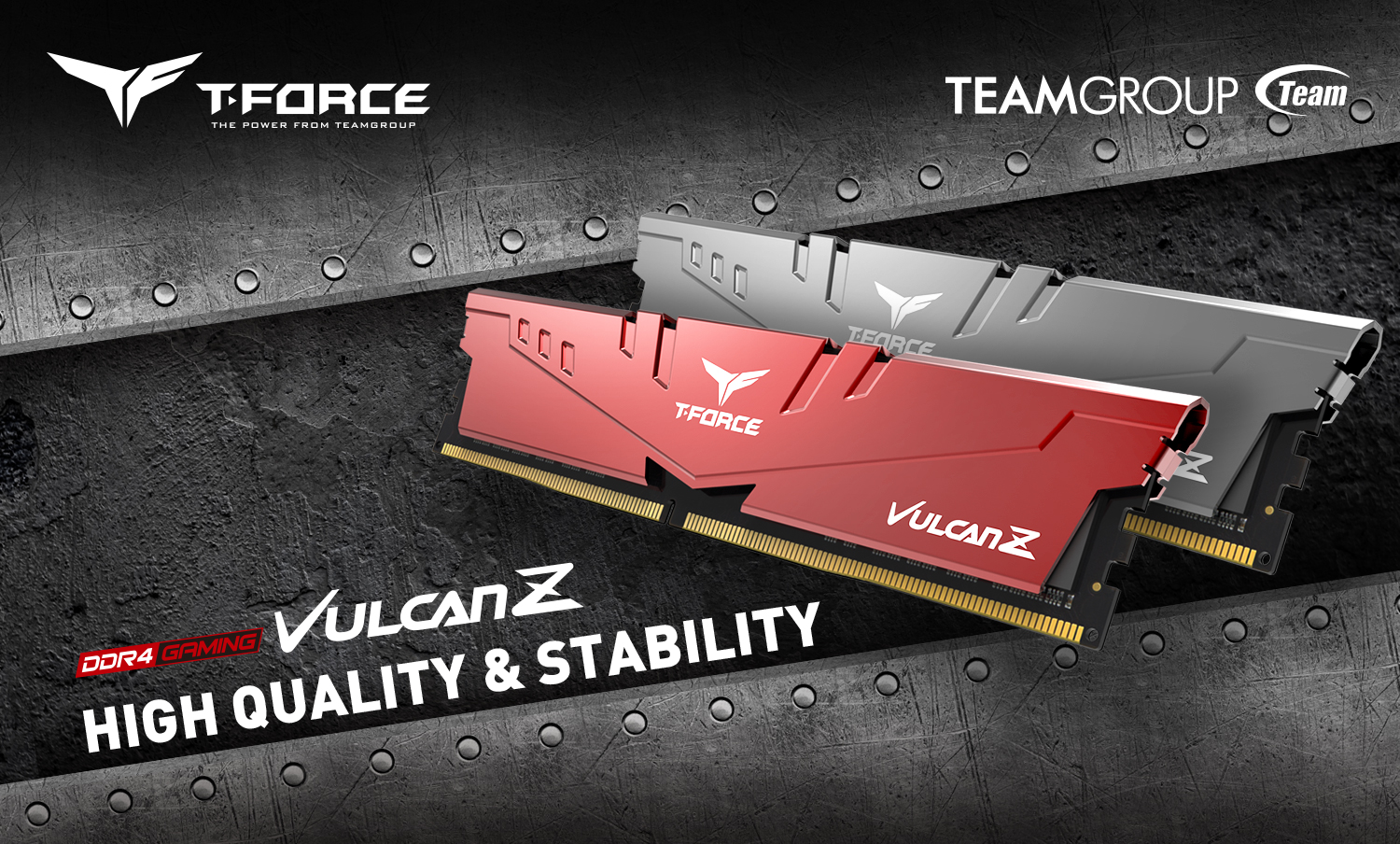 REINFORCED STRUCTURE
T-FORCE VULCAN Z is designed for complete protection and enhanced heat dissipation. The heat spreader is formed by punch press process with a 0.8mm thick, one-piece alloy aluminum to reinforce the body structure. In addition, coloring with electrolytic anodizing process can enhance corrosion resistance and make it non-conductive.
ENHANCED HEAT DISSIPATION
With superconductivity of the thermally conductive adhesive, it can quickly transfer the heat on IC chip through heat conduction to aluminum alloy cooling module for better heat dissipation.
STABLE AND DURABLE
Every IC chip made for TEAMGROUP's T-FORCE VULCAN Z DDR4 gaming memory is selected through a rigorous testing process. Every overclocking memory is tested for complete compatibility and stability. This offers gamers a DDR4 memory with excellent quality, optimal performance, stability and compatibility.
It is compatible with both Intel & AMD platforms, therefore gamers can build their system without worries.
SUPPORTS XMP2.0
By using the XMP 2.0 technology, users are able to experience the thrill of overclocking easily.
ENERGY SAVING
The basic working voltage is decreased to 1.2V. VULCAN Z is energy saving, delivering high performance and low power consumption.

Specification
Module Type
DDR4 288 pin Non-ECC Unbuffered DIMM
Capacity
4GB / 8GB / 16GB / 4GB x 2 / 8GB x 2 / 16GB x 2
Frequency
2400MHz
3000MHz
3200MHz
Data Transfer Bandwidth
21,328 MB/s(PC4 21300)
24,000 MB/s(PC4 24000)
25,600 MB/s (PC4 22600)
Latency
CL18-18-18-43
CL16-18-18-38
CL16-18-18-38
Voltage
1.2V
1.35V
Dimensions
140(L)mm x 31.6(W)mm x 7(H)mm
Heat Spreader
Aluminum heat spreader
Warranty
Lifetime warranty

T-FORCE is TEAM force. The red "T" represents TEAMGROUP's passion for the storage products. The black "F" represents TEAMGROUP's over 18 years of dedication to storage products. Since we released T-FORCE gaming product line in 2016, we have won multiple product design awards, for example, iF design award, Computex d&i award, Golden Pin design award and Taiwan Excellence. The high quality and extreme performance gaming products from TEAMGROUP allow all gamers to break the speed limit and enjoy the ever-changing world of gaming.